2009 Robotics Forecast: Productivity, Expansion Counter Recession Pressures
POSTED 01/09/2009

 | By: Winn Hardin, Contributing Editor

v style="margin: 0in 0in 0pt">Economist Alan Beaulieu had everyone laughing at the RIA 2008 Robotics Industry Forum in Orlando last November, proving once and for all that bad medicine is always easier to swallow with a spoonful of sugar. In between lighthearted observations, Beaulieu's data was compelling.
RIA Members are pretty savvy when it comes to reading the market, so the audience might have made his job easier because they already knew most of the story. Despite the tribulations of the economy and pressures facing RIA and sister association, the Motion Control Association (MCA), member company attendees at the business forum liked the ending: Recessions may come, but they always go, bringing better days and higher profits.
RIA and MCA members' reach is broad and their knowledge is deep. Members are experts in providing robotics and motion control solutions to industries across the board and around the world. They are adept at finding ways to respond, as a spate of interviews at the business conference confirmed.
It's A Good News, Bad News Situation
According to recent economic and market data, the Purchasing Manager's Index read 32.4% in December, the lowest level on record since the Institute for Supply Management
(
ISM) started collecting the data in 1948; a reading below 50 reflects a contracting manufacturing industry. The CEO confidence index was equally gloomy, with a reading of 58.2 points in the most recent October 2008 report, dropping 42.3 points, marking the largest decline across all CEO indexes since the data was first collected in 2002. The Dow Jones Industrial Average has lost 25% in the past year, while credit markets stagger along thanks to a halt in the securitization of commercial debt. The
coup de grace:
RIA's own findings that robot sales revenue for the first three quarters is down 10% year over year.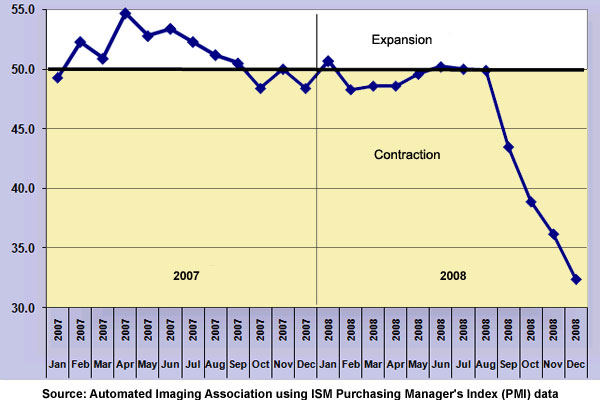 But despite this constant barrage of negative financial news from almost every commercial sector, international market, and benchmark index, RIA and MCA members have managed to maintain positive, if cautious; their expectations for 2009 bolstered by their proven ability to open new industries and markets by delivering productivity gains businesses need to survive during slow economic times.
"If we can help customers make their product, package it, label it, and ship it out in less time than they did it before – even if it's only a few seconds – then we're helping them to make a profit," explains Bill Tazelaar, Regional Sales Manager Southeast for Leuze Electronics. "That's what it's all about." Tazelaar expects that Leuze's quality sensors, light curtains, and 3D systems will lead to continued growth next year on the order of 8%.
Richard Litt, chairman of Genesis Systems Group LLC and RIA President points out that the end of 2008 could boost some robotic bottom lines thanks to increased Section 179 tax deductions included in the 2008 U.S. Economic Stimulus Act passed in February 2008. "Some people say that this deduction is going away and that many customers may have pulled purchases forward to take advantage of it, but I'm not sure how many companies realize that the allowable tax deductions were increased in February," Litt says. Under the stimulus package, companies with capital expenditures in 2008 can write off 50% of the equipment in the first year up to $250,000. The ceiling drops if the company places more than $800,000 in equipment during the tax year beginning in 2008, which is why the package has been named the "small business" stimulus package. Previously, the Section 179 deduction and cap amounts were $128,000 and $500,000, respectively. The tax deductions can be taken during the tax year beginning in 2008, so if companies tax years start in April, June or October, it is believed the capital expenditure benefits could still last for several more months.
Commercial lending could also boost 2009 expectations. "Until we get some stability in the commercial paper market, it's going to be a headwind in the face of industry," Litt concludes.
"When a company can't get financing to build a $500,000 piece of semiconductor manufacturing equipment, that impacts robotics, motor suppliers, and motion control and all the other vendors to the semiconductor equipment industry," adds Dan Jones, President of Incremotion Associates.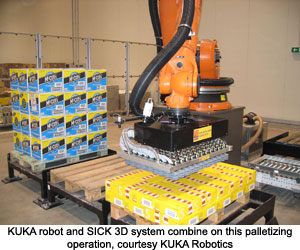 "We've decided Not to Participate in the Recession"

KUKA Roboter GmbH's Martin Kuhnhen, Managing Director Americas, has also found reason for hope in 2009. Or, as he expresses it, "As a corporation, we've decided not to participate in the global recession." Kuhnhen adds that everyone understands there are financial difficulties around the world right now, but no one really knows their depth. "Let's just say we don't anticipate that the future will be black…[but] it's very hard to make a final statement on what growth to expect in 2009."
Kuhnhen's associate and Director of Automotive Sales at KUKA Robotics, Michael Dewitte, could have helped Beaulieu write his economics presentation when he suggested steps that robotic companies can take to survive, even prosper, in a down market. "Aerospace is growing. Alternative energies are growing. The number of industries [using robotics] is growing. Even automotive needs to retool for smaller, more fuel efficient cars, so there's going to be business on that front too," says Dewitte. "The only downside is that there's a surplus of robots because of plant closings, so there has to be a balancing act in automotive."
Several participants expect that it may be a few years before Tier 1 and Tier 2 automotive component markets rebound enough to significantly expand their robotic installations. International Federation of Robotics President and ABB Head of Global Automotive Product Sales for the Robotics Division, Åke Lindqvist, may have summarized the robotic industry's situation best:
"If you look at the automotive market year to date 2008 versus 2007, we're down, but if you look at non-automotive year over year, we're up considerably…as much as 15% [in units]. Is it enough to balance out the losses in the automotive sector? No. In the third quarter, we're actually seeing a decline, even in non-automotive. That trend could accelerate for the next few months. If we can manage flat growth in 2009, we'll be doing great."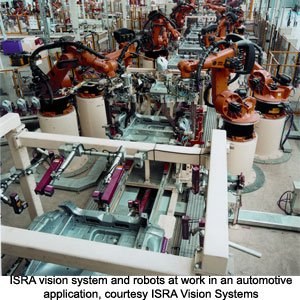 Alternative energies, including solar panel and fuel cell assembly, are likely to be some of the non-automotive poster children for the robotics industry in 2009. "We're putting a lot of focus on new markets such as alternative energies as well as other markets to help us weather the downturn," explains Jeffrey Stadler, President of Güdel Inc. Welding metal panels for recession-proof/low-cost transportation, like railroads, is one way Güdel expects to build business in 2009. "We are optimistic, expecting slight growth in 2009."
DENSO's Sales Manager for Robotics, Peter Cavallo says that the new U.S. administration may increase the pace of growth for alternative energies, which would be good for robotics. "There are some programs in place [to encourage alternative energies], and we're hoping that they'll be expanded in 2009."
Technology may continue to be a bright spot for robotics, adds David Pap Rocki, Vice President of Operations at Adept Technology Inc. "We have high hopes for solar, but we…see a sorting out, a slow down, as the markets catch up. Hard drives are big for us, but we're seeing that business go south…The unknown is the introduction of new [high-definition] TVs into the U.S. market. People that buy new HD TVs will want a cable box or digital video recorder that works in high-definition, and that means new, bigger hard drives."
While the ecstasy of a 500-robot order from a single automotive producer may be the heart of robotics' past, the future may lie in a different direction – the small business.
"More and more industries are using robots to do palletizing and other tough jobs that people just don't want to do," explains Bob Rochelle, North American Sales Manager for Kawasaki Robotics Inc. "These customers don't have a lot of options once the high-school kids go back in the fall. The full-time worker doesn't want to do the job, constantly lifting 50-pound bags. They're happy to pay just below list, and there's not a lot of haggling. They may only want one or two robots versus 500, there are lot more of these companies."
It's Just Business
While this article focuses mainly on the U.S. market, ripples from U.S. activities invariably impact markets around the world – and vice versa. A strengthening U.S. currency could prompt European and Asian companies to accelerate business acquisitions, while continuing weakness in the dollar could prompt more companies to consider moving assembly and other operations to the U.S.
"We could see some European companies make acquisitions in the U.S. now, before they lose any more buying power," says Andrew Urda, Director for Channel and Industry Marketing at Yaskawa Electric America Inc. "They've already lost 10 to 20% of their buying power from a strengthening U.S. dollar, although that could be offset by weaker U.S. sales."
"For robot manufacturers to have the opportunity to grow and continue to be profitable, it is very clear that the industry needs to shift its direction toward 'blue ocean' applications that are not currently using robotic technology," says Roger Christian, Vice-President of International Sales and Marketing for Motoman Inc. "This change in course will require smarter robots that can adapt to their environment, which means further development of lower-cost vision and force sensor technology will be required."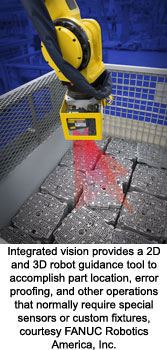 "2008 has been a fairly good year despite the recent downturn in the automotive sector as the financial markets collapsed," said Gary Zywiol, Vice President Product Development, FANUC Robotics America, Inc. "This has been offset by very large growth in our general industry business. While 2009 is expected to be quite a challenge, we continue to invest in technology to fuel growth in new and emerging market segments. Many of these new markets require advanced intelligent robotic features such as high accuracy, and integrated vision capability. We feel that we are in a good position to offer off the shelf solutions in many of these areas."
While the next 12 months may be best characterized by stormy weather, it seems certain that eventually the clouds will clear, the sun will rise, and the demand for automation will continue to drive manufacturing across more and more industries.
"What is unique about America is that our productivity is phenomenal," notes Leuze Electronics' Tazelaar. "We'll continue to have that drive, and with all the technologies we have, we'll continue to increase productivity and maintain steady growth."
Jeff Burnstein, Executive Vice President of RIA, added, "Despite the gloomy short-term outlook, we remain confident that the products our members produce will gain acceptance and broader use in the long term."