Working Together Generates Customer Value
At Matrix, we strive to live by our company's Core Values. These are a series of beliefs that we abide by to create an excellent working environment and nurture loyal employees to deliver outstanding results. In a series of articles, we are going to take a closer look at each of our Core Values and give examples of how they are put into practice to help us produce better products for our customers.
We Do it Together!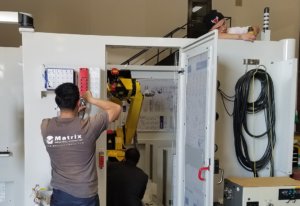 Teamwork, bonding, cooperation, camaraderie – however you label it, working in harmony with each other pays dividends for our employees and our customers. At Matrix, it means we:
Work well with others
Are fun to be around while we work
Treat everyone with dignity and respect, even under pressure or when we disagree
Have a positive attitude and are generally enthusiastic
Playing Nice in the Sandbox
For an example of how we work together for a common goal, it would be hard to beat the Design Review. Basically, we take people from each department, put them in a room and don't let them come out until they're convinced that a system can be produced, will work flawlessly and will deliver on the customer's original statement of needs. This procedure occurs before we take any system into production.
There's always a lot of inter departmental discussions that occur when a project comes through the door. Engineers exchange ideas to make sure the design is sound. Application engineers verify the design will work and the Electrical Department ensures that all sensors and cables are in the right place. The Design Review is the last chance to see it all come together and get it right before delivery to the customer.
Does it always run smoothly? Well, not always. There are typically revisions to be made on every design before going into production. If a problem is found, each department offers their solution. As everyone in the room wants the best for the customer, there is considerable pressure. But with a lot of respect and more often than not, good humor, the final signoff is reached and the product (and the customer) is much better off for it.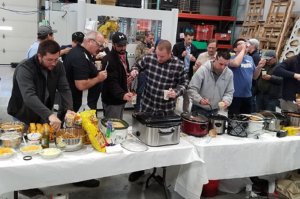 Getting to Know You
Formal meetings like the Design Review start with one big advantage. Everyone in the room already knows each other pretty well. This is not only because of on-the-job discussions, but a program developed by our Human Resources Department to nurture connections among people who would not normally meet in the course of a business day.
The three biggest events are the Christmas Party, when we see how nice everyone looks when they dress up a little; the Company Picnic where we all see the kids we've heard so much about; and the Quarterly Company Meetings.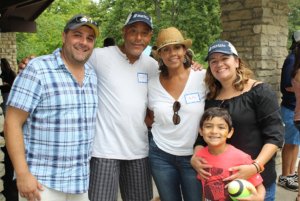 Communication is a major function of the Quarterly Company Meetings. It's when everyone comes up to speed on the overall operation of the company such as profits, sales, on-time delivery rates, etc. Each employee leaves the meeting with the same level of information. But there's also a lunch and prizes awarded for the best Do It Better (DIB) suggestions from the quarter.
In addition to those major events, HR coordinates at least one event a month where employees can gather and get to know one another on a more personal level. Summer cookouts, NFL spirit day, chili cookoffs, game lunches and evenings volunteering at the Northern Illinois Foodbank are just a few examples.
What "We Do it Together" Means
People who know each other communicate more directly. They find it natural to cooperate. They aren't timid about discussing course corrections when they are needed. And when they achieve a goal, it feels right to celebrate the win as a team. And the goal we're always striving for? Giving the best possible service to our customers.