What Can Collaborative Robots Do? Step 1 of the Practical Guide
The bottom line is that with collaborative robots, it is possible to do certain tasks that would have traditionally been done with an industrial robot, but with a smaller, less risky investment and greater flexibility.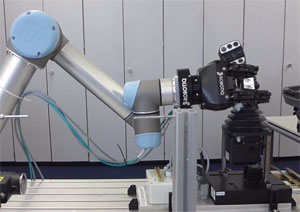 Being a new technology doesn't mean that collaborative robots are more complex. Actually, they have been designed to be simpler and easier to use than traditional industrial robots. Even better, collaborative robots are designed to meet the challenges of high mix manufacturing found in most SMEs.
Just like traditional robots, collaborative robots can move parts around, follow a path to perform a process and work autonomously for extended periods of time, increasing productivity and quality.
However, unlike traditional industrial robots, collaborative robots are simple and fast to program even by non experts, use a small footprint, usually don't require fencing, can be repurposed easily for new tasks, and are simple to integrate into a production process.
Want to know more? Subscribe to our 5-part email series on Getting Started with Collaborative Robots. You'll learn how to go from the idea of automation, to having a real plan, to integrating your first robotic project.