We Do It Right – Right From the Start
Whether it's a car repair, home remodeling or a computer system upgrade, doesn't it feel great when everything is done correctly the first time? Don't you wish it were always that way? While we can't help with everyday events, we've got you covered when it comes to automation integration. In fact, the concept of doing things right is one of our Core Values.
We do it right!
More than just slogans, our Core Values are guidelines we follow each day to produce great results for our customers. So that everyone knows what is expected, we define each value and list specific applicable behaviors. At Matrix, doing it right (DIR) means we:
Follow procedures
Are thorough, efficient, and effective
Do not "cut corners"
Handle the job down to the detail level
Fix things until they are correct
Desire feedback on our personal performance
Provide complete information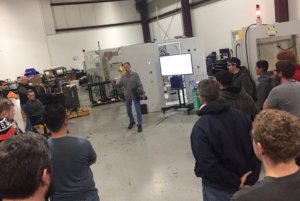 From Principle to Action
How do we translate DIR concepts into practical operations? Let's take a look at our Engineering Department as an example.
A new project begins with high-level concepting and direct communication with the customer. A basic model of the system is created. Engineers then meet with the Sales team who explain the concept and discuss key objectives. The Project Manager obtains additional information from the Sales team or customer. This sequence of events creates a solid foundation for the project. DIR Concept: We follow procedures.
The Engineer reviews the file to ensure that it is complete. If a piece is missing, or clarification is needed, they work directly with customers and OEMs to obtain details or note any new/changed information. The customer, OEM, Sales team, and Apps/Controls team are consulted since their hands-on field experience indicates what has worked (or not) in the past. This review process removes incorrect information from the file and confirms the best practical direction for the design moving forward. DIR Concept: We are thorough, efficient, and effective.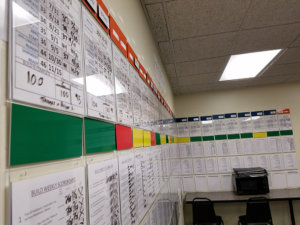 If an extra application arises outside of the original scope of work that was conceived by Sales, we use the same process of concepting and working with the customer to agree on a design to benefit all parties. If and when the customer changes the original scope of work, we avoid creating patches and work towards implementing a robust solution that will last. DIR Concept: We do not cut corners.
A project profile is created. Requirements that must be notated and met include: cycle time, part type, tray type, cart type, inspection, part orientations, safety concerns, material/ hardness of parts, if oil/coolant will be used, type of machines to interface with, plant layout, plant air/electrical requirements, timeline and due dates, milestones, and any additional plant requirements. DIR Concept: We handle the job down to the detail level.
Well after the design is built and programmed, but before the system is shipped, the client plant operators visit our shop for test runs. This stage uncovers any adjustments that can be made to fine-tune the system for maximum efficiency. DIR Concept: We fix things until they are correct.
A Design Review always occurs before we take any system into production. People from each department sit together and discuss the project until they're convinced that the system can be produced, will work flawlessly and will deliver on the customer's original statement of needs. DIR Concept: We desire feedback on our personal performance.
After final approval for production, the Engineer moves the model and drawing into a "released" state where a CAD file (DWG) and PDF rendition are automatically created and populate organized folders on the server. Build binders are created with paper hard copies for the kitting department and production. This includes assembly prints, special instructions, part prints and a Bill of Materials (BOM) – a list of the raw materials, sub-assemblies, intermediate assemblies, sub-components, parts and the quantities of each needed to manufacture the final system. DIR Concept: We provide complete information.
Incorporating the "Right" Outlook
As in our Engineering example shows, our Core Values are dynamic features of our corporate culture that bring real benefit to our customers. But doing things right begins with the individual. To ensure a uniform understanding of this Core Value, we follow an onboarding template designed, not only to inform new employees what "right" is, but to cultivate a mindset that empowers them to apply the concept in the unique situations that occur on a daily basis. In other words, we teach them to become better problem solvers and empower them to seek "right" at all times.
If you have an automation integration project that need to be done right, contact us and rest assured that it will be.