US Steel Workers Union Approves Strike
POSTED 09/10/2018
 | By: Sean Balogh
Last week, US Steel Workers (USW) voted overwhelmingly to authorize a strike if new contract negotiations can't reach a compromise. The United Steelworkers Union will meet in Pittsburgh to address steelmakers' substantial profits in the face of worker wages remaining stagnant. Locals including Gary Works, East Chicago Tin and the Midwest Plant in Portage are among the largest involved and all voted unanimously to strike. The proposed work stoppage will affect nearly 16,000 workers and, if enacted, will be the largest such stoppage in the US steel industry in more than 30 years.
The whole situation is rooted in a decision made three years ago, when U.S. Steel was on the verge of bankruptcy. Workers conceded to a wage freeze and reduced work hours in the hopes that the company would rebound from dire straits. In short, it did. U.S. Steel is now expecting profits to exceed $2bn, the highest in 10 years.
According to a union spokesperson, "Angry USW members conducted strike authorization meetings at each U.S. Steel local over the past week."
US Steel Workers' Unrest
Among the chief complaints from steelworkers are having undergone three years of work without pay increases, which comes at a time when US Steelmakers are reaping significant gains. For perspective, hot-rolled coil steel is currently selling for $900 a ton, according to the metal pricing website SteelBenchmarker. To put that into perspective, steel prices have more than doubled from the low of $412 on Dec. 14, 2015. Roughly the same three-year period in which workers state they have not experienced a pay increase.
To add insult to injury, USW claims that CEO David Burritt and U.S. Steel upper-management have endowed themselves with more than $40 million in compensation since 2015.
Proposed Changes To US Steel Workers' Contracts
After three years with no pay increases, the USW is coming to the negotiating table seeking raises. However, the Pittsburgh-based steelmaker is looking for concessions that include more out-of-pocket health care costs, reduced retiree benefits and a commitment to no raises in the latter half of a proposed six-year contract.
According to US Steel, the contract includes a $4,000 signing bonus, at least $6,000 in profit-sharing and wage increases over the first 3 years of the 6-year contract. On top of the proposed terms, US Steel says that employees will gain $0.15 per hour towards their 401(k) retirement plans.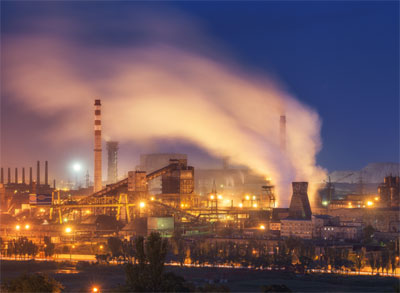 According to a statement issued by the USW, "Our committee will be returning to Pittsburgh next week to resume negotiations with U.S. Steel management in an effort to reach an honest and fair settlement. As you know, management's proposals so far have been completely unacceptable, particularly in light of the company's projected profit this year of nearly $2 billion. We will be sure to keep all members informed of any progress we make at the table next week and of whatever next steps we anticipate."
Consequences Of A US Steel Workers Strike
The consequences of a USW strike, at least on the US manufacturer, will depend on the size and scale of operations and whether or not a manufacturer has a stockpile of materials to work with. Make-to-order manufacturers will be at the highest risk of disruption and may find fulfillment increasingly difficult if the supply of raw materials is cut abruptly. when it comes to manufacturers who are not a level-one priority for raw steel, the result is having to choose to cut production or pay the import fees on steel from outside the US and passing the cost on to their customers. If the latter is the case, those manufacturers run the risk of losing customers as a result of higher prices for their manufactured goods. On the customer-facing end, higher prices for steel may be on the horizon.
US Steel And The US Steel Workers Strike Of 1986
U.S. Steel was involved in a strike/lockout situation more than 30 years ago in 1986. During this work stoppage, about 22,000 steelworkers brought about the longest steel industry work stoppage in US history. The strike/lockout lasted from August 1, 1986 to January 31, 1987.
The effects included disrupting deliveries, expensive and unplanned plant-idling operation. To continue running at a diminished capacity, management-level employees began loading trucks and trains with previously-produced steel kept in inventory themselves and shipping it to customers. The result was violent clashes between management with striking workers.
USW Facts
USW forms the largest industrial labor union in North America with 860,294 members. Their current rate of dues is equal to 1.45% of total earnings, plus $.02 per hour. This tops out at a maximum of 2.8 the average steelworker's hourly rate, plus $.02 per hour. Minimum dues are $5.00 per month.
About Encompass Solutions
Encompass Solutions, Inc. is an ERP consulting firm, NetSuite Solution Provider and Epicor Platinum Partner that offers professional services in business consulting, project management, and software implementation. Whether undertaking full-scale implementation, integration, and renovation of existing systems or addressing the emerging challenges in corporate and operational growth, Encompass provides a specialized approach to every client's needs. As experts in identifying customer requirements and addressing them with the right solutions, we ensure our clients are equipped to match the pace of Industry.