Top 10 Reasons for Everyone in the Robotics Ecosystem to Attend RoboBusiness 2019
POSTED 08/16/2018
 | By: RoboBusiness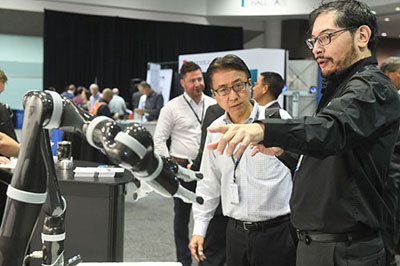 RoboBusiness 2018 is your best chance to learn about the entire robotics ecosystem, from developing new applications and investing in startups to finding markets and guaranteeing ROI
As the global robotics ecosystem grows, stakeholders need to understand how technologies are evolving, how their markets and companies can benefit, and what challenges need to be overcome. After 14 years, RoboBusiness is still the premiere event for developers, investors, suppliers, integrators, and end users of all forms of automation to meet and learn from one another.
As co-chair of this year's RoboBusiness, I'd like to welcome you to join us in Santa Clara, Calif., on Sept. 25 to 27, 2018! If you're interested in industrial automation, other types of robots, or artificial intelligence, here are some excellent reasons to at+tend our flagship event!
1. Big Data Workshop
This pre-conference event kicks off on Tuesday, Sept. 25, with a look at the big data, the product of all kinds of sensors and, increasingly, the differentiator in the automation value proposition.
How much data is enough for machine learning or robotics, and how clean does it need to be? This workshop will also look at predictive analytics and how to build your data management strategy.
2. Keynote addresses
NVIDIA is widely recognized as a leader in AI, so we're pleased that Deepu Talla, vice president and general manager of autonomous machines at NVIDIA, will deliver this year's opening keynote.
Talla will discuss how the combination of automation hardware and machine learning software is pushing the robotics ecosystem to new heights.
From collaborative robots in factories to mobile robots in warehouses, Talla will explain how new tools are augmenting and expanding human capabilities and boosting end-user profits.
But that's only the beginning. Other essential presentations include a panel on the state of the industry, moderated by Doug Olsen, president and CEO of Harmonic Drive, and an examination of the "new wave" of robot grasping by Ken Goldberg, UC Berkeley distinguished chair in engineering.
More exciting discussions include a panel on public perceptions of the safety of robotics and AI, led by Matthew Linton, counsel at Ogletree, Deakins, Nash, Smoak & Stewart, P.C., as well as one on the political implications of automation, led by Jonathan Krim, a former technology editor at The Wall Street Journal.
We'll be featuring interviews with several of the more than 120 RoboBusiness speakers in the coming weeks on Robotics Business Review.
3. Supplier & Tech Forum
This year, our agenda is organized into four concurrent conferences. This track is a forum for engineers to focus on the latest components and enabling technologies such as controllers, motors, sensors, and software.
Speakers will include Melonee Wise, CEO of Fetch Robotics; Tom Ryden, executive director of MassRobotics; and Andy Chang, director of product marketing at KUKA. They and others will discuss human-machine interaction, ROS-Industrial, and simulation-based design for manufacturing.
From robots designed to help children with cancer to performance optimization using slotless motors and automating corrosion protection, this is where you find out about what's available and what's possible.
4. Industry Summit
The Robo Industry Summit is where robotics providers can learn about current and emerging markets and build the best strategies for success. Sessions here will examine current investor trends, the robotics as a service (RaaS) model, protecting yourself from legal risks, and the Robot Activity Index.
I look forward to discussing the international robotics ecosystem with Georg Stieler, managing director of STM Stieler Asian investments, and Anthony Quinn, senior standards advisor to the U.S. Department of Commerce's International Trade Administration. We'll talk about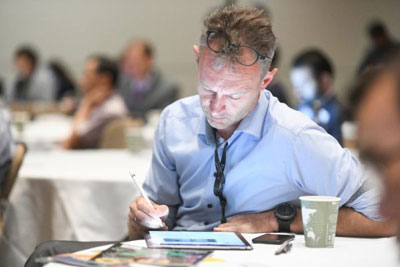 how automation is growing in different ways in Asia, North America, and Europe. Each region presents opportunities and challenges as we move beyond political theory to economic reality.
5. Design and Engineering Forum
These hands-on classes, panels, and seminars are intended to educate robotics developers about advances in areas such as reinforcement learning, risk assessment, computer vision, and feedback systems. Roll up your sleeves and get the specs on real-world robot design.
6. AI Deep Dive
This cluster of sessions on Wednesday, Sept. 26, will focus on getting past the hype so you can apply AI to your business needs. Topics include the latest trends in the emerging Industrial Internet of Things (IIoT), augmented reality and virtual reality, and the intersection between robotics and AI.
7. CRO Summit
Whether you're an operations manager at a small company or the chief technology officer at a major automotive supplier, the CRO Summit is a chance for end users to learn from their peers.
The chief robotics officer, or the executive or team charged with bringing in or expanding automation in an organization, is becoming an essential role. This year, we plan to bring together leaders in manufacturing, warehousing, and small and midsize enterprises with integrators and other experts who can help them make a business case for automation.
Precise Automation CEO Brian Carlisle will further define the CRO position, and other sessions will discuss topics such as workforce reprogramming, cobots and autonomous ground vehicles, and measuring returns on your robotics investments.
8. Expo Hall and Theater
There's no substitute for seeing robots firsthand. With more than 100 products on display from a wide range of vendors, as well as sessions in our Expo Theater, conference and day attendees should make a point of meeting our exhibitors.
In addition, our Startup Incubator Center is a chance for investors to check out new companies, for startups to show off their innovations, and for prospective partners and customers to see the newest entrants into the robotics ecosystem.
9. Pitchfire Startup Competition
Speaking of startups, our often-imitated Pitchfire contest is one of the most popular parts of RoboBusiness. We receive numerous nominations, and the semifinalists will have a few minutes each to pitch their products before a panel of expert judges and a lively audience.
Beyond bragging rights, the winner gets exposure in Robotics Business Review and introductions to international investors. Gray Bright returns as our dynamic master of ceremonies, and you don't want to miss Pitchfire!
10. Networking receptions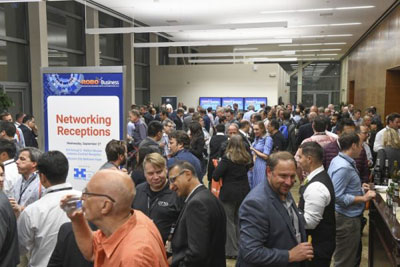 Although it might sometimes seem like everybody knows everybody in the robotics ecosystem, it's growing so fast that even former colleagues from MIT, Willow Garage, DARPA, or other organizations have little time to see one another.
If you're a newcomer to the exciting world of automation, how can you get started? Once you've attended sessions and walked around the Expo Hall, take time to share libations, have fun, and learn even more at our networking events.
The Fourth Annual C. Walton Musser Industry Cocktail Reception, generously sponsored by Harmonic Drive, is a chance to catch up with speakers, make deals, and swap stories about what's really going on in your corner of the robotics ecosystem.
Last year, many attendees were so absorbed in conversation that they stayed well past the official hours of our closing cocktail reception!
These events are also a chance to meet me and the rest of the RoboBusiness team!
Grow with the robotics ecosystem at RoboBusiness 2018
If you haven't yet signed up for this year's conferences, now's the time! Register here for RoboBusiness 2018, and I look forward to seeing you!