The Value of an Agile and Collaborative Design Process
When it comes to upgrading or enhancing an existing manufacturing and assembly line, an agile solution allows a manufacturer to address challenges in their process or changes in the market in the fastest and most cost-effective way.
With the ongoing labor and skills shortages, many customers are looking to robotics to replace manual and repetitive tasks, as well as swapping out difficult or dangerous manual processes with automation to improve workplace health and safety.?
Agile design allows companies to address a single pain point and see the return on investment quickly, especially if they are new to automation. Once they understand and experience the benefits of automation, they can then extend it into other processes within their business to continue leveraging its advantages.
Co-creation with our customers
An agile approach has the designer, engineer, and customer all working together in a collaborative co-design process to look for quick wins. It's a very different experience to the traditional procurement model, which would have a fixed-price contract and a rigid scope.
We find that an agile methodology suits smaller projects and budgets better, because we can co-discover the issues early and tailor the solution for the greatest benefit.
In a recent project, for example, a customer approached us to optimize the design of a robot gripper that was proving too heavy. Through an iterative, co-discovery approach with the customer we were able to understand the key functions of what was required. We explored different solutions with the customer and came up with an optimized solution, which they subsequently implemented. This led to further improvements on additional grippers, all the while improving their reliability and uptime. Based on this success, the company are now looking to add more robots and really start to streamline and grow their business.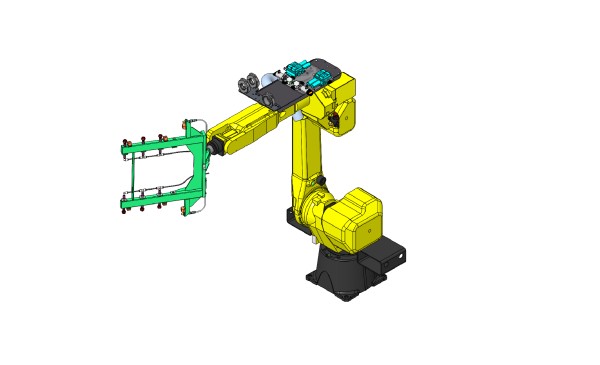 An agile approach has the same rigorous briefing, concepting and design phase as the large fixed-price, fixed-build contracts, the main differences being the customer is more closely involved in co-creation and are able to manage the scope accordingly.
It's about finding the minimal viable product to get the existing factory to a higher level of operational performance before making the next investment in hardware.
There are three stages of the agile design process
Stage one: The brief
The briefing stage is about ensuring that in initial customer conversations the problem is described and understood correctly and that the proposed solutions are fit for purpose. With the customer, we look at trade-offs and implementation strategies as we develop the leading concepts and navigate towards the solution.
Stage two: Concept design
Once the concept is understood, we then prototype it into a 3D digital environment. The customer will be able to see and understand the challenges and opportunities as they arise, and this helps ensure the solution is uniquely tailored to their requirements. Items such as capital cost, operational performance, maintenance and implementation can be assessed and adjusted without the fixed constraints of a traditional project structure.
Stage three: 3D design
This is where we complete the design of the winning solution. Detailed drawings are produced, and any electrical and control design is finalized. Once the customer is satisfied, the implementation process can begin.
A flexible design approach
Agile solutions using an agile methodology bring greater flexibility and innovation to smaller-scale projects. Our priority is to ensure that the customer has closer contact with our design engineers than is possible in traditional procurement methodology: seeing early prototypes, collaborating and co-creating as we help them navigate the path to the best technology solution.
The agile dynamic is a very accessible and cost-effective way to future-proof and upgrade a factory with advanced manufacturing technologies while minimizing risks. It ensures that the investment our customers make with us to automate their factories provides them with the most fit-for-purpose solution.
Find out more
Speak with one of our team to find out if your business will benefit from an agile approach to factory automation. Contact Facteon via our contact page.