The Chief Robotics Officer, RIOS, And Robot Personhood
POSTED 03/02/2018
 | By: Sean Balogh
With the global industrial robot population on course to reach 1.7 million by 2020, enterprises the world over are reevaluating how they approach managing a mechanized workforce. To address modern manufacturing operations' increasing reliance on automation and robotics, the C-suite is preparing to welcome a new designation among its ranks: Chief Robotics Officer.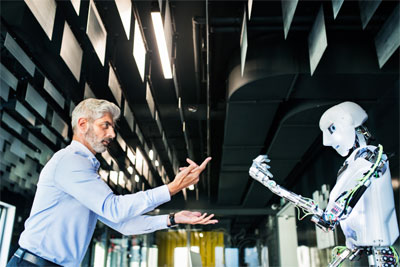 Addressing An Increasingly Automated Workforce
While the concept may be a new one, a study conducted by Myria Research, a Massachusetts-based research and advisory services business, puts projections of the emerging CRO position in 60% for Fortune 500 executive teams. Beyond that, the Chief Robotics Officer Research Scenario predicts the Robotics & Intelligent Operational Systems (RIOS) technologies market to reach $1.2 trillion globally by 2025. The figure is tremendous when compared to the firm's $63 billion market valuation in 2015. However, companies cannot afford to discount the increasing prevalence of RIOS in their own daily operations as well as those of their competitors. The projections include full hardware, software, and services segmentation in the figure, which represents a 30% CAGR to 2020 and 40% from 2020 until 2025.

The CRO remains a conceptual position for the vast majority of enterprises. However, research suggests that as the prevalence of integrated robotics and intelligent systems increases, CROs will become equally important sources of vital information that lend insight into research, development, and innovation in the sector. Their duties can be likened to that of the Chief Information Officer during the influx of computers into businesses during the 1980's. Already there is an abundance of seminars professing the need for CRO's is enterprises want to remain competitive. In short, a company's CRO will be responsible for implementing the latest robotics and automation technologies while increasing efficiency and through the productivity promised by robotics and AI. A hands-on component is also likely for the role, where managing these robotic and digital workforces on the floor as well as in the cloud will pose unique challenges that only a human component can address.
How RIOS Affects The Labor Market
While it is already painfully obvious that automation, robotics, and intelligent operational systems are positioned to hamstring low-skilled labor, the specialized staff required to maintain and interact with these systems is grown at a steady rate alongside implementation. This leaves a wealth of opportunity for those individuals being transitioned out of low-skill positions to take the reigns and receive the training to assume the role of technological overseers.

Many companies are already supporting workforces keen on being promoted from within. The most prominent example comes from Amazon, which is offering sizable grants and educational opportunities in-house for any employee willing to beef up their background in robotics, automation, and IT.
Human-Robot Interaction In The Workplace And Beyond
Thanks to the stories spun in science fiction and technological horror films, humans have developed a healthy apprehension of integrating machinery too deeply into their lives. However, the buffer may be unfeasible as the efficiencies these machines and processes provide are simply too valuable to ignore.
Advances in artificial intelligence bring machines to a higher level of competency regarding cooperation and collaboration with their human counterparts
The results? New classifications of workplace interaction. Questions are already emerging about human-robot interaction in the workplace and beyond. Coworkers want to know how they'll split the workload, if their vacation time and salary will be affected, or if there will be robots on their departmental teams with a say in how projects are carried out. This doesn't even come close to addressing the security implications of robots in the workplace, malicious cyber attacks, catastrophic failure, and similar scenarios. These may seem silly points to raise at this point in time, but as advances in artificial intelligence bring machines to a higher level of competency regarding cooperation and collaboration with their human counterparts, these anxieties may become increasingly more valid.
Robot Personhood And Emerging Legal Frameworks
At a higher level, governments are interested in how commerce is positioned to be improved and how administrations will have to adopt new legal frameworks to address things like liability and taxation. The EU is already considering granting personhood to robots. While corporate personhood in the US bestows certain rights and privileges to business entities, the proposed rules placed in front of EU legislators suggested by EU legislators are seeking to address these issues of liability, safety, and changes in the labor market. A study on the notion of the robot, its implications, and the question of consciousness, authored by Nathalie Nevejans, Université d'Artois, Centre de Recherche en Droit Ethique et Procédures, can be found here. Rapporteur Mady Delvaux's (S&D, LU) EU Commission report on liability, social impact, and request for legislation can be found here.
About Encompass Solutions
Encompass Solutions, Inc. is an ERP consulting firm that offers professional services in business consulting, project management, and software implementation. Whether undertaking full-scale implementation, integration and renovation of existing systems, or addressing the emerging challenges in corporate and operational growth, Encompass provides a specialized approach to every client's needs. As experts in identifying customer requirements and addressing them with the right solutions, we ensure our clients are equipped to match the pace of Industry.