The adoption of advanced manufacturing depends on democratization, not technology
POSTED 07/13/2020
 | By: Etienne Lacroix, CEO
Originally posted on vention.io
After months of lockdown, factories are slowly phasing in their return. But don't let this fool you into thinking things will soon go back to the way they were. Plexiglass separators aside, the recent wave of layoffs will make our factories feel a little less human.
If history repeats itself, 2021 (just like the post-crisis years of 2002 and 2009) will set a new record for the adoption of industrial automation technologies. Factories will weigh the costs of re-hiring vs. investing in industrial automation. With the need to maintain social distancing, more automation projects will likely be green-lit than ever before. To support this, we need to launch yesterday's workforce into the automation of tomorrow. Here's how.
Breaking with tradition
The last thirty years have seen relatively few changes to the way we deliver industrial automation to factories. The average project spans 2–4 months and costs well over $100,000 - $50,000+ on core technologies and hardware, and another $50,000+ on engineering labor to integrate these technologies into a complete system. Given the complexity of integrating these technologies into functioning systems, the design of those solutions are only possible by control experts and system integrators.
Manufacturers with low volume and high mix can't afford the technologies conceived for those with higher throughput; there is simply not enough volume to payback the required investment. This not only leaves smaller manufacturers ill-equipped to rebound from COVID-19, but also slowly erodes our ability to maintain a vibrant manufacturing economy in North America and Europe.
This pandemic is a catalyst for change. Figure 1, compares the impact of COVID-19 on the adoption of "democratized" industrial automation versus long-term trends already at play over the last 5 years.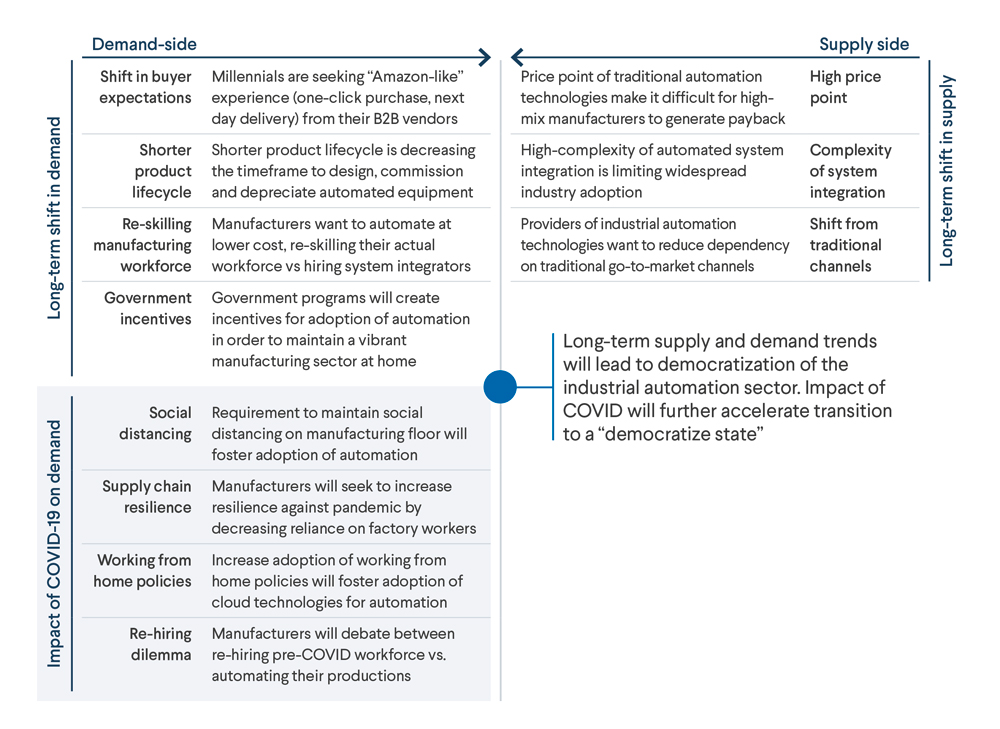 Launching the plug-and-play automation era
It starts with technologies that are simple enough so they can be commissioned directly by the end-users. Industrial components should be "integration-free", meaning they should not require any complex assembly, configuration and programming in order to be commissioned into a functioning system. Compared to the traditional integration costs described earlier, this change alone would cut up-front costs by almost half.
Component providers must increase focus on ease-of-use, drawing inspiration from the simplicity of starting up a new laptop and connecting a few peripheral devices. Following IKEA's footsteps, installation manuals should fit on a few pages and be understandable by anyone with a general technology background.
To achieve this simplicity, standardization efforts in the automation industry will need to go beyond the work of recent years. Not only do communication protocols and programming languages need to be standardized, but also mechanical and connectivity interfaces.
Reskilling the factory workforce
Achieving "integration-free" commissioning of industrial automation technologies is a prerequisite to empowering the same workforce that operated the manual manufacturing floor, to being one that now creates the automated floor. That requires two important changes.
First, we need an easy-to-use and widely accessible digital design software that any industrial automation enthusiast can "learn by doing." Cloud-based software lets operators focus on work-related automation projects during the day, and self-train on more advanced concepts at home without having to bother about seats and licences.
Second, Training content should be readily accessible to non-experts. (Our rule of thumb is that if it can't be learned through a YouTube video, the content has not been simplified enough.) The re-skilled workforce should be able to navigate through applied-learning modules on topics like linear motion, conveyors, cobots, end-of-arm tools, sensors, motion controllers, pneumatics, and safety. That sounds like a lot to cover, but in the context of "integration-free" components, the complexity to absorb has been significantly diminished.
Creating the missing layer
To reach this new era of industrial automation, we need more than plug-and-play components and a re-skilled workforce. We need something that ties it all together: a Manufacturing Automation Platform (MAP) where you can not only design and purchase automated systems, but connect with manufacturing professionals who have solved similar problems in the past. In other words, we need a digital environment where solutions can be fully tested before they're purchased, and monitored against initial specifications once deployed.
A useful MAP should play four roles:
1. Host a library of modular plug-and-play components.
Make available to end-users a library of plug-and-play industrial automation components for a suite of typical manufacturing-floor applications. All components should be pre-tested for compatibility with one another, to support the goal of having an integration-free setup.
2. Maintain both hardware and software standards.
Help define and publicize mechanical, connectivity, and software standards that are easily understood by component providers.The ones adopting such standards will benefit from a new go-to-market channel, in which growth is no longer tied to traditional system-integration projects, but instead to serving users who directly select and commission components themselves.
3. Provide an accurate design and simulation environment.
Provide a realistic yet simple design and simulation environment so users can evaluate their automated system's performance before making any upfront investment. Such an environment not only verifies that the automated process will work, but also confirms the estimated cycle time and total investment. With this information, users of the platform gain insight into their expected ROI before purchase.
4. Enable knowledge sharing
Despite the push for simplicity at the component and platform level, new questions, power-user shortcuts, and best practices will constantly be emerging. This should be captured and shared with all users. It should serve as a community forum for users to discuss system design and deployment. It should also connect component providers with their end users, whose feedback will help make products more user friendly and suited for various automation use cases.
The roadmap set out above leads to a world in which advanced manufacturing and industrial automation technologies are ubiquitous, democratized, and affordable.
Just look at how software has changed the world: WordPress empowers anyone with a computer and internet access to publish a website, while Shopify does the same for businesses setting up online stores. And soon, manufacturing automation platforms will let any manufacturing professional create automated equipment, assembly lines, or even entire factories by themselves.