Have you ever had a robot go out of operation? It's never convenient. The most important thing is to get back online as soon as possible so that delivery deadlines can be met. Well, not to worry. Our service operations have been purposefully designed for fast response and quick repairs.
Stand Alone Service for Quick Response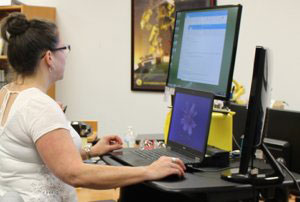 To maximize repair response time we have separated the installation and service functions in our business model. Our service technicians are dedicated to repair calls only. Instead of leaving a message on an installer's cell phone and waiting, you will reach our service coordinator who will schedule your service call and order the proper parts right away. Our dedicated service manager can even discuss your situation over the phone to help you troubleshoot.
Multiple trained technicians are standing by for emergency support at all times. We create an internal case file and upload it to a live master schedule which is sent to each technician so they are immediately notified if they have an emergency call. For out of town service calls, they are prepared and ready to travel.
Our service coordinator can also schedule warranty calls and simple retrofits (such as new end of arm tooling). Large retrofits and inquires for new orders are swiftly diverted to our sales department to keep the line open for service calls. We even accept service requests on FANUC equipment we have not installed.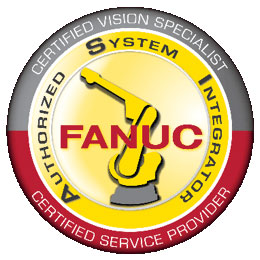 Certified Service Brings Value to Customers
In addition to being an RIA certified robot integrator, Matrix is a FANUC Certified Service Integrator. We worked hard to achieve this designation to better service our customers overall. First of all, you can be assured that the technician who answers your call has passed rigid testing administered by FANUC to ensure they have a high degree of knowledge on robotic systems. We have multiple Master Service Engineers on staff who are qualified in HMI and PLC robot programming in addition to electrical and mechanical troubleshooting.
Certification also allows Matrix the same top priority status as FANUC representatives when ordering parts. If customers are within driving distance, the technician can bring the parts directly to their location. If travel is involved, the parts are shipped directly from FANUC so they are available when the technician arrives.
Lastly, due to our extensive experience and relationship with FANUC, we are able to keep extra parts on hand and can return any unused parts at no additional cost to the customer. We can make a preliminary diagnosis on the phone and order parts for multiple probabilities. This greatly increases the chance that the technician will have the proper parts accessible for a quick resolution to your problem.
Keeping You Running
If a robotics problem shuts down your line, our dedicated service department is standing by. Contact us through our company profile and we'll get right to work.