SCHUNK: Handling red-hot cast-iron parts
Almost no other industrial sector places such exacting demands on the resistance of the automation components it uses. High temperatures, abrasive dust from sand cores and dies, steam, and hot, aggressive gases influence guides, clog seals, and have an adverse affect on lubricants.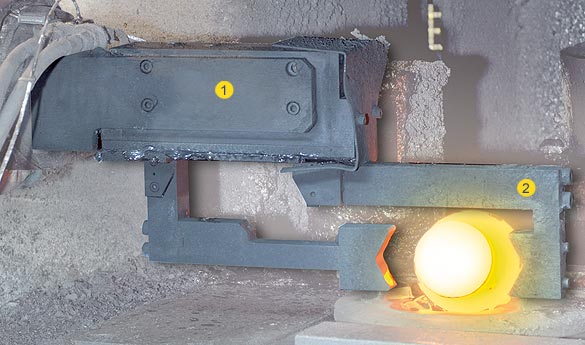 Grippers are especially affected because they are on the front line and therefore exposed to the highest strain. They grip hot or still-glowing parts immediately after casting, are exposed to metal scrap, release agents, and core sand when dies are blown out, and have to withstand water and hot steam when pieces are cooling.

In a foundry, the red-hot forged blanks received from a handling system are placed in a cooling tank. To protect the parallel gripper from the high temperature, it is equipped with stainless steel fingers to minimize thermal conductivity. Additional air cooling from the outside prevents the gripper unit from overheating. To prevent dirt from penetrating into the gripper unit, a special sealing air connection has been integrated. With this equipment, the handling system provides highly reliable performance with minimum maintenance costs.
SCHUNK provides optional corrosion protection to increase the corrosion and abrasion resistance of a gripper or swivel unit, for example. Base jaw guides and the wedge and piston kinematics can be equipped with an extremely hard coating. This increases resistance to abrasive dust, reduces internal friction and the amount of lubrication required and extends the service life of the entire gripper.
1) 2-finger long-stroke gripper PFH 30 in protective enclosure
2) Stainless steel finger