Random Robotic Bin Picking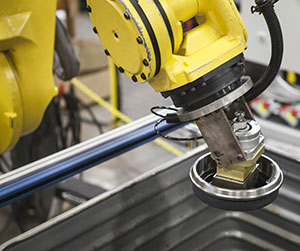 Robotic bin picking locates and picks randomly piled parts from a storage bin, using a vision system, robots can verify the correct gripping position to pick the parts out of the bin and move them to a second location. Bin
picking is often referred to as the "Holy Grail" in the world of robotic automation because of the difficulties that are associated with the process.

Robotic Bin Picking Common Challenges:
Many geometry types on each part that the robot has to consider for proper handling.
Parts are in a random and unstructured environment.
Bins are small spaces and robots tend to run into bin walls.
Software system must be capable of collecting the data from the vision system.
Robot needs to be equipped with effective and flexible end-effectors to handle parts in multiple ways.
End-Effectors:
Having flexible end effectors that is able to handle parts in many different positions represents a major challenge. Depending on the parts you need to handle, a number of different end-effectors can be implemented to overcome this issue such as: vacuum cups, pneumatic grippers, or electric/servo grippers.

Vision Systems:
Enhanced vision systems with 3D cameras, can track, replicate, and map the surrounding environment. When used for bin picking, vision systems must be precise; this allows robots to effectively navigate in small spaces.

Valuable Integrator:
To successfully execute robotic bin picking or combining more than one application into one robotic work cell, select a knowledgeable and experienced systems integrator. Click here for a checklist for selecting a systems integrator.

Midwest Engineering System's bin picking systems are capable of:
Distinguishing the desired part from garbage or part with incorrect features
Deep bin picking up to 4'
Not just part extraction but picking with part orientation
Identifying parts and their orientation regardless of surface finish, shin, rust, color, etc.
Robotic mechanical gripper and magnetic end effector configurations