Profitability Control In Manufacturing With ERP
POSTED 08/16/2018
 | By: Sean Balogh
In the last few years, automation has scaled with technological innovation exceptionally well. Manufacturing industries and consumers both are reaping the benefits every day. Hardware, like industrial robots, and enterprise software, like NetSuite and Epicor ERP, are working together more efficiently than ever before to refine processes for manufactures and deliver high-quality products to consumers. However, while production process efficiencies are making great strides, profitability control doesn't receive the attention it should be getting. Expenditures and inefficient resource use are two of the most impactful factors for a business to consider.
Manufacturing Profitability Control
According to Federal Reserve data, Manufacturing in the US has risen for the second consecutive month. Factory production of machinery, vehicles, computers, and electronics all signaled a healthy ecosystem going into the second half of 2018. Some industrial production highlights include an increase in factory output of 0.3% and a total industrial production increase of 0.1%. Factory production was 2.8% higher than the same time last year, as well.
Production has increased because of investment, innovation, and the incorporation of new technologies into operations. While modern tools have been leveraged to improve manufacturing productivity, maintenance practices, safety, and worker wellness are feeling the pressure that comes with the demand for increased throughput. Efforts to improve real-time monitoring, control, and maintenance improve safety and equipment reliability. This helps to take a lot of the plate of factory technicians and operators who bear the stress of stakeholders' demands.
While automation, equipment, and personnel inch closer to harmony every day, efforts in profitability control can be expanded significantly.
Manufacturing Change Managment
Dr. Peter Martin, Vice President and Edison fellow at Schneider Electric, uses the relationship between manufacturers and utility providers as an apt example to illustrate the speed at which change has been adopted directly into operations but been forgotten in other areas of the manufacturing process. It is in these areas and relationships that further profitability can be explored.
"Some 20 years ago, you'd negotiate an agreement with your electrical utility supplier to fix the price for, say, a year in advance. Today, with open power grids, the price might change every five to twenty minutes. The cost of other inputs such as natural gas and raw materials can vary just as quickly," he states. "This variation is equally evident at the consumer end. Thanks to Google and Amazon, the price of a product can change between morning and evening."
Following a thorough round of interviews with more than 1,000 executives, Dr. Martin and his team agree the pain is being felt across the manufacturing landscape and changes can be made to combat the problem, stating, "We realized that by using sensors in a plant we could model real-time accounting at each cost and value point in the process, and these measurements would allow us to provide profitability control, pulled together with efficiency, safety, and reliability."
Manufacturing Visibility
In another example of the factors that affect manufacturing operations' profitability, Dr. Martin explains "Here you have ore and electricity entering the crushing circuit, and ground materials coming out. Three factors affect profitability – energy and material costs at the time consumed, and the value of the final product at the time it is produced," he adds "You need to calculate these three variables and put them into the control system. The traditional control algorithm will, say, open a valve or manage the speed. But with real-time accounting, an algorithm will calculate the production value at each stage for each particular time period and put that value into a historian for storage and future analysis. As a result, you have a day-long list of values at every point where cost is incurred."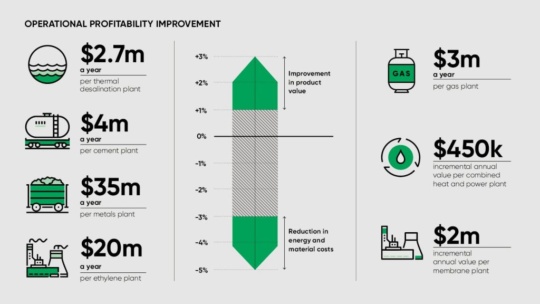 Think of this visibility and data management approach like a stock ticker for the value of a given stock throughout the course of the trading day. Manufacturers already taking advantage of automation on the factory floor or in business processes, with the help of ERP systems, can further supplement their operations with profitability control.
Using these costs and fluctuations throughout the day, managers can more accurately forecast, budget, and negotiate with real-time accounting tools. The focus shifts from a month-to-month approach to analysis that's long outdated in favor of a second-to-second one. This provides superior control in terms of a manufacturing operation's profitability and automation efforts already in place.
Profitability Control With ERP
Beyond offering invaluable insight into expenditures of capital and resources, ERP solutions bring a lot to the table.
One of the biggest game changers for discrete manufacturers and process manufacturers is the ability to reduce waste significantly. The waste of time, money, materials, and labor can all be addressed with better visibility of demand and quicker communication. This ensures that the right amount of products are being produced to fill orders and changes are taken into account. Error reduction fits hand-in-hand with unnecessary waste. Identifying process and material issues can reduce the cost of scrap or reworking orders, which controls costs and increases profitability.
Communication throughout the ERP system is fast and efficient, as well. This ensures the right information is on hand and users have access to information they need. As a result, time wasted in tracking down order details, erroneous data, and miscommunications are less likely to occur. When the entire organization is on the same system and working cooperatively, better productivity is the result. Consistency and reliability ensure higher customer satisfaction and brand loyalty, which further increases profits over time as the business grows.
Improving productivity and controlling costs should be among the highest priorities for a business. With ERP solutions, important in delivery in full and on time (DIFOT) metrics inform your organization of delivery performance in a supply chain. It also measures how often your customers get what they want at the time they want it. Stronger performance impacts your bottom line and ERP can help streamline all the processes involved.
About Encompass Solutions
Encompass Solutions, Inc. is an ERP consulting firm and Epicor Platinum Partner that offers professional services in business consulting, project management, and software implementation. Whether undertaking full-scale implementation, integration, and renovation of existing systems or addressing the emerging challenges in corporate and operational growth, Encompass provides a specialized approach to every client's needs. As experts in identifying customer requirements and addressing them with the right solutions, we ensure our clients are equipped to match the pace of Industry.