News from the Forum: Why Robotics Online is a Competitive Advantage to RIA Members
Leaders from the robotics industry converged in Orlando in the first week of November for the 16th annual Robotics Industry Forum. As the Association explored the state-of-the-industry, attendees learned first-hand about business opportunities, market trends and how Robotics Online gives them a competitive advantage.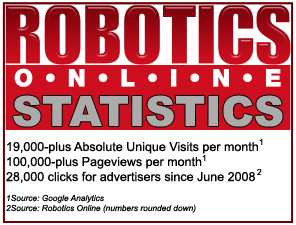 Robotics Online was completely re-tooled in 2008 and an all-new site launched in June. It has a Member Control Panel that enables members to post unlimited content, manage leads and schedule advertising. This and more was reported at the 2008 Robotics Industry Forum.
"One of the most important messages to our members is that they can populate Robotics Online with all kinds of content at no additional cost," said Brian Huse, Director, Marketing & PR for RIA. "Virtually any information they have on their site can have a page on Robotics Online which means they get extra mileage from their sales and marketing collateral and more juice with search engines."
As explained by Huse, the Association has seen pages of member content from its site served up by Google within days of posting. Some companies pay more than $15,000 to sites like ThomasNet or Globalspec to gain visibility while Robotics Online provides comparable service and results for free.
"We see pages from Robotics Online above some of these other sites in Google search results," said Huse. "There is an advantage to content in a site with a focused mission like Robotics Online. Spiders see the 'dot.org' in our URL, they see a ton of related information and it all adds up to good results based on good, related and specific content. The key for members is to use the Member Control Panel and use Robotics Online to broadcast their story."

Like others, RIA takes advertising on its site to help sustain it, and according to their reports it delivered more than 28,000 clicks to advertisers in the first five months since the new Robotics Online launched so there is a compelling business case to invest in it. "Fortunately," said Huse, "members are treated to low rates and many free options."
RIA is grateful for the support its members have shown over the years and is glad to give back through a new and improved website. There is a mutual reward from a site that permits members to add free content. Search engines are hungry for information, and users appreciate the expertise that members offer whether it is through case studies, news, tech papers, videos or feedback from Ask the Experts. For many, it leads to new business opportunities and more success with robotics.
With the new site, all of a member company's content is tied to their Company Profile page where users connect with suppliers, integrators, researchers and universities knowledgeable about robotics and related automation. Company Profiles link to the member's site and includes contact forms to facilitate connections right from Robotics Online. As long as a company remains an active member in North America's only trade association devoted solely to robotics their content remains on the site, which is one reason why Robotics Online is an advantage to RIA members.