New Technology Resolves Problems With Robotic Welding Aluminum and High-Tensile Steel
In response to the global trend toward carbon neutrality, materials are being shifted to high-tensile materials that are thinner and stronger and aluminum that is lightweight for weight reduction in products.
However, there is one common problem when using high-tensile materials or aluminum, it becomes difficult to weld joint shapes because of the variation in the joint gap.
To solve this challenge, OTC DAIHEN has evolved its exclusive robotic welding technology, creating Synchro-feed Evolution with Push Arc welding mode.
What is Push Arc Mode in Synchro-feed Evolution?
Push Arc creates an ultra low-spatter, wide and flat bead that is achieved by improving the wire feed control frequency of the original Synchro-feed technology and adding a new waveform control to improve the welding joint tolerance.
The Push Arc shortens the arc length by increasing the short-circuit frequency, the force and the number of times the arc pushes the molten metal to spread the molten metal into a flat and wide bead.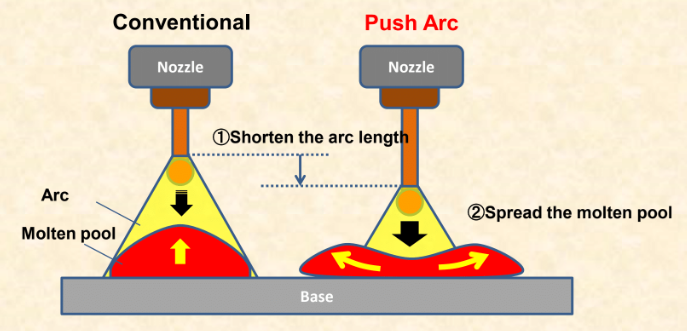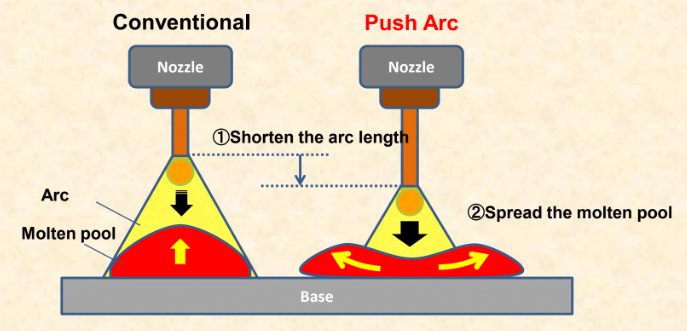 Check out the differences in these welding processes using Synchro-feed Evolution Push Arc mode compared to a DC pulse, DC and the older Synchro-feed technology.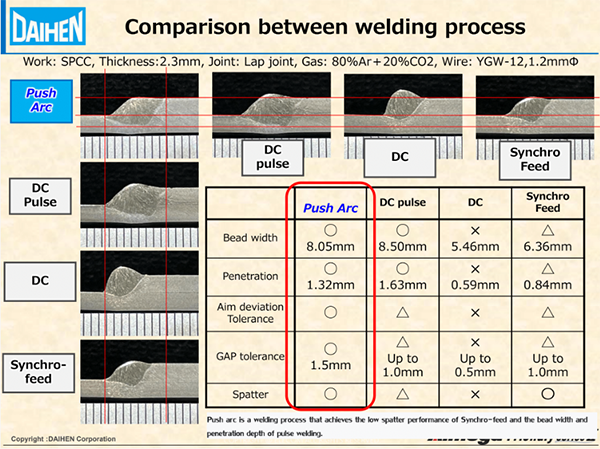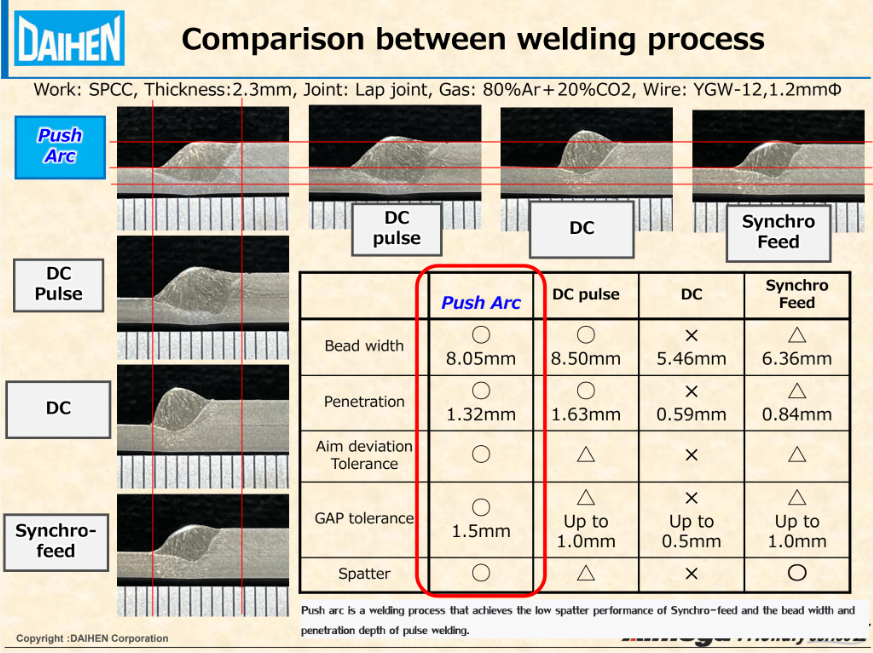 Push Arc Mode Reduces Blow Holes when Welding Zinc Plate
Blow holes are often a problem when welding zinc plate. The Synchro-feed Evolution Push Arc mode expands the molten pool, making it easier to release zinc vapor and suppress blow holes.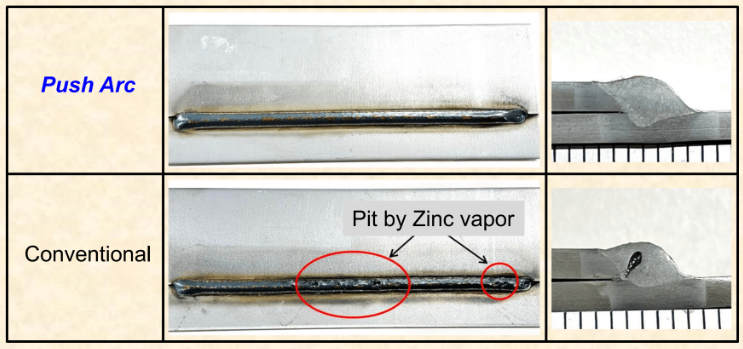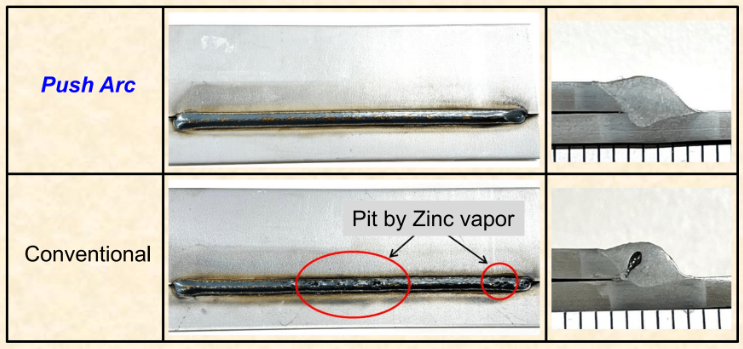 Push Arc Mode Reduces Burn-Through when Welding Aluminum
Joints are complicated to weld on aluminum due to its lower hardness, various plate thicknesses and makeup of many types of alloys. Burn-through and insufficient melting are common challenges. Push Arc mode resolves these problems with its high heat input control performance. See below for how the welding amount increased by about 20% with AC Push Arc when compared to DC.

Push Arc Mode Creates Better Looking Die-Cast Aluminum Welds
Because die-cast material contains gas (hydrogen), the bead will turn black with a large amount of soot. The NEW Push Arc mode eliminates this soot to create beautiful welds on die-cast aluminum.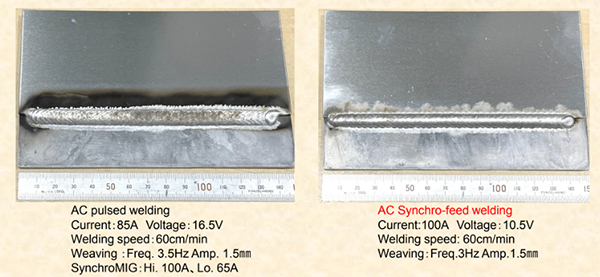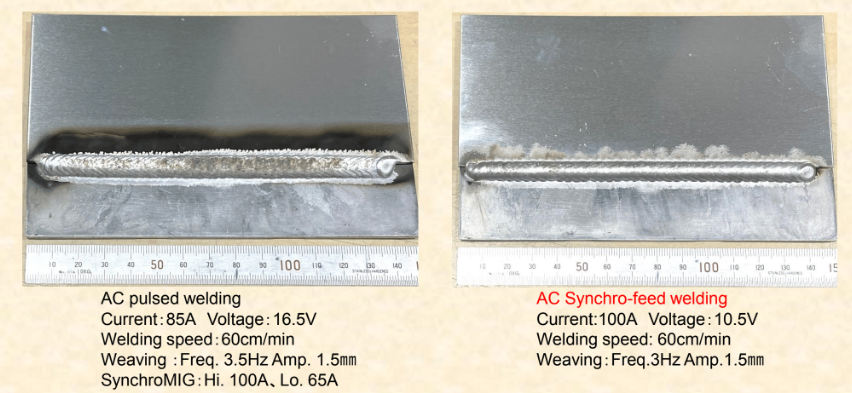 New Weld Technology Includes Easy Maintenance
The new Synchro-feed Evolution technology also reduces by 90% the number of cleanings needed for aluminum welding, which ultimately increases productivity. The technology's air purge function automatically discharges wire shavings. Additional user-friendly features include:
Consolidation of the cables and hoses between pull feeder and coaxial power cable.
A one-action connection that takes about 2 minutes, compared to the previous 30 minutes or more.
Easy and reliable installation even for inexperienced users.
Synchro-feed Evolution Models
OTC DAIHEN's Synchro-feed Evolution with the new Push-Arc mode is available in standard and lite models. Contact your regional OTC DAIHEN rep for more information.