NetSuite Streamlines Warehouse Management And Order Fulfillment To Deliver Products On-Time And At The Right Price
POSTED 05/29/2018
 | By: Sean Balogh
Whether your warehouse operations are contained in a single location or spread across the globe, Native NetSuite Warehouse and Order Fulfillment tools provide the management capabilities your enterprise needs in a simple and intuitive solution. Beyond the impressive Warehouse Management System (WMS) that comes with the Native Netsuite platform, additional features including RF barcode scanning, strategy definition for put-away and picking, task management, returns authorization receipt, cycle count plans and more, ensure that your team is equipped to deliver the ultimate customer experience while increasing efficiency and lowering costs. Equip your business to match the pace of industry using an ERP solution specifically designed to streamline and unify your enterprise systems.
When it comes to controlling inventory, fulfillment, and costs, the right set of tools is essential. Get your processes under control with a sophisticated WMS and enhance your performance with increased agility, visibility, and labor efficiency. By utilizing 20 years of proven best practices across 40,000 companies that already use NetSuite, your enterprise can reap all the benefits of experience without the costly lessons learned through trial and error. The success of warehouse management and order fulfillment resides in defined strategies and advanced capabilities that utilize wave management, cartonization, cycle count planning, real-time inventory updates and integration with shipping systems. Are you equipped to match the pace of industry?
Warehouse Management
NetSuite's WMS solution is built-in to the NetSuite platform and allows workforces to interact seamlessly with all the existing functionality of your system. An extension of the multi-location inventory module, NetSuite WMS provides warehouse-specific conditions that define, configure, optimize your inventory storage processes.
Key Benefits:
Warehouse Activity Dashboards
Expiration and Shelf Life Tracking
Barcode Labeling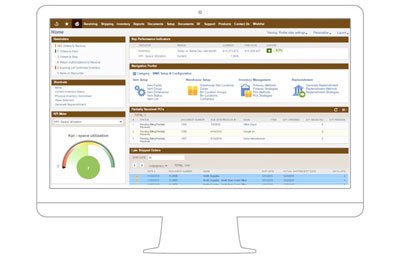 NetSuite Makes Warehouse Management Easy With Intuitive Dashboards And Real-time Data Visibility.
Warehouse Operations
Your warehouse teams need to be working efficiently and managing their labor productivity is essential. Common functions within the NetSuite WMS, like task management, user-defined putaway/pick strategies, cycle counting, work orders and kitting, work to enhance productivity while driving down costs. Add to this the additional native NetSuite features and your inventory management operations are optimized to a degree that surpasses your projections to achieve a new benchmark for success.
Key Benefits:
Integrated Barcoding
Suggested Putaway
Multi-Order Picking
Mobile Control
Paper systems have gone the way of the dinosaur and warehouse operations are among the most critical elements of an enterprise that need to be fed and provide real-time data at a moment's notice. Mobile control emerges as the answer and NetSuite WMS puts the ability to configure data collection, retention, and execution strategies in the hands of your workforce. With a fully mobile-ready WMS, users can operate in tandem with colleagues from multiple locations in real-time.
Key Benefits:
Mobile Receiving
Mobile Picking
Mobile Cycle Counting
Inbound and Outbound Logistics
NetSuite's Inbound Logistics enables enterprises to manage all open purchase orders, transfer orders and inbound containers to ensure prescribed receipt dates.
Managing and coordinating the efficient transportation, receipt, and storage of inbound inventory are critical components to the success of any business. NetSuite ensures managing and coordinating inbound logistics is as intuitive as possible with native dashboards designed to manage it all, from expediting outstanding orders to container management and scheduling specific receipt dates. After receipt, conducting inspections and tracking vendor quality are easy thanks to these powerful tools.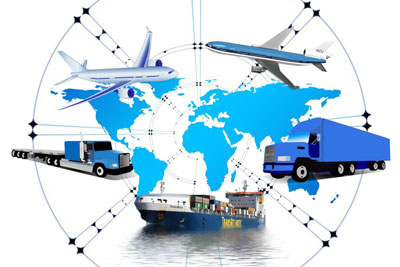 Inbound And Outbound Logistics Processes Are Made Easy With NetSuite.
When it comes to outbound logistics, NetSuite-powered businesses can manage products from final production on through to fulfillment, optimizing delivery and cash flow processes from every angle.
For the customer, it doesn't matter what it takes for manufacturers, distributors, and retailers to provide products on-time. Your business needs to deliver on-time, every time. The best way to avoid penalties, delayed payments, and contract termination is to equip your business to not just match, but exceed expectations. NetSuite delivers the tools you need in fully-integrated manufacturing, inventory, and warehouse management solutions. Connect the entire pipeline from your warehouse to the customer's loading dock with automated material flows, quality checks, and warehouse operations.
Inventory Management
Ensure you have the right materials in the right locations when purchase orders enter the system with NetSuite's Inventory Management solutions.
No matter what your product or where it's stored, real-time visibility of stock levels is essential to provide what your customers want, when they want it. Meet demand and replenish stock to meet both current and forecasted demand with NetSuite's native toolset. Combine forecasting and demand planning functionality of Netsuite with tracking inventory in multiple locations, safety stock, re-order points, cycle counts, and distribution requirements planning tools and it's easy to see why so many companies have found success with NetSuite Warehouse and Inventory management tools.
About Encompass Solutions
Encompass Solutions, Inc. is an ERP consulting firm and Epicor Platinum Partner that offers professional services in business consulting, project management, and software implementation. Whether undertaking full-scale implementation, integration, and renovation of existing systems or addressing the emerging challenges in corporate and operational growth, Encompass provides a specialized approach to every client's needs. As experts in identifying customer requirements and addressing them with the right solutions, we ensure our clients are equipped to match the pace of Industry.