Identify Potential Processes for Automation - Step 2 of the Practical Guide
While there are many ways in which production processes can be automated, the best way to introduce automation into your SME is by starting small and simple, and build up your expertise as you go.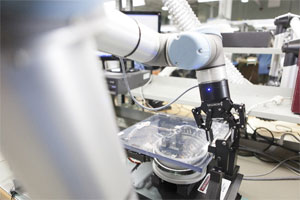 Tasks that are highly repetitive, predictable and structured are the easiest to automate with a collaborative robot.
Here's an overview to get you thinking:
Easy to automate
Repetitive tasks not requiring the robot to apply force

Pick and place
Dispensing

Part presentation

Little part changeover or changeover among similar parts
Always picked in the same place
Ordered parts and workpieces
If many parts, structured in a matrix or tray

Part drop-off

Always dropped in the same place
Harder to automate
Complex logic or decision making
Sensors

Vision
Force torque sensor

Parts

High changeover rates of parts with divergent properties (size, shape)
Deformable parts

Part presentation

Moving conveyors
Unstructured presentation (bins)

Integrating communication with other machines
Force controlled processes

Grinding
Polishing
Drilling
Fine assembly

Processes requiring specialized tools or human know-how
Want to know more? Subscribe to our 5-part email series on Getting Started with Collaborative Robots. You'll learn how to go from the idea of automation, to having a real plan, to integrating your first robotic project.