How To Enhance Your Enterprise's Customer Experience With ERP-Integrated Self-Service Portals
POSTED 05/29/2018
 | By: Sean Balogh
Encompass Solutions' strategic partner Bezlio has added further enhancements to its mobile dashboard and user interface capabilities within Epicor ERP software. The latest feature comes in the form of streamlined and intuitive customer service portals that enhance the overall experience when it comes to providing documentation and service to clients at all hours. An effective ERP solution, with the latest in customer-focused tools, can help differentiate your business from competitors and standout in a crowded marketplace.
ERP-Integrated Customer Self-Service Portals
Customers want access to their essential documents, invoices, and purchase orders, and not just during office hours. Customer portals have fast become a crucial component of the customer experience. As a result, their availability has risen to the top of expected features in any business environment. And why shouldn't they be?
Bezlio has delivered an attractive and seamlessly integrated answer to customer demand with a customer service portal that can be easily incorporated into an existing EPR system and accessed via desktop or mobile device. Within the self-service portal, customers can:
Open orders
Review order history
Track orders
Review shipping records
Access inventory in real-time
Access invoices
These powerful capabilities are the new normal when it comes to the customers' experience and it's crucial for businesses to keep up in order to satisfy an increasingly discerning audience of current and prospective clients. However, reading and displaying data is just the beginning.
An Open Channel Of Communication
Now more than ever, Customers want an open channel of communication available for when questions are asked and answers are needed, on-the-fly. Two-way communication within the customer portal ensures that your customers are empowered to write data and complete transactions directly to your source application. Cut out the complication of modern e-commerce systems and let your customers place orders on their time with the Order Entry functionality of Bezlio's customer self-service portal.
Security Is Key
As with all digital information exchanges, security is of the utmost importance. Bezlio's approach ensures you never synchronize a single byte to the cloud, and receive the benefit of top-level encryption and security measures to protect your business and your associated data.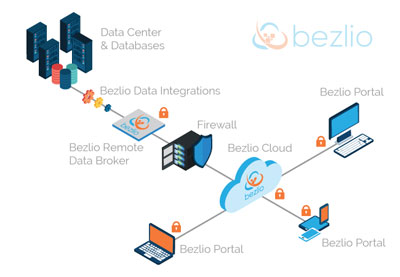 The Gauntlet of Bezlio Security Measures Keeping Your Data Safe.
How To Implement The Bezlio Self-Service Center
So, you know you need a functional self-service portal, but don't know where to begin with integration. Fortunately, the process is made simple and enterprises will only need to follow a few simple steps before they are up and running with this powerful integration from Bezlio.

The Bezlio Self-Service Portal Implementation Process Is Just Four Simple Steps.
Initially, the data agent from Bezlio will need to be installed inside of an enterprises firewall, be it through Bezlio, a partner, or an ambitious enterprise with a crack IT squad. The agent will be configured to communicate with the sources of data within the enterprises ERP, which can be assigned permissions based on the data to be shared. After that, queries to pull the data are linked up with Bezlio. These can be existing queries or built from scratch to fit a particular purpose within your enterprise. Once the backend is set up, templates and custom HTML/CSS/JavaScript can be utilized to create an attractive interface on the customer-facing end. Once things are set-up, all that's left is to bring your customers into the fold and show them the new and powerful tools at their fingertips. The benefits of more satisfied customers and enhanced ROI are now yours to enjoy.
About Bezlio
Bezlio is developed and supported by SaberLogic, a US-based company with 15 years of experience in customizing and optimizing ERP (enterprise resource management) systems and manipulating data. Specializing in mobile, cloud-based integrations, Bezlio offers many supplemental tool integrations for existing Epicor systems, such as mobile crystal reports, Amazon Seller integration, Salesforce + ERP, tableau write-back, and the recently added self-service customer portals.
About Encompass Solutions
At Encompass Solutions, we identify opportunities for our clients in how to best refine their operations and leverage available technology to improve their processes at every stage. As a result, we make it our business to know these essential tools inside and out. Bezlio is just one of the many tools we've identified as instrumental at this time and place for many industries. If you're interested in incorporating Bezlio into your existing structure, want it to be considered for an ERP implementation, or just want to know a bit more about the resources available to you, get in touch today and we'll connect you with the right tools to achieve your goals.