Don't be Alarmed – It's Just a Robot I'm Talking From
POSTED 08/26/2010

 | By: Brian Huse, Director, Marketing & Public Relations

v style="margin: 0in 0in 0pt;">When a security alarm goes off in a deserted office building at night and a robot meets first responders at the door to see what happened does it mean we've entered the age of the Jetsons? What if that robot gives its owner the ability to see, hear, and talk with the response team while following them as they search the building?

It is fun to hypothesize on such matters. But this is no blue sky musing. It happened at the offices of Anybots and with his QB robot their CEO was able to greet (surprised) firemen responding to a fire alarm - even though the robot operator,
Trevor Blackwell
(of Yahoo fame), was physically miles away. Commercialization of this robot is underway and if you attend
Automate
, March 21-24, 2011, in Chicago, Illinois you may find yourself in the company of more than just a few robotically enhanced telepresence devices such as this.
MobileRobots
, an Adept company, sells a robot that guides itself, delivers needed items and interacts safely and productively with its surroundings.
Adept Technology
will be on hand at Automate to help reveal how far the technology has evolved for field use whether you have a shop, lab, office or warehouse. Anybots also plans to participate at the Show.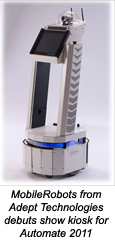 Explaining and showing technology like this on the World Wide Web is fine for some things, but to see mobile robots working among throngs of people at a busy trade show – that is truly impressive.
Better yet, these robots cause no interference to the high-tech work cells on the show floor at Automate where you can see everything from industrial robots and inspection devices to end effectors and work holders (and AGVs plus warehouse automation in the adjacent hall occupied by
ProMat
).
We are long past the time when robots are chained to the factory floor.
Most people have no idea how well developed this technology is, which brings us back to robots that can monitor and respond to security issues. The story about Anybots was seen at the San Jose Mercury News site … see for yourself: "
Remote-controlled robots are entering the workforce
."
Then really see for yourself. Come to Automate 2011, March 21-24, at McCormick Place in Chicago, Illinois. You'll be in interesting company.