Collaborative Robots Extending Into Welding Applications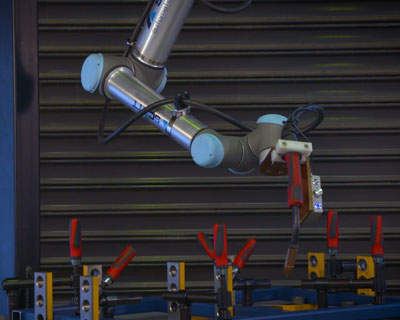 The rapid evolution of collaborative robots is bringing advanced automated solutions to welding production lines. The cobot industry has previously only been involved with material handling and other basic tasks on the assembly line; it has yet to be introduced into the welding world...until now.
SCOTT Automation + Robotics has been working with Universal Robots to improve your welding application with cobots. They are trailblazing the way for integrators across the globe, including RobotWorx, to use and advance welding solutions with collaborative robots.
The Universal Robots Collaborative series brings fierce competition to the welding line. Compared to a standard robot welder, UR COBOT's are very capable and up to the challenge to conquer your welding task.
The UR is the perfect solution for custom or small template welding applications set within its reach. They are able to improve the quantity and quality of your welding throughput while also providing easy programming, increased worker safety, and better versatility on your production line including super simple re-deployment.
Easy Programming: Since welding is a process that requires great accuracy and detail, it is important that the robot is accurate, precise, and effective. The Universal Robots collaborative series could not get any easier to program in order to successfully perform with amazing precision.
The system typically takes less than half a day to set up as the UR robot collaborative series offers users with zero programming experience the ability to easily program and operate a UR robot. Programmers can choose to hand lead and guide the robot through the "lead-through method" which manually teaches the robot the correct path parameters for accurate completion of their automated welding task. The precision hands on "drag and point" system is complimented by the ability to manually set points for the robot through the teach pendant.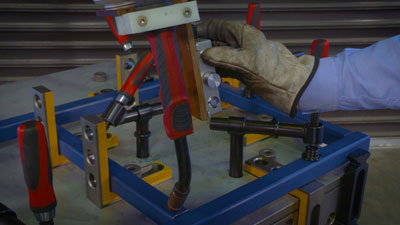 Furthermore, as the production process changes, the welding power source can store up to five welding schedules that can be recalled for each weld routine. This can be a huge time saver and can quickly help improve the ROI for the robotic welding system.
Increased Safety: Universal Robots not only bring companies across the world greater efficiencies but they also increase overall workplace safety. Collaborative robots in welding applications can be the ones to complete the dangerous, repetitive tasks; without any fear of working right alongside human workers. Universal Robot's collaborative series does not need any heavy duty fencing or security measures to safeguard people. They are designed with patented technology to stop or eliminate any possibility of impact with a worker. The UR collaborative robots can also be programmed to operate in a reduced mode that will slow down when a worker enters and resume full speed when they leave.
Flexible Deployment: Collaborative robots by Universal Robots are the perfect solution for welding applications as they are lightweight, space-savers, and agile. They can be effortlessly transferred to an area where welding support is needed. When the task is finished, these robots can then be repurposed and redeployed in an entirely new location to begin another job. The robot technology allows users to re-use its saved programs for recurrent tasks.
Finally, the UR Cobot Welder is not limited to a base position; its low weight means the URs can be mounted at any angle (above, below, on a wall, etc.). This means the reach of the Cobot can be fully utilized, enabling it to achieve welding of angles that can't always be achieved by a traditional 'mounted' robot welder.
This amazing versatility and flexibility also allows the Universal Collaborative robots to be installed into existing welding cells with very minimal modifications necessary.
Integrate a Collaborative Robot for Your Welding Process Today! Companies big and small are quickly realizing that these robots bring huge advantages to their welding floor. At all levels of production, these collaborative robots can increase productivity, reduce injury, and boost the workplace morale. They also provide reduced production downtime and less wasted material when deploying a collaborative robot arm for welding.
Robotic manufacturers such as ABB, Universal Robots, KUKA, FANUC, and Motoman, continue to create brilliant, responsive robots within the collaborative market. Universal Robots is one of the first to begin the collaborative-welding process, and we can't wait to see what the other manufacturers have in store.
For more information about the Universal Robots collaborative series, contact RobotWorx, a leader in robotics integration. SCOTT automation, the parent company to RobotWorx, is a world leader in robotic solutions and offers amazing productivity gains to a large variety of manufacturers. They also provide great expertise and knowledge to serve you and your collaborative robot needs.