Beverage Manufacturing Makes Strong Gains As AI And Mass Personalization Emerge
POSTED 05/16/2018
 | By: Sean Balogh
With the many concepts of Industry 5.0 already lending fantastic possibilities to manufacturing industries across the board, the disruption potential of its components in the world of beverage manufacturing is nothing short of groundbreaking. Beer, Wine, and Spirits are some of the most complex and subjective tastes being explored among discerning palates the world over. Here's how AI and mass personalization are bringing a personal touch to these industries.
A New App For Your Tastebuds: Gastrograph
The beverage aisles of convenience stores, groceries, and big-box stores offer the illusion of diversity, with dozens, if not hundreds, of drinks available for purchase. However, these beverages have undergone massive amounts of testing and QA to market them to the widest audience possible. The overarching "cast the widest net" philosophy of food and beverage manufacturers has left a sour taste in the mouths of many consumers. CEO of NYC-based Analytic Flavor Systems, Jason Cohen, offered as much in an interview with The New Food Economy, "My take is that pretty much all the food and beverage products on the market today are awful," he explains. "There are literally no products engineered for me." And Cohen is right. Manufacturers have formulated snacks and drinks for decades with the right amount of salt, sugar, and fat to hit the proverbial "sweet-spot" for consumers. What Cohen's start-up aims to do is enable consumers to find the foods that fit their ideal flavor profile. How does he plan to do so? Artificial Intelligence.
It doesn't stop at taste, either. Moisture level, texture, gaminess, and a host of other characteristics fall under designations in the Analytic Flavor Systems Gastrograph app, a categorization spectrum that takes into account 24 different touchpoints with varying levels of intensity. Submenus under each characteristic allow for even further analysis. A sample Flavor Analysis of Dogfish Head's 120-minute IPA was mapped in an article published by The New Food Economy, which highlighted the app and larger topic of AI and mass personalization in beverage manufacturing.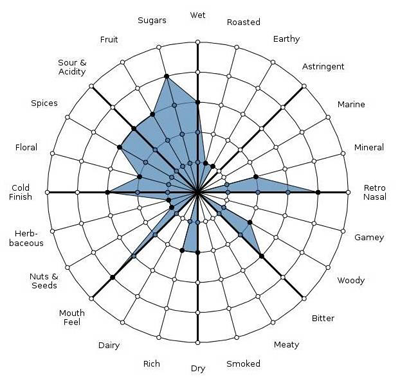 A flavor analysis of a craft beer, Dogfish Head's 120-minute IPA, mapped using the Gastrograph app.
The personalized flavor profiling concept emerged during Cohen's studies in Information Sciences and Technology. Cohen didn't finish his graduate degree, but instead opted to pursue his project with Analytic Flavor Systems and the Gastrograph App. Now touted as the first artificial intelligence platform to understand human sensory perception. Some of the biggest names in beverage are leveraging Cohen's services. While it remains to be seen how strongly one can lean on the findings of the Gastrograph AI, the happening could be signal a new era of consumer profiling practices where food and beverage makers will make this sensory profiling a compulsory part of research when developing new products.
Craft Beverage Makers Make Impact Among US Manufacturers
Among the 10 fastest growing industries in the US is the beverage manufacturing industry ranks third, which only highlights the importance of innovation in the fields of gastronomy and manufacturing. Beverage manufacturing ranks just below Heavy and Civil Engineering Construction and highest-ranking Support Activities for Mining. The three experienced 44.9%, 17.1% and 17.1% growth in sales, from first to third ranking. This designation for beverages included everything from breweries to water and soft drinks. Sageworks analyst Libby Bierman offered comment following the recently released report that, "If you think about the rise in microbreweries and taprooms, it may not be that surprising to see these manufacturers nearing the top of the list." The report itself relies on cooperative data gleaned from financial statements from private companies, like accounting firms, banks, and credit unions.
About Encompass Solutions
Encompass Solutions, Inc. is an ERP consulting firm and Epicor Platinum Partner that offers professional services in business consulting, project management, and software implementation. Whether undertaking full-scale implementation, integration, and renovation of existing systems or addressing the emerging challenges in corporate and operational growth, Encompass provides a specialized approach to every client's needs. As experts in identifying customer requirements and addressing them with the right solutions, we ensure our clients are equipped to match the pace of Industry.