A Human Touch: How Industrial Automation Is Saving Lives During COVID 19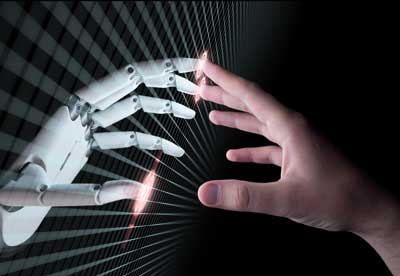 The coronavirus pandemic threw the world into a frenzy of trying to keep our lives intact while battling an increasingly difficult and seemingly invincible foe. Looking back at 2020, we can clearly see the impact this disease has had on the world and what we humans have had to change in our lives to limit its effects.
The past year has forced businesses to adapt and try to keep afloat amidst restrictions, lockdowns, and social distancing guidelines.
The nature of this unique and unprecedented situation has allowed certain niche operations and procedures to come to the spotlight. Industrial automation was a strong force that was sweeping the business world for years, but COVID-19 has quite literally accelerated the potential of automation by at least a decade.
To understand the future of automation, we have to understand this year and how robots and machines kept the world going and how they became the lifeblood of many companies and manufacturing processes.
The New Normal
Robots have always been looked at with suspicion and even a little fear. While people are wary of the impact robots have on their job security and what their career will look like 10 years down the line, recent events have made their characteristics incredibly useful.
To limit transmission of the COVID-19 virus, medical professionals and the WHO have issued several guidelines on best practices to follow for businesses and individuals. This includes social distancing and limiting contact with humans as much as possible.
While this is a simple thing to implement for individuals, companies, and manufacturing processes that rely on many workers and laborers on a daily basis, are faced with a more complicated problem. Worker safety should, hopefully, be a top priority for them but at the same time, they can't keep their production processes at the level they may have been before.
Industrial automation offers a perfect solution to this problem. COVID vulnerable workers can be replaced with machines and robots that can replicate their jobs at an acceptable if not improved level.
The Potential Risk
The reason for this push is because the implications are quite severe. The main problem at the moment with COVID 19 is trying to reduce transmission of the disease. This is not an easy task as it is very infectious and can stay on surfaces anywhere from several hours to several days.
If an asymptomatic infected person is on the assembly line and is touching or breathing on products and near his colleagues, the chances of transmission increase significantly. Obviously, gloves and masks would be worn at all times but even then, the risk is ever-present.
Failure to stop the spread especially from within the company itself could result in month-long closures and huge revenue losses. A potential harm that is very difficult to justify no matter how many masks your staff is wearing as someone is bound to get careless at some point or another.
A New Era of Jobs
The future of robots replacing humans might be coming sooner than we thought. Analyst company Forrester published a report at the start of this year that notes that companies are projected to invest more in automation upgrades than in rehiring new workers after job layoffs due to the pandemic.
Forrester also urged companies to accelerate their long-term automation plans as it is, according to them, the key to surviving the coronavirus recession.
Does this mean that all jobs are in jeopardy? No. Most upper management positions and engineering roles will stay relevant as someone has to oversee these upgrades and machine maintenance procedures, but the future for assembly, manufacturing, and physical labor jobs is not bright.
This is a great opportunity for governments and other institutions to try and reskill people to get higher paying, more stable jobs in the rapidly evolving and adapting world we live in today.
Industries Embracing the Change
The manufacturing, service, and food industries are the quickest adopters of this revolution because their work is very heavily influenced by direct human interaction whether through taking fast food orders, preparing meals, or manually putting together products.
Self-service fast-food stations at McDonald's are becoming more popular and cashier-less grocery stores are also increasing in numbers throughout the US and the rest of the developed world. The fast-food giant is also testing robot cooks and servers.
Other companies like Walmart are using robots to scrub their floors in place of a human janitor. Robots in South Korea and Japan are calibrated to measure temperatures and distribute hand sanitizers. There are even UVD robots that use ultraviolet light to disinfect items. These specific robots are in extremely high demand for grocery stores and hospitals for obvious reasons.
All of the above examples illustrate how some of the world's biggest companies and retailers are actively trying to keep their workers safe and their business models intact. As time goes on, more and more innovative machines will be developed and calibrated to perform optimally and at a more attainable budget for the vast majority of small-scale corporations.
Conclusion
Fearing technology and progression will result in little to no progress being made and the trajectory of where industrial automation is taking us is undeniable in its scale and overall benefits.
At the end of the day, safety is more important than anything else and the fact the robots are helping limit human contact and as a result, are helping reduce the spread of the virus is reason enough to support their adaptation.
In spite of global uncertainty, new technologies and products continue to be released, innovation continues to rise, and the world keeps moving forward. Automation is the catalyst for this and the reason we can keep working as well as we do and if the present is any indication for what's to come then the future, with or without COVID 19, is certainly a bright one.