The Bot Brief
"There is no force on earth more powerful than an idea whose time has come."
- Victor Hugo
Bots in The News: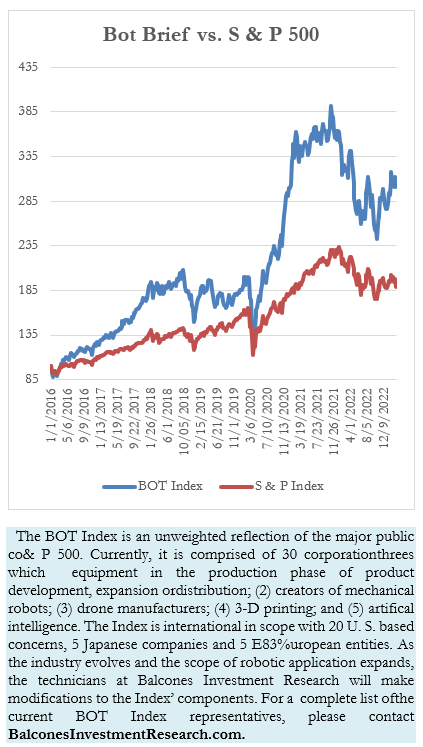 When it comes to Fed watchers, good economic news is bad news. With the strength of the labor market, as noted in the late week report, the stock market presumed that the account provided further evidence of a need for monetary tightening. Of course, higher rates provide alternatives to the stock market as investors seek a risk off posture….particularly one that provides a lucrative return. The failure of SVB, one of the nation's top 20 banks, sent shudders within the equity market and contributed to the 4.55% weekly decline in the S & P 500. The Bot Index faired little better as it experienced a 3.63% slide. The week's battle between the two indices allowed the Bots to come out on top for the third consecutive week.
Defense issues led the bots with their leader AeroVironment which advanced 1.42%. Others involved in the military that faired better than the aggregate Bot Index included Raytheon (-3%), Lockheed Martin (-.05%) and Northrup Grumman (-1.6%). It should be noted that the Japanese stocks within the Index also contributed to the outperformance to the S & P 500.
It was another bad day for the EV components as Tesla dropped 12.31% and NIO Inc. fell 11.07%. 3D Systems declined 10.11% and Oceaneering International fell 13.88% to round out the double-digit decliners.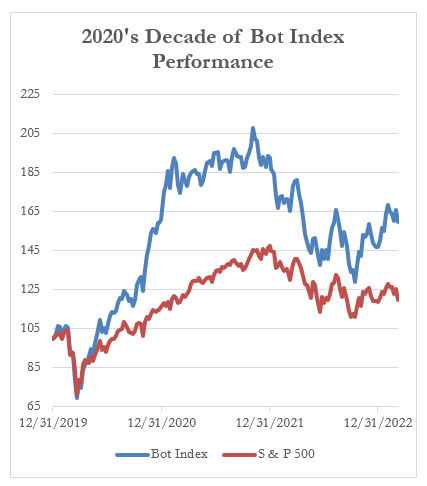 Member: American Economic Association, Society of Professional Journalists, United States Press Association. Institute of Chartered Financial Analysts, Robotic Industries Association, Member IEEE.
The Bot Brief is a weekly newsletter designed for economists, investment specialists, journalists, and academicians. It receives no remuneration from any companies that may from time to time be featured in the brief and its commentaries, analysis, opinions, and research represent the subjective view of Balcones Investment Research, LLC. Due to the complex and rapidly changing nature of the subject matter, the company makes no assurances as to the absolute accuracy of material presented.