The Bot Brief
"There is no force on earth more powerful than an idea whose time has come."
- Victor Hugo
Bots in The News: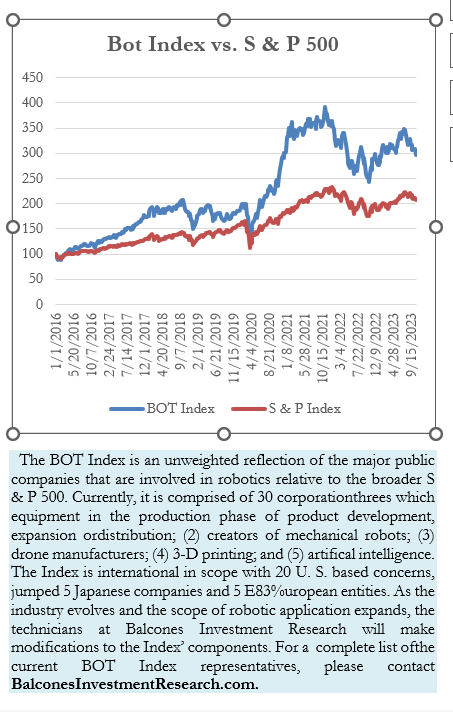 A resurgence of the tech giants within the Bot Index was insufficient to lead the bots over the broad market. The S & P 500 gained 1.31% while the Bot Index fell eighty-five basis points.
There were three stocks within the bots that fell by double digits. NIO Inc., the Chinese EV company, declined 12% following an announcement by the EU that the commission was reviewing subsidies paid to EV's produced in China. On top of that report was a comment by Elon Musk that its German plant would introduce a significantly more affordable EV offering for the European market.
Accuray Inc. fell 11.79% following its $.03 loss for its fiscal first quarter of 2024.
Also following poor earnings was iRobot who reported a decline in revenues of 7.4% that forced a 33% earnings retreat. The stock fell 11.65%.
Oceaneering International continued its weekly declines, falling 5.44%. The slide marks four consecutive weeks of reductions.
The major gainers were centered on the large tech group. NVIDIA Corp. led the gainers with a 7.40% increase. Apple, Google and Amazon also improved modestly. The best performance outside the tech sector was ABB Ltd. The company gained 3.6% following a favorable Wall Street report on the company's high yield and earnings coverage. The stock yields 4.47% despite its 17.75% gain since year end 2023.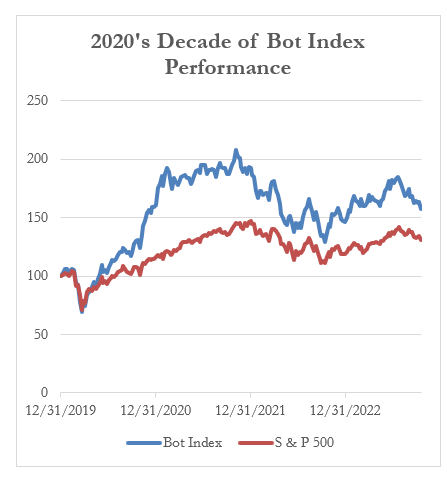 Do Not Wear Khakis to Work:
Apparently, it is critical to avoid wearing anything that is beige, has a string around it or is rectangular to work. A report from South Korea just came in regarding an inspection worker's death at the hands of an industrial robot. Evidently, the robot's cognitive ability was sufficiently impaired as to cause the robot to confuse the worker with a package. The robot grabbed the inspector and shoved him with such force onto a conveyor belt, that the injuries caused the worker to expire.