The Bot Brief
"There is no force on earth more powerful than an idea whose time has come."
- Victor Hugo
Bots in The News: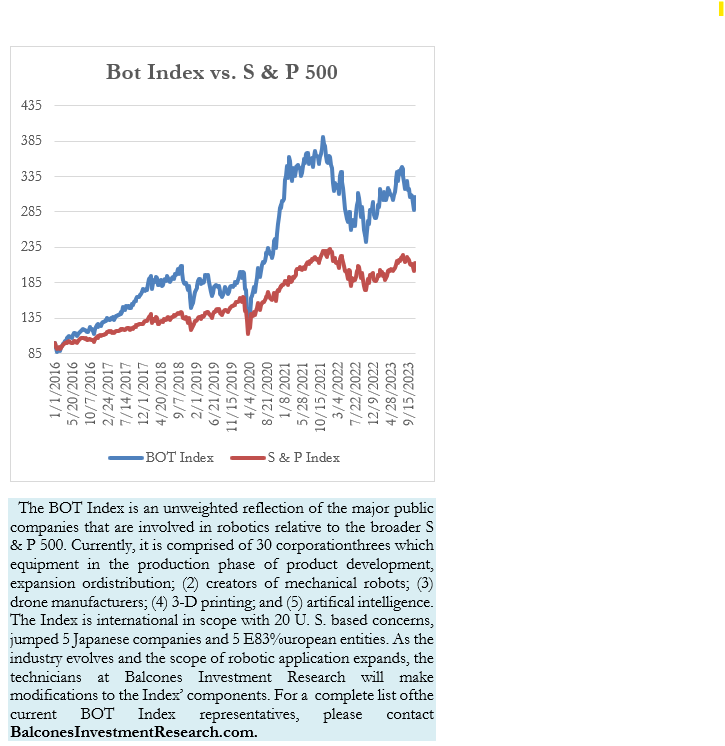 A cessation stance by the Fed in its monetary policy tightening and some weak economic reports helped launch a major upswing in the tech stocks and the equity market in general last week. The unemployment rate for October jumped as employment gained only 150,000 jobs, far below the expected 180,000. The labor participation rate, which has been somewhat a conundrum to economists, fell again to only 62.7%.
In addition to weaker employment statistics, the ISM PMI Services sector dropped to 51.8 from October from September's 53.6 and well below analyst predictions of a 53 number. Since the ISM numbers are generally considered a leading indicator of economic growth, the Fed had some comfort in avoiding further rate hikes. Essentially, the prior tightening was having the anticipated results of slowing the economy and, likewise, inflation.
The broad market gained 5.85% while the Bot Index jumped 6.38%. The bots were paced by four companies whose stock prices rose in excess of ten percent. The leading performer, Faro Technologies, soared over 30% following its report of earnings. According to the management's letter, "the company reported total sales of $86.8 million, marking a 2% increase year over year. This exceeded the high-end of the company's expectations, driven by moderate improvements in end market demand and operational performance."
The second-best performance was turned in by 3D Systems, whose 20.22% rise, didn't recover from the 19% shellacking of the prior week. The company did announce some product innovations it will showcase at Formnext 2023 including materials and printing technologies engineered to help customers meet a variety of application needs.
NVIDIA Corp. rebounded from some lackadaisical returns recently following a reported increase in PC sales. Users of gaming chips have been sluggish over the past few months but had turned a corner in reports from last week. In addition, rival AMD soared last Wednesday on better-than-expected results in its chip demand leading investors to speculate that NVIDIA's upcoming earnings report will be an upside surprise.
Finally, NIO Inc. gained 10.62% following its announcement of cuts in employment and investments in P & E.
There were only three of the thirty stock index that recorded declines in share value. The worst was the 3.40% slide by iRobot. The EU delayed its approval of iRobot's takeover by Amazon until February 14th. Perhaps, however, the Valentine's Day announcement might signify the union's approval.
Oceaneering International's decline of 1.68% was due to a revenue lag, however, earnings did beat expectations.
Northrup Grumman slid a mere 53 basis points as the company has slowly been giving up some of its gains following the October 7th war in the Middle East.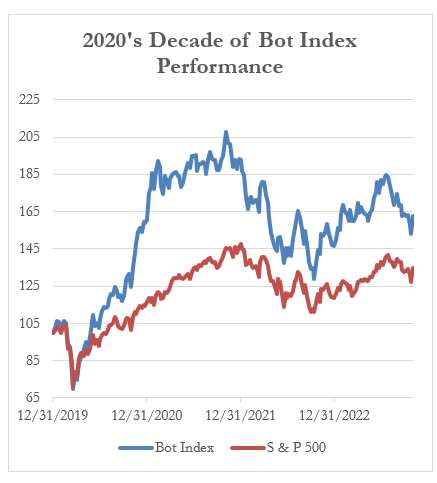 Equilibrium:
In regard to the aforementioned Fed decisions, the pursuit and achievement of equilibrium is the goal of economic policy. However, it is this balance that is a natural law that transcends policy pursuits. This symmetry of logic that formed Adam Smith's Wealth of Nations, the Pareto Principle, costs and benefits, supply and demand, efficiency and equity and incentives all have a 'sweet spot' that economists refer to as equilibrium.
In a recent interview with the Prime Minister of Great Britain, Elon Musk made the statement that the advent of AI will make "All Jobs Irrelevant as AI is the most disruptive force in history." Perhaps Mr. Musk is correct in his assumptions; however, how can there be any form of equilibrium if no one has a job and, hence, no wages? What would it matter if AI could produce products and services if no one can afford to purchase them? Clearly, economists will figure out the point of equilibrium whereby AI's production can match the propensity to purchase that particular production. Perhaps this has been perceived by Mr. Musk and he is fearful that the laws of economics may have to change.
Member: American Economic Association, Society of Professional Journalists, United States Press Association. Institute of Chartered Financial Analysts, Robotic Industries Association (now A3 Automation), Member IEEE.
The Bot Brief is a weekly newsletter designed for economists, investment specialists, journalists, and academicians. It receives no remuneration from any companies that may from time to time be featured in the brief and its commentaries, analysis, opinions, and research represent the subjective view of Balcones Investment Research, LLC. Due to the complex and rapidly changing nature of the subject matter, the company makes no assurances as to the absolute accuracy of the material presented.