The Bot Brief
"There is no force on earth more powerful than an idea whose time has come."
- Victor Hugo
Bots in The News: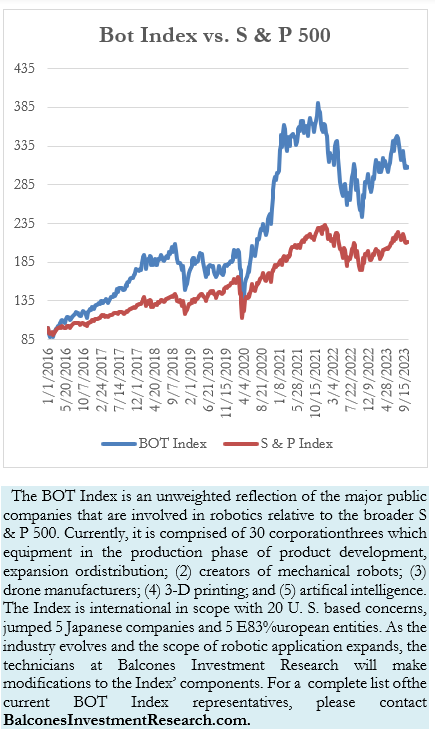 The war in the middle east dominated headlines and impacted the investment markets in last week's trading. Of the thirty stock Bot Index, four of the top five performers were involved in defense manufacturing. The best performer was the arms maker Northrup Grumman whose shares gained 15.80%.
Lockheed Martin was the only other double-digit gainer with a 10.06% gain.
AeroVironment (+6.19%) and Raytheon Technologies (6%) rounded out the components whose products were likely to experience increased demand.
The only other significant gainer was Oceaneering International whose 7.05% increase was likely due to increases in oil prices during the week.
Cognex Corp. was the weakest stock in the Index with a nearly 10% decline. The company was hit by a research piece by Investor Place entitled, "3 Robotic Stocks to Dump Before the Damage is Done". The article focused on the
cyclicality of its industrial end users and the likelihood of economic weakness.
3D Systems continued its decline, falling another 8.51%.
Industry darling, Intuitive Surgical, fell 7.62% on huge volume. Wednesday and Thursday's trading saw 3.56 and 5.15 million shares as a major holder dumped the company. This volume was 5 times the normal volume trading.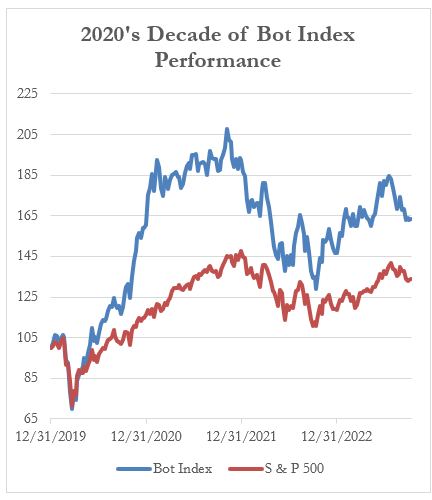 Member: American Economic Association, Society of Professional Journalists, United States Press Association. Institute of Chartered Financial Analysts, Robotic Industries Association (now A3 Automation), Member IEEE.
The Bot Brief is a weekly newsletter designed for economists, investment specialists, journalists, and academicians. It receives no remuneration from any companies that may from time to time be featured in the brief and its commentaries, analysis, opinions, and research represent the subjective view of Balcones Investment Research, LLC. Due to the complex and rapidly changing nature of the subject matter, the company makes no assurances as to the absolute accuracy of the material presented.