HiveMQ Introduces HiveMQ University and MQTT Certification Programs
8 November 2023 – Boston, MA and Landshut, Germany - HiveMQ, the global leader in enterprise MQTT solutions, today announced the launch of HiveMQ University, an innovative educational platform, and two certification programs designed to train individuals to excel in IoT and MQTT: HiveMQ MQTT v3.1.1 Professional and HiveMQ Certified MQTT Associate.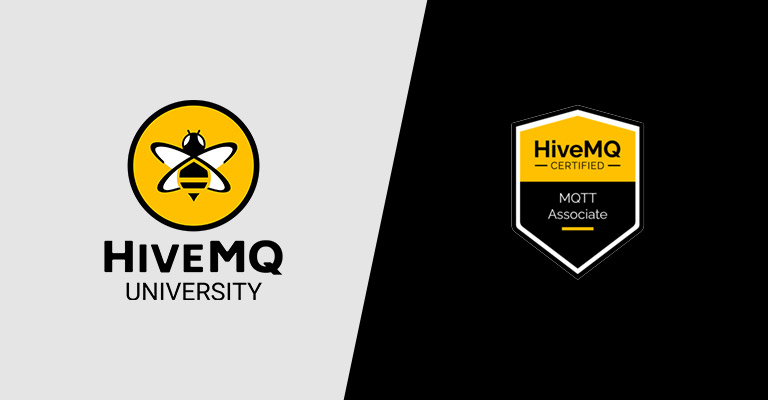 HiveMQ has a long history as the leader in MQTT learning materials since its inception in 2012, with its extremely popular MQTT Essentials series paving the way for HiveMQ University. Many companies lack the in-house expertise to implement effective MQTT training, making HiveMQ University an excellent resource to help organizations standardize on MQTT and ensure that their practitioners are certified on their craft.
"Since the start of HiveMQ we have had a goal to help learners at any stage of their journey understand the MQTT protocol and how it can enable their IoT projects with the seamless and secure movement of data," said Dominik Obermaier, co-founder and CTO of HiveMQ. "HiveMQ University allows us to expand that audience and help more people from all over the world realize the power of MQTT and get certified."
HiveMQ University already includes IoT practitioners from around the world, with hundreds achieving certification. In the coming months, HiveMQ will launch additional courses for partner training, architecting edge-to-cloud solutions, and product training such as the recently launched HiveMQ Data Hub offering.
"The MQTT 3.1.1 Certification was a significant milestone for me, serving as both a validation of my skills and an enhancement of my technical proficiency," said Gustavo Rostirolla, Consultant at Concept Reply GmbH. "Here at Concept Reply, it also helps reassure our customers of our expertise in MQTT 3.1.1, which will be applied in a smart farming project. I believe it's an essential credential for anyone in the MQTT community who aims to instill confidence in their clients and lead the way in IoT projects."
Visit university.hivemq.com to get started.
About HiveMQ
HiveMQ empowers businesses to transform with the most trusted MQTT platform. Designed to connect, communicate, and control IoT data under real-world stress, the HiveMQ MQTT Platform is the proven enterprise standard and powers use cases in automotive, energy, logistics, smart manufacturing, transportation, and more. Leading brands like Audi, BMW, Honeywell, Liberty Global, Mercedes-Benz, Siemens, and ZF choose HiveMQ to build smarter IoT projects, modernize factories, and create better customer experiences. Visit hivemq.com to learn more.