Association for Advancing Automation (A3) Wins $300,000 2023 Market Development Cooperator Award from U.S. Department of Commerce
A3 to be awarded federal grant to support U.S. business in expanding exports and creating jobs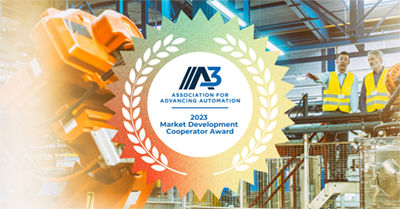 ANN ARBOR, Michigan – The Association for Advancing Automation (A3) was awarded $299,241 for the 2023 Market Development Cooperator Program (MDCP) grant, the U.S. Secretary of Commerce Gina M. Raimondo announced this week. A3 was selected as one of two organizations to receive the grant for projects aimed to boost U.S. exports and support jobs across the country.
A3 will utilize the MDCP award to support U.S. robotics and automation firms in expanding their exports of equipment and services to Mexico and India. Partnering with a team of ITA staff based both in the target markets and the United States, A3 will connect U.S. companies with prospective partners and buyers of robotics and automation products and services in Mexico and India. The association plans to organize trade missions and provide export training to help U.S. automation companies navigate international markets and increase their global presence.
"We believe that A3 can play a key role in helping companies in Mexico and India take advantage of innovative automation products and services from U.S. companies," said Jeff Burnstein, President of A3. "We are very grateful for the trust placed in us by the Department of Commerce as we move forward with our efforts."
"I am thrilled to congratulate the Association for Advancing Automation and Medical Alley on their innovative projects to help increase U.S. job creation and enhance economic prosperity through exports," said Secretary Raimondo. "For over 30 years, the U.S. Department of Commerce has issued MDCP awards that help U.S. firms across industries elevate their global competitiveness by working to eliminate barriers to trade and expanding export opportunities to more small- and medium-sized businesses across the United States."
Through these awards, the recipients will be able to leverage ITA's global network of more than 2,000 experts in over 80 international markets to pursue sustainable projects that will help strengthen the U.S. economy and workforce. Each federal dollar awarded yields, on average, $286 in U.S. exports making MDCP the most successful federal export cooperative agreement program.
Administered by the U.S. Department of Commerce's International Trade Administration (ITA), the MDCP program awards cooperative agreements that establish partnerships between ITA and non-profit industry groups through which ITA provides technical and financial assistance up to $300,000 for three-to-five-year export-development projects that address trade barriers, enhance U.S. industry competitiveness, and sustain U.S. jobs.
For more information about the Market Development Cooperator Program, visit www.trade.gov/mdcp.
About Association for Advancing Automation (A3)
The Association for Advancing Automation (A3) is the leading global advocate for the benefits of automating. A3 promotes automation technologies and ideas that transform the way business is done. Members of A3 represent more than 1200 manufacturers, component suppliers, system integrators, end users, academic institutions, research groups and consulting firms that drive automation forward worldwide.
A3 hosts a number of industry-leading events, including the A3 Business Forum (January 15-17, 2024, Orlando, Florida); Automate (May 6-9, 2024, in Chicago); the International Robot Safety Conference (October 1-3, 2024, Cincinnati, Ohio); and the Autonomous Mobile Robot & Logistics Conference (October 8-10, 2024, Memphis, Tennessee)
For More Information
Jackie Rose
Association for Advancing Automation
(734) 929-3264