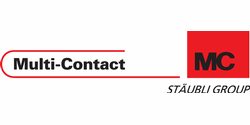 Stäubli Electrical Connectors, Inc.
100 Market Street
Windsor, CA 95492
United States

Robotics | Member Since 1998
Multi-Contact is the world's leading manufacturer for industrial robotic cable interconnections. All of our products utilize the Multilam (TM) technology from signal currents to extremely high currents. From design to manufacturing, Multi-Contact connectors are produced to satisfy the highest industry standards. Multi-Contact's connector technology offers both standard and custom designed solutions for a wide and diverse spectrum of applications. Our contact technology has virtually unlimited applications due to its design flexibility and advanced features. The robotic line of connectors are small in size and high in performance. Multi-Contact can provide reliable and cost effective solutions for your interconnection requirements.