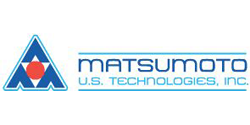 Matsumoto U.S. Technologies, Inc.
180 Ray Sanderson Drive
Madison, AL 35758-1569
United States

Robotics | Member Since 2015
Matsumoto U.S. Technologies is a worldwide leader in providing welding equipment, MRO parts, design and integration service of sophisticated and reliable positioning, both resistance and laser weldings, cutting, robotic, and automated systems. Matsumoto U.S. Technologies, Inc., founded in Alabama in January 2004, is the American subsidiary of Matsumoto Sangyo Corporation, based in Osaka, Japan. We supply quality welding cells, fixtures, supplies and service to customers throughout the South and Midwest. The service includes providing a wide range of support from lead engineering to process development, installation, programming, and testing of automated systems, providing customized solutions to meet clients' manufacturing needs.