Vision Systems Enable Just-in-Time Labeling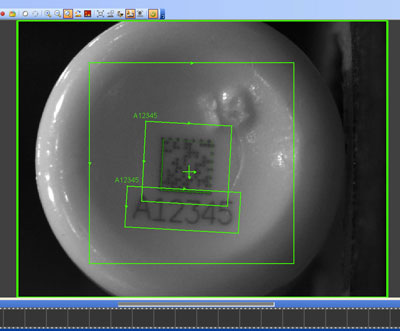 Pharmaceutical manufacturers are consolidating manufacturing and packaging into fewer and fewer plants to reduce costs while at the same time an increasing number of unique packages are needed to meet market and regulatory requirements. These trends are rapidly rendering obsolete the traditional approach where pharmaceutical products are packaged and labeled at the time of production. The goal is a more efficient approach often called bright stock manufacturing in which products are produced in large efficient batches and stored in unlabeled individual containers. These containers are then labeled just prior to shipment. The main challenge of implementing bright stock manufacturing is ensuring that the contents of every container are known with 100% certainty before applying the label.
FP Developments Inc., a supplier of packaging machinery, has provided a major manufacturer of ophthalmic pharmaceuticals with seven packaging lines. Each line will utilize FP Model 1371 coding machines that mark a unique code on each bottle during the filling process and use a vision system to verify the code before the product is stored or transferred. During packaging, that code is re-verified before the label is applied and at other points in the supply chain to ensure complete traceability. A key to the success of this approach is the use of Cognex In-Sight 5400 and 5600 series vision systems to read relatively low contrast laser-marked 2D Data Matrix codes with near 100% read rates. The pharmaceutical manufacturer will see significant dollar savings and short term return on investment primarily from the ability to manufacture in efficient large batches while providing high service levels and avoiding obsolete inventory by applying labels just before shipment.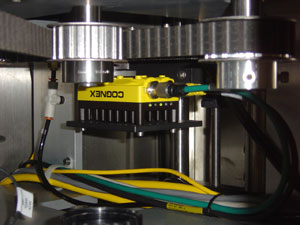 Need for just-in-time labeling
The trend in the pharmaceutical industry is towards consolidating manufacturing operations into a small number of high-volume plants producing products for large geographic areas, in many cases the whole world. At the same time, each product requires an increasing number of unique labels to meet requirements by many countries for unique packaging as well as to meet other requirements. The traditional approach of labeling and packaging the product at the time of production is becoming increasingly untenable because the manufacturer is forced to estimate the demand for each of the different labels used with its products. This approach usually requires that production be in relatively small batches which are more costly than larger batches. When market demand doesn't match the forecast, product rapidly loses its value as it moves closer to its expiration date. Even while labeled product is losing value sitting on the shelf, the manufacturer may be forced to produce and label the same product to meet unexpectedly high demand for the same product with different labels.
Pharmaceutical manufacturers have long wanted to move to the more efficient approach of producing bright stock in large efficient quantities and labeling and packaging the product just prior to shipment when demand is known for certain. But a major concern of this method is making certain that the contents of each and every bottle match its label. How can the manufacturer be certain that a handful of bottles containing a different product haven't been mixed together with the batch being labeled? Just a single bottle with the wrong contents could have enormous consequences including harm to a patient, damage to the manufacturer's reputation, a multimillion dollar recall and so on. This same concern, it should be noted, also applies to the increasingly large number of pharmaceutical manufacturers that due to plant consolidation are now making products in one facility and shipping them to another for labeling.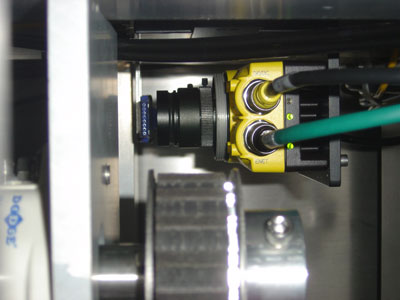 Value of marking each container
An obvious solution to this problem is to mark each container at the time of production to eliminate any doubt as to its contents. This code is then read just prior to applying the label and packaging in order to ensure that the bottle contains exactly what the label says it does. This raises the challenge of generating a mark on the bottle, often made of high density polyethylene (HDPE), that can be read with certainty during downstream processing. Traditional marking solutions such as CO2 and fiber lasers cannot generate much contrast on HDPE materials, rendering bar codes nearly unreadable. Ultraviolet (UV) lasers can generate a darker mark but it is still challenging to maintain the high read rates due to the many variables in the marking and reading process.
These unavoidable limitations in the marking process make machine vision critical to the success of just-in-time labeling. The traditional approach to machine vision involves the use of cameras controlled by personal computers (PCs). But PC-based vision systems take considerable time and effort to integrate because they require considerable vision expertise and in many cases knowledge of low-level programming languages. PC-based vision systems also require IT department oversight, service pack updates, and other items like virus protection software. PC-based systems can also be expensive in today's regulatory environment because each upgrade to the PC and vision code may require revalidation to meet FDA requirements.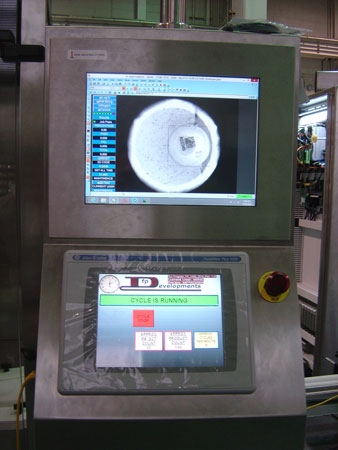 Advantages of vision systems
"We decided instead to use Cognex In-Sight 5400 and 5600 series smart camera vision systems because they are easy to implement, easy to administer and easy to validate," said Dave Pfleger, COO of FP Developments. In-Sight vision systems are controlled by internal microprocessors so they can operate independently of a PC. The security and recipes for the vision systems can be downloaded direct from the network or an industrial PC. Typically only one industrial computer per line is needed regardless of the number of vision systems to manage the security and recipes for the vision systems.
Vision systems are less expensive to implement because they can typically be developed without writing a line of code by utilizing a few prewritten functions called vision tools. The seven systems that FP Developments recently provided to a major pharmaceutical manufacturer use only two vision tools to read 2D Data Matrix codes marked with UV lasers on HDPE bottles. "Cognex vision systems are easily maintained by operators and easy to troubleshoot or perform routine maintenance on," Dave Pfleger said. Operators can adjust the focus or lighting on the vision system either by plugging in a laptop or by operating the vision system in teach mode. Validation expenses are much lower for vision systems because they are simpler and inherently more stable over time.
The vision system and laser are connected via Ethernet to a programmable logic controller (PLC). The PLC triggers the laser and vision system. The vision system compares the code on the bottle to the recipe and sends a pass or fail signal to the PLC. The system is currently operating at up to 250 bottles per minute with near 100% read rates and is capable of operating at substantially higher speeds.
FP Developments produced seven packaging lines that incorporate laser making and Cognex vision systems for the US and European operations of a major pharmaceutical manufacturer. These systems have enabled the manufacturer to migrate to a bright stock packaging process in which products are manufactured and packaged in unlabeled bottles that are each permanently marked with a code that indicates its contents. Labeling and unit packaging are performed just prior to shipment just after reading the code on the bottle to ensure that the contents of each bottle matches the label.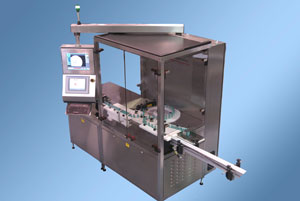 Production advantages with economic benefits
The pharmaceutical manufacturer is attaining a significant amount of dollars in savings by manufacturing products very efficiently in large batches and achieving high service levels while reducing inventory and product obsolescence. At the same time, the pharmaceutical manufacturer can prove that it has control of its process to eliminate mis-packaging. This approach also has the potential provide additional benefits in the event of a production problem. For example another manufacturer had a minor problem with graphics in a small percentage of a batch. It ran the batch back through the packaging machine and used the vision system to scan each bottle and pull out the bad ones. In the event of a batch specific recall, the system could also be used to scan the recalled bottles to determine what percentage of the bad batch has been recovered and possibly to release the good bottles back into the supply chain.
The new packaging systems also position the pharmaceutical manufacturer to achieve compliance with upcoming regulations designed to prevent counterfeit drugs from making their way into the hands of consumers. With billions of tablets and capsules shipped, it is easy to slip in tens of thousands of counterfeit items or divert a few large shipments into unauthorized channels. Regulators around the world have been working for years to develop a standard for a secure electronic record of the chain-of-custody of pharmaceuticals, often called ePedigree. The infrastructure needed to validate the origin of a unit package of pharmaceutical is not yet in place, however, pharmaceutical manufacturers that mark and read individual bottles have the ability to easily track the origin of each bottle. All in all, the new generation of serialization solutions based on vision systems can help pharmaceutical manufacturers reduce costs and improve the security of their supply chain.