Vision-Enabled Part Feeder Achieves 100% Sortation with Simple, Flexible Solution that Provides 100% Quality Inspection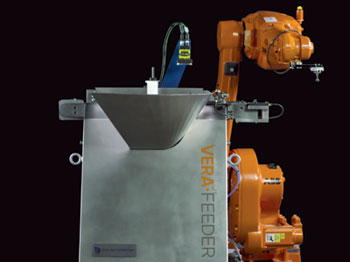 Vibratory bowl feeders are used to sort, present, and orient bulk components for assembly on processing lines. Although once considered indispensable, these devices have several shortcomings. Mainly, they lack the flexibility demanded in modern manufacturing facilities, where effectiveness is measured by overall equipment efficiency (OEE).
Designed as single-purpose hardware, bowl feeders often require costly, time-consuming tooling that is customized for each specific sortation and serialization application. Applications with multiple parts or components with complex shapes, varying sizes, and irregular surfaces present another drawback because they are difficult for traditional feeding systems to orient.
A new type of simple, flexible feeding system overcomes these limitations by using a Cognex vision sensor to achieve 100% quality inspection for multiple shapes and sizes of parts while eliminating the need for custom-designed tooling. VERA™ System, a division of D&D Automation, designed the VERA™ Feeder to feed and inspect a variety of small parts, primarily nuts and bolts, but also small electrical or packaging components. The feeder is optimized for parts less than 2 inches wide, but is scalable for applications that require larger components.
The In-Sight® 2000 series vision sensor allows the VERA Feeder to achieve this flexibility and quality control while automating solutions for applications that were not previously cost effective to automate. VERA System selected the In-Sight 2000 because it delivers the required flexibility while keeping the VERA Feeder competitively priced. The built-in Cognex IR light and filter reduces ambient light pollution and maintains a steady image under a wide variety of customer environments.
"Customers who do low-quantity runs of multiple part types can't justify the capital expense of a dedicated feeder," says Keith McIntosh, Sales Manager at VERA System. "Our feeder allows them to automate multiple part types on the same feeder."
A traditional feeder presented with two components identical in geometry but different in color cannot sort the good from the bad. The vision-equipped VERA Feeder not only sees the difference but also spots defects in the parts, stopping them from moving on to downstream processes. Because the system correctly screens parts 100% of the time, end-users experience no downtime.
In testing, the VERA Feeder up to doubles feed rates advertised by standard bowl feeders. In one customer application, a single VERA Feeder unit was able to feed 5 different parts, at 25% of the cost of traditional methods. Part changeover occurred in a few minutes, whereas changing out a bowl feeder would have taken hours and required other tooling changes.
By leveraging machine vision for part sortation, the VERA Feeder offers a cost-effective solution to the parts feeding industry that attains 100% quality inspection on multiple components, eliminates custom tooling, and improves OEE.