Trimming challenging materials with waterjet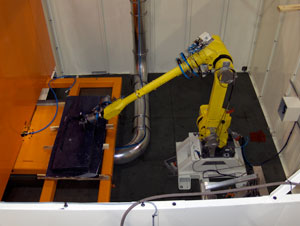 Challenge
Plastics Unlimited is an Iowa-based company that manufactures custom thermoformed products including automotive and recreational vehicle trim, shipping pallets, packaging materials, covers and shrouds. Plastics Unlimited has also developed a unique, patent-pending Tool-less Engineered Composite (TEC) System in which fiberglass is bonded to a thermoformed part, creating a product with a Class A finish that is lightweight and extremely strong.
The strength and durability of Plastics Unlimited's TEC material made it difficult to trim with its current robotic routing cell. The system would be down for a week each time a spindle needed to be replaced, and cut quality would suffer as the router bits would begin to wear. After Plastics Unlimited received a large order from a new customer, the need for increased trimming capacity caused them to look for a new, reliable trimming solution that would increase part quality and produce more parts per hour.
Solution
According to Plastics Unlimited Design Manager Ben Clarke, the company noticed KMT Robotic Solutions at various industry trade shows and was impressed with the company's capability and process technology. After reviewing process requirements with KMT's engineering and sales teams, Plastics Unlimited sent parts in to KMT's Process Solution Center to be tested on both waterjet cutting and router trimming systems. In the end, the company decided that KMT's JetTool waterjet cutting system produced the best results.
"The waterjet trimmed the material much more easily than the router. This steered us more toward a waterjet system," said Clarke. The waterjet trimming process reduced the amount of part finishing and sanding required by 60 percent and eliminated the need for a dust collection system.
The waterjet cutting system also included KMT's System Calibration Tools, AccuFind, and Offline Programming Software. AccuFind is a combination
"The AccuFind system has been a godsend," said Clarke. "We probably couldn't cut our parts without it because they are intricate and vary in shape."

Since the integration of the new JetTool waterjet trimming system, Plastics Unlimited has been able to increase trimming capacity, flexibility and production quality. The waterjet system currently trims around 100 parts in an 8-hour period. Large, specialized parts that wouldn't fit on the old routing system can now be trimmed easily. This newfound flexibility has enabled Plastics Unlimited to quote larger volume projects and expand into new markets.
According to Clarke, Plastics Unlimited is also pleased with the quality service it receives from KMT. The KMT staff is knowledgeable and readily available to help with any questions or problems that may arise. KMT's specialized Training Classes have also helped several Plastics Unlimited team members improve their part programming, intensifier maintenance and software skills.
Plastics Unlimited plans to add more parts to its new waterjet cell and is looking into retrofitting its old router trimming system with KMT's Accuracy Enhancement Tools and CamPro™ offline programming software.
The parts are made of a combination of plastic and durable fiberglass backing, with plastic on the A side. The fiberglass is applied manually and tends to be inconsistent. "Because we have AccuFind, we're able to fixture the parts on the B side instead of the A side," Clarke said. "This allows us to trim the parts three times faster," said Clarke. "The quality of the waterjet cut compared to the router is much better on our TEC material."

The waterjet cutting system also includes KMT's revolutionary CamPro software, which seamlesslyconverts CAD/CAM-generated trimming and milling paths into complete 6-axis robot programs. CamPro can be used on KMT JetTool of hardware and software used specifically on parts that tend to warp, bow or shrink from their original dimensions. It uses a sensor to determine the location of the part's critical features and then automatically offsets the robot program accordingly.
"CamPro is definitely the way to program a robot – the machine is running production while you're making changes to the program," Clarke said. "With the implementation of CamPro, we were able to program [the twelve parts] and setup the robot in about three weeks." Clarke expects that programming time will decrease even further as operators become increasingly familiar with the CamPro software.
Results