Tray Loading Robot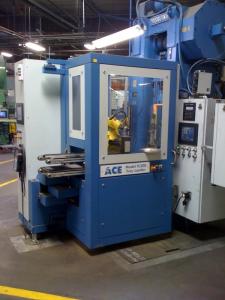 Customer Information – ASCO Sintering is an employee-owned company and is a leader in the design and manufacturing of powdered metal products. For the past 50 years, ASCO Sintering has maintained strong relationships with several Fortune 500 companies in the transportation, lawn and garden, hardware and tools industries by engineering solutions for complex, multi-level and miniature P/M parts. For more information on ASCO Sintering visit www.ascosintering.com/
Application – The automatic part unloading of a Yoshizuka 44 ton powder metal press.
Background – The existing process for unloading parts from the powder metal press included: hand picking the part from the press, removing excess loose powder with a blow-off nozzle, brushing the edges of the parts to remove flash, and placing the part onto a tray in an organized manner for sintering. This application used a single operator per shift, 2 shifts per day, and 5 days per week.
Problem - A one person/one machine operating philosophy had become cost prohibitive and therefore ineffective. Moreover, the ever increasing potential of workers compensation claims, due to repetitive motion type work, placed the company at constant financial risk.
Solution - The solution to the problem was implementing an Automated Cells & Equipment Model TL200 Tray Loader to automate the press unload process.
Equipment Used
A FANUC LRMate 200iC 6-axis robot mounted to a machine base
Single mechanical gripper with fingers to grip the part and set on the tray in the same orientation
Part blow off station
Over/under tray conveyors to stage up to three trays and provide unattended time
Controls included a large HMI with job number and pictorial specific part programming
Safety enclosure with interlocks
Results – The ACE Model TL200 Tray Loader was able to accomplish all the tasks mentioned above and save valuable cycle time. In addition, the Model TL200 Tray Loader was able to stop the press without extending the cycle time, should a press malfunction occur. The part unload cycle time was shortened and the press throughput increased 25% over existing production rate! ASCO Sintering was so pleased with the results of their first Model TL200 Tray Loader that they purchased a second unit soon after, for a multi cavity application, and plan to purchase a third unit next year.
Customer Testimonial - "Automated Cells & Equipment provided our company a robust and cost effective solution for unloading our powder metal press. Their people were friendly and professional in their execution of the automation and have provided excellent after the sale support to us. The ACE robot technician was excellent in facilitating the installation and development of the project."