Three Robots Perform Tandem-arc, Heavy-deposition Welding on Manitowoc Cranes Outriggers
POSTED 10/01/2008
 | By: Mary Kay Morel, Staff Writer/Editor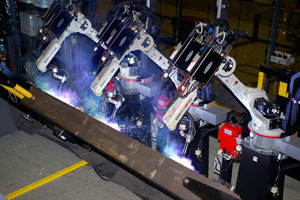 Manitowoc Cranes recently implemented a unique triple robot tandem-arc welding automation solution in its Shady Grove, Pennsylvania factory to solve several common challenges faced by many U.S. manufacturers today. Despite a shortage of skilled manual welders, Manitowoc needed to find a way to improve productivity and bring outsourced production back in-house, while providing the manufacturing flexibility needed to perform heavy-deposition GMAW on a wide range of large construction crane outrigger beams. The new robotic system welds 26 different models distributed among three part families. Mild steel parts range from approximately five to 12 feet long and are 0.25-0.75 inches thick. Outrigger beams weigh approximately 500-1,700 lbs.
"Results have been stellar," said Peter Johnson, Senior Manufacturing Engineer for Manitowoc. "Beams with seven to 10 welds ranging from approximately two inches to 10 feet long that formerly took three to four hours to weld manually can now be welded, on average, in 17-18 minutes, with some parts finished in as little as 13 minutes. That is significantly faster than the 27-minute cycle time requirement that was our goal with this robot system," he continued.
"We've also been able to bring outsourced production back in house, saving the company a tremendous amount of time and money," Johnson added. "Having the robots has also allowed us to redeploy skilled manual welders elsewhere in the plant," he explained.
The use of tandem arc welding equipment on a triple robot system makes this installation remarkable.
"We believe that this is the first triple robot tandem-arc welding system of its kind anywhere in the U.S.," said Gerald Obritzberger, Director of Sales and Marketing for Fronius USA.
"Long, straight welds with little fixture interference made the tandem-arc process a good fit for this application, increasing welding speed and deposition rate," Obritzberger added.
System Equipment
Heavier-than-usual payload robots are needed to carry the tandem-arc torches and peripherals, and a relatively long reach is required to access the welds on the large outrigger beams. The workcell includes three six-axis Motoman HP20 robots that feature a 20 kg payload, 67.6" (1,717 mm) reach and ±0.002-in. (±0.06) mm repeatability.
Welding and related equipment includes three Fronius TimeTwin TPS 5000 digital welding packages and three Fronius Robacta Twin Compact 900-amp water-cooled tandem-arc GMAW torch packages. To allow bi-directional welding using the tandem-arc process, six 200-V ComArc seam-tracking and touch-sensing packages are needed.
Peripherals include three reamer-type nozzle cleaning stations with wire cutters and anti-spatter sprayers. Grove uses 0.045" solid steel wire dispensed from bulk rolls. Shielding gas used is a common 90/10 Argon/CO2 mixture.
Two Motoman MHT-3000 headstock/tailstock positioners (controlled as external axes by the NX100s) are used to locate the beams for welding. This positioner model features a 3,000 kg (6,615-lb) rated load at 6" (152 mm) off-center of gravity, 4.95 second 180-degree sweep, and 6.7 rpm headstock speed. Motoman's MotoMount™ fixture mounting system is included.
The cell includes a common equipment base for the NX100 controllers with a table for the welding power supplies; two operator stations; and a total safety environment. Safeguarding complies with the ANSI/RIA R15.06-1999 safety standard and includes 8-ft high woven-wire perimeter safety fencing, arc flash protection curtains, four sliding gates with positive-break safety switches at the positioner load/unload stations, and a three-color status beacon.
Fixtures
Motoman provided custom hydraulic clamping fixtures for the two headstock/tailstock positioners. A large spanner between the headstock/tailstock positioner faceplates is adjustable to accommodate various outrigger beam lengths. Two pneumatic alignment clamps and two hydraulic swing arms per fixture hold each beam for welding. Fixtures include part-present and clamp open/closed sensors.
"We needed hydraulic fixtures as opposed to manual clamping, to ensure achieving the Takt time required," Johnson said. "Our industry can be very hard on tooling, but Motoman did a wonderful job. These hydraulic fixtures are very heavy-duty, strong and robust. They just keep working the way they were designed to work," he continued.
"The successful integration of all of the elements in this robot system allows us to perform heavy-deposition welding very quickly," Johnson said. "The three robots each deposit 20-26" of weld bead per minute, depending on the size of the bead, which is generally 5/16"-3/8" wide, Johnson added.
"Our experience with Motoman has shown us that they can deliver an outstanding system which gives the proper Takt time we need to get out the product. Instead of proposing multiple single-robot cells, Motoman designed an innovative, multiple robot cell that needs less floorspace -- a high-tech solution that works," Johnson said.
"They provided us with many viable concept alternatives and ideas, and then kept refining the concept we chose. What was on paper is what we received, and we're very happy with it," he added.
Manitowoc is also very pleased with the training that Motoman provides. "Their training facility is the best we've found in the industry. We surveyed numerous companies, but Motoman offers everything we needed – programming training which ranges from beginners to advanced, maintenance training, computer-based simulation, hands-on learning, accredited classes, etc. It's all set up very well," Johnson continued.
No stranger to robotic automation, Manitowoc also has another large, six-robot welding system for crane turntables in the same plant. That one uses four six-axis Motoman HP50-20 robots invert-mounted from MotoSweep™ overhead transport beams and two HP50-20 robots on a linear track to weld large crane turntable frames mounted on two extra-heavy-duty (16,000-lb) payload headstock/tailstock positioners.