Teledyne DALSA Vision System Helps Chinese Manufacturer Speed Production and Maximize Efficiency
A Shanghai, China-based manufacturing company designs and manufactures automated packaging and filling machines, as well as the related production lines, for companies in the pharmaceutical, cosmetics, foods, and general merchandise industries.
Previous technology created for a large pharmaceutical customer was only semi-automated, meaning that the customer had to rely on manual inspections to ensure the right contents had been placed in each package and to identify those cases where contents were missing. Error rates for manual inspections were high and the inspection process was time consuming, so the customer approached the manufacturer to request a higher degree of automation. They hoped that through greater automation, they would realize cost savings while accelerating production times.
The manufacturer researched its competition and discovered that they all used machine vision to complete inspections automatically. Recognizing the benefit of using machine vision technology to improve productivity and efficiency, the manufacturer decided to include an automated inspection system in the instruments it designed.
No Accurate View in Sight
When the manufacturer tested machine vision technology designed by a U.S. vendor they confronted problems from the start. This first system offered interfaces only in English, which required additional operator training. In addition, the inspection results weren't what the manufacturer had hoped for, with the error rate far above the requirement.
Months later, the manufacturer was ready to test a second vision solution, only to find that the system's performance was inconsistent, and that its results were sometimes unreliable. Addressing questions and problems required a great deal of vendor support, which was time consuming. Most importantly, the manufacturer's reliance on a third party for support led the pharmaceutical customer to question its capabilities.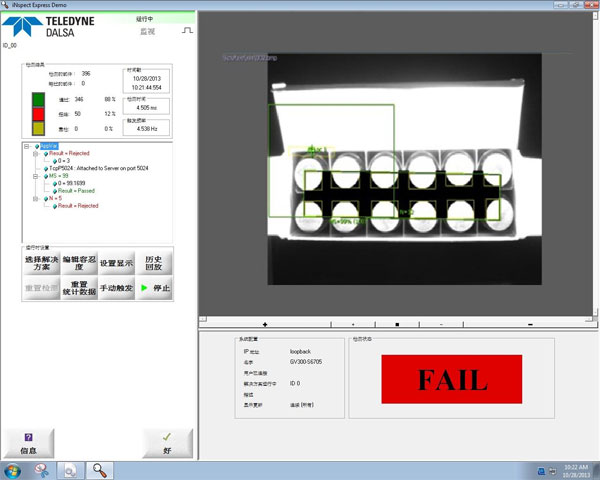 The manufacturer met representatives from Shanghai Botrong Electric Co Ltd., a distributor of Teledyne DALSA machine vision products in the Asia-Pacific region, at a trade show and saw a demonstration of Teledyne DALSA vision solutions at that time. The Teledyne DALSA solutions offer a Chinese-friendly interface, which made them an immediate improvement over the first vision option the company had tried. In addition, the performance of Teledyne DALSA products is highly reliable and both the vendor and the distributor have extensive experience addressing challenges similar to those the manufacture faced. Plus, Shanghai Botrong is a local organization that provides thorough service after the sale.
Recognizing that Teledyne DALSA offers the high performance and pricing it requires, the manufacturer formally chose Teledyne DALSA's BOA vision system with iNspect Express software for their projects. BOA delivers the performance and reliability to meet the manufacturer's requirements, and the camera's small footprint gives it the flexibility needed to work in any environment. The easy-to-use iNspect Express software is simple to configure and deploy, and is designed to ensure that users can quickly evaluate each image. The software delivers the performance and versatility needed to meet a range of manufacturing requirements, in all types of environments, with advanced features to ensure precise measurements, robotic guidance, flaw detection, identification (1D/2D/OCR), color verification, and more.
"Thanks to the partnership between Teledyne DALSA and Shanghai Botrong, our customer benefits from a comprehensive machine vision solution," explains Steve Zhu, Teledyne DALSA's Director of Business Development for Asia. "The BOA vision system with iNspect Express has reliably and cost-effectively solved their packaging challenges, allowing them to increase production times and achieve cost savings. BOA's ease of use and performance met all the customer's capability requirements, and Shanghai Botrong's highly skilled team provide the service and support to meet the customer's needs."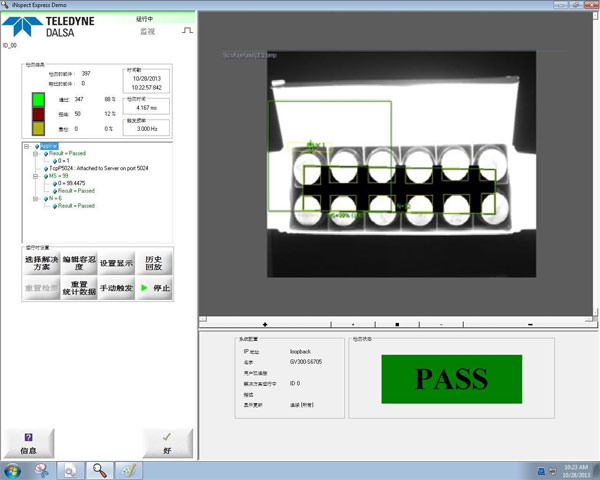 The Benefit of the Right View
Today, with a Teledyne DALSA BOA vision system in place, the manufacturer is easily able to offer packaging and filling solutions that address all their customers' business challenges, detecting missing or incorrect components in each package, and ultimately delivering measurable cost savings. For the pharmaceutical customer, for example, a single worker can now inspect 1,800 pieces in one hour using the new automated system; this translates into more than 14,000 pieces per day and fully eliminates the concerns associated with manual inspection, such as errors caused by worker fatigue.
In a second example, a production line produces more than 3,500 boxes per hour and the labor cost associated with inspections has been cut by more than half since the Teledyne DALSA BOA vision system with iNspect Express was implemented. New inspection speeds and a vision system that operates around the clock allow the customer to increase production, while boosting efficiency and maintaining a high level of quality assurance.