Stäubli Six Axis Robots Benefit Cell Phone Assembly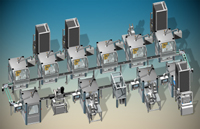 Company: Stäubli Corporation
Industry: Consumer Goods
Application: Assembly
Product or Part Automated: Cell phones
Robot Model or Type: RX 60
Robot Integrator: EIMO Americas
Key Peripheral Supplier (special tooling, machine vision, etc.): Spectra Technologies
Total Robots Installed: 12
Date Installed: June 2002
Shifts Per Day: 3
Justification Drivers
Labor Savings: Yes
Quality: Yes
Throughput & Waste Reduction: Yes

Safety Considerations
ANSI/RIA R15.06-1992: Yes
Risk Assessment: Yes
Problem Statement
The cell phones were being handled manually creating some inconsistencies in the final product . The customer needed to have a flexible solution for quick changeover.
Description of Process or Solution
An asynchronous conveyor transfers pallets between stations. The major stations include; loading/unloading parts from/to a tray, picking and placing gaskets or protective covers to the cell phone housing, and two gluing operations.Three workstations pick parts from a tape and reel feeder and utilize vision guidance for accurate placement onto the cell phone housing. The robot acquires the part from the tape, and presents the part to a vision camera. A second camera captures the location of the subassembly as the working pallet transfers into the station. The part is then placed onto the subassembly.
Gluing operations are performed on two workstations to permanently join parts of the subassembly. The glue-dispensing valve is carried on the end effector to accurately deliver the desired amount of adhesive. The glue is dispensed as the robot traces the required paths.
Another workstation places a protective cover onto a lens/housing subassembly. A tape and reel feeder presents the protective cover to the robot. The robot picks the cover and places it on the completed lens/housing subassembly.Each MPP assembly cell is positioned next to the conveyor. A removable hood guards the robot work area over the pallet. A lift and locate unit is attached to the MPP to lift the pallet from the conveyor and precisely locate it for the assembly operations. Attaching this lift and locate unit to the MPP allows the workstation to be set up and run off line if desired before mating it with the conveyor.
An operator interface for each work cell is provided via a 15-inch touch screen panel PC running WIN 2000 and Adept Windows. A SMEMA interface is used to connect each work cell. Each workstation is connected via an ethernet cable to a supervisory station where line data is collected and displayed/stored.
Justification Statement
By combining all of the operations within one modular line costs were kept to a minimum on the production side as well as tooling costs. The ROI on this line was 7 months from date of installation.
For additional information, please contact
Marketing Manager
Stäubli Corporation - Robotics Division
201 Parkway West
Duncan, SC 29334
USA
Tel. 864-433-1980
Fax. 864-486-5497
robot.usa@staubli.com