Space Saving Material Handling Solution from Robohand
Stewart Connector, a manufacturer of plastic connectors for the electronics industry, was experiencing a costly increase in set-up times on a material handling application. New to the company, and as yet unfamiliar with Stewart's CAD software, manufacturing engineer Keith Crawford was dissatisfied with components supplied by his current supplier (Before image). Since he was already familiar with Robohand products, Crawford quickly selected a DIRECT CONNECT™ system directly from the Robohand World Wide Automation Catalog.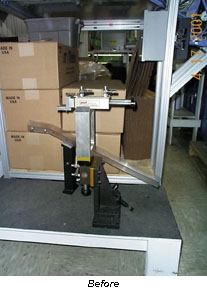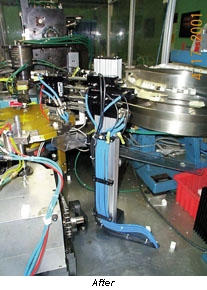 Crawford created a complete solution for the pick and place of products to finished goods. An RP-50 P Precision Parallel motion Gripper is attached to a DLT DIRECT CONNECT Thruster. The first thruster is attached to another DLT DIRECTCONNECT thruster equipped with telescoping airlines. This second thruster is then attached to the Direct Connect Mounting Module. (After Image) .
The overall value of the system is found in the complete absence of adapter plates from the Thrusters right down to the base mounting surface on his existing machine- a key feature of the DIRECTCONNECT system. Because no design or manufacture of adapter plates are needed, the system sets up quickly, weighs less, and occupies less space than Stewart's previous system - which used home-made stanchions and adapter plates that would have been time consuming and expensive to replace.
For more information about simplifying your material handling operations using Robohand's DIRECTCONNECT systems, visit our website at www.destaco.com, or send us an email at [email protected]. And be sure to watch for our soon to be released line of DIRECTCONNECT grippers.