Small FAB & Machine Shop Gets Big Results with Robots
POSTED 10/10/2007
 | By: Mary Kay Morel

''It would take four men to keep up with one of our new robotic welding cells,'' says Matt Tucker, Project Engineer in charge of all robotic applications at Tucker's Machine & Steel Service Inc. in Leesburg, Florida. ''People get tired and bored welding thousands of the same parts, but the robots don't,'' he continues. The company's diverse line of products includes a variety of weldments known as ''embeds,'' which are cast into pre-stressed concrete products used in parking garages, sports stadiums, buildings, and bridges to provide structural reinforcement at connection points.
Even though they are a relatively small machining and fabrication shop of 50 to 60 people, Tucker's has top-notch equipment, including robotic welding systems and CNC machines that provide the flexibility needed to meet their manufacturing needs. In September 2004, the company implemented two new Motoman ArcWorld® 1000 solutions. To accommodate larger-size parts, the 300-kg (661.5-lb) payload, 180-degree indexing positioners in the workcells were customized with 72'' diameter tabletops. ''For the sake of flexibility, we bought two of the same robot cells. It is nice to have the capability to run one or two cells with the same parts, or with different parts, depending on our production needs at the time,'' Tucker says.
The work cells include application-specific EA1400N ''Expert Arc'' welding robots with unique integrated upper arm cabling that reduces interference and helps simplify programming. ''With the Motoman robot's ''through the center'' wire whip layout, pinched liners are a thing of the past. The old external whip design (of the two welding robots from another robot manufacturer) gave us inconsistent weld beads. Depending on the robot position, the whip would kink unpredictably, creating drag on the weld wire,'' Tucker adds.
''We really like the Windows CE-based design of the programming pendant used with the NX100 controller. The Motoman robots are very easy to program and adjustments are effortless. We have several years of previous robotic experience with two welding robots made by another manufacturer. With those, creating and editing programs was very difficult and time-consuming,'' Tucker says.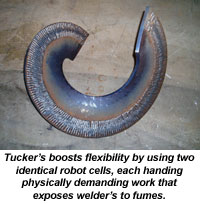 ''One of our products is a machine that moves concrete with a series of 14-inch diameter, 14-inch tall helical auger flights. This is a high wear item so a two-inch wide circular weave pattern of hard weld is placed down the entire length of each flight face. Manual welding these helical auger flights is exacting work that is physically demanding as well as mind-numbing. Our guys hated welding these parts and viewed it as punishment. The flux-cored wire used in this operation produces a harsh smoke, so the parts were welded under a cramped fume extraction hood. The new robot cells reduce our workers' up-close exposure to welding fumes. We use a fume extractor hood with the new robot cells, which further improves air quality and worker safety in our plant. The robots don't care what parts they're welding. They never get tired, sore or bored. What used to take a guy 45 minutes to weld manually now takes about 15 minutes with the new robot cells. That part alone makes the robot cell pay for itself,'' he explains.
''Since many of our products are directly related to the structural integrity of buildings, our welding quality requirements are pretty stringent. Robotic welding gives us the accuracy and repeatability we need at a high production rate to meet our customer's requirements. Many of our weldments are made from hot-rolled items like flatbar and rebar. These items have a large dimensional tolerance and can vary in size a significant amount from batch to batch. Because we design and build all of our jigs in house, we can accommodate the fixturing for these variances,'' he says.
''We might be a small company, but we have a history of using high-tech equipment. We were one of the first companies in Florida to use MIG guns. Now you are hearing a lot about metal-cored wire and the advantages of using digital welding power source technology. These are things that we are already doing. We utilize Metalloy 76 weld wire for our processes because it has a high deposition rate that allows us to take advantage of the robot's speed. Our two Motoman ArcWorld 1000 cells include 450-amp Miller Auto-Axcess™ digital power sources,'' Tucker says.
''I did a lot of research before buying new equipment. Some of the robot companies I contacted weren't interested in talking with us because we're a small company, or they did not take me seriously. I had heard good things about Motoman robots and they were quick to respond to our inquiry. After their salesman delivered a quote, within days Motoman had a purchase order for two cells. There are some things that you want and some things that you need -- and I wanted these robot cells,'' Tucker adds.