SIG Delta Robots Get to Grips with Wagner's Piccolinis Pizzas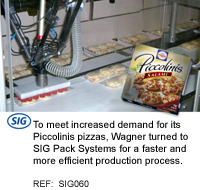 Manufacturer of frozen foods, Wagner, was recently met with increased demand for its ''Piccolinis'' pizzas. To meet this demand, Wagner turned to SIG Pack Systems for a faster and more efficient production process, which offered a compact solution with a lower level of complexity.
Wagner introduced Piccolinis to the market in 1996. These small, pizza snacks are targeted at families with small children and also at single adults. So successful is the range that a single variety, Piccolinis with salami, can keep production running for up to four days at a time. At peak times, 900 Piccolinis are produced every minute in each 24-hour operation. This corresponds to a packaging rate of 100 boxes a minute, equating to a total of 1,296,000 Piccolinis leaving the factory every day.
With the intention of getting the technology to fit the product rather than the product fitting the technology, Reinhard Ristau, technical director at Wagner, sought a better packaging solution. This needed to offer considerably higher speed than the previous cartoning machine.
Space restrictions presented a problem for Wagner, leaving few possible options for the cartoning of pre-packed Piccolinis. This led it to the decision to use robots. ''This is the first time we have used robots,'' explained Ristau. ''After seeing them being used for packaging, I can now imagine there are many interesting possibilities for the use of robots in the manufacturing process too.''
Wagner chose SIG Pack Systems for its move to robotics because it was able to offer a more compact solution with a lower level of complexity at a competitive price. Wagner's decision was also partly based on its use of SIG pillow pack machines, which had already proved an extremely successful investment.
Wagner's new packaging system has vastly increased its production. The Piccolinis are packed in threes on a SIG HBM pillow pack machine. The products are spread across three lanes and are then transferred to the cartoning process. This is the newest part of the system and comprises three SIG Delta robots. Each robot is capable of placing more than 100 triple Piccolini packs a minute into the ready-made pizza boxes supplied from the carton former. The packages are detected using a vision system with image processing. This enables each robot to accurately locate each package and precisely place it into the carton. Each robot arm matches the speed of the conveyer belt in order to ensure an accurately centred pick-up of the products. The system was designed to give even distribution between packages and ensure an equal workload of all three robots. At the end of the system, the boxes are closed, sealed and cased.
The increase in production has allowed Wagner to cope with even further increasing sales. Between January and May 2003, its turnover increased by 8.4 %. Wagner puts its continuing success down to its clear concepts; innovation; high quality standards; unique product differentiation; and consistent branding policies.
The uses of robots have a huge potential in the pizza market. In Germany alone, frozen pizzas generated a turnover of 657.3 million Euro in 2002. Compared with the previous year this represents a growth of 5.7 %. More than 25 million households bought at least one frozen pizza in 2002.

© SIG Pack Systems AG - Print is free - Please send two voucher copies
For further information please contact: Bernard C. Fenner,
Head of Marketing & Communication, SIG Pack Systems AG
P.O. Box CH-8222 Beringen, Switzerland
Telephone: +41 (0)52 674 74 19 Fax: +41 (0)52 674 65 24
e-mail: bernard.fenner@sig-group.com
Internet: www.sigpacksystems.com
Press enquiries to: Natalie Shamshoum or John Houston
Houston Associates, Media House, 181-185 Kirkdale, London SE26 4QH
Telephone: 020 8778 1900 Fax: 020 8659 9191
e-mail: natalie@houston-associates.com
Internet: www.houston-associates.com