RobotWorx Industrial Robot Inspires STEM Students
Plastic robot kits and LEGOS have their place in robotic education. However, nothing beats the real thing. At Los Alamos High School (LAHS) in New Mexico, students are learning about robotics firsthand -from the Fanuc LR MATE 200iB right in their classroom.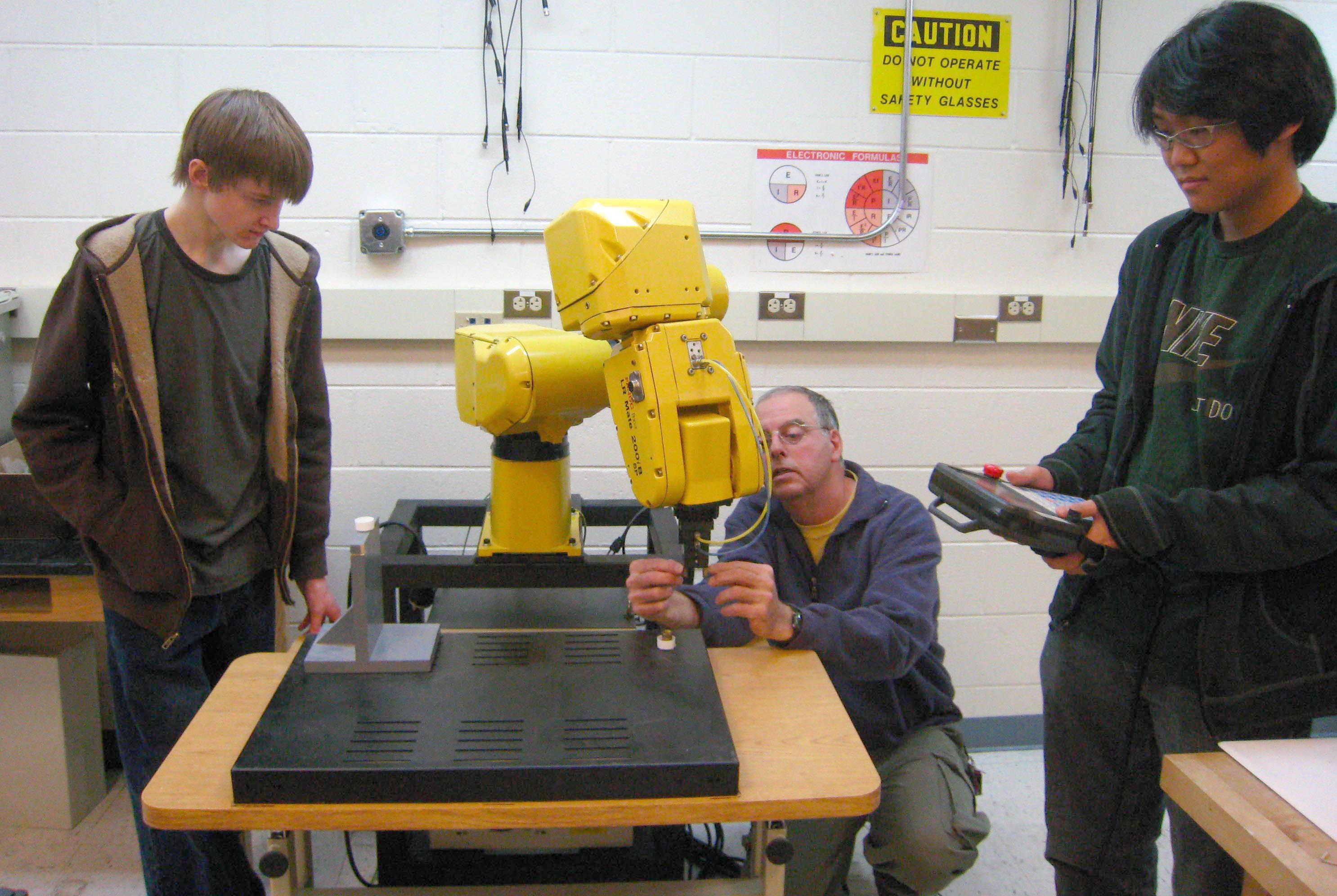 LAHS was awarded a competitive Perkins Tech-Prep Grant to develop career-tech programs for Business and Marketing, Computer Networking, and Product Engineering. In November 2008, the school used a portion of the grant money to purchase a used reconditioned robot from RobotWorx, an industrial robot integrator located in Marion, Ohio.

Don Davis, the pre-engineering teacher at LAHS, found the robotics company online. RobotWorx specializes in providing its customers with reconditioned robots that are both affordable and reliable. "I would definitely recommend RobotWorx to other schools. They were helpful in selecting the model that was best for our needs and price range, and helped us obtain a model with an end effector that was appropriate for our needs. We will probably be purchasing a programming package from them in our next round of grant funding."

LAHS was able to buy the Fanuc robot arm, controller, teach pendant, and a small hydraulic gripper. "RobotWorx' website was excellent, and when I inquired about used robots, they got right back to me and were extremely helpful with suggestions and quotes," Davis said.

The Fanuc robot has proved an affordable way to inspire and teach students, "We chose a used model because it was comparable in price to so-called "teaching robots" that were much smaller. By going this route, we actually have an industry standard RJ3iB controller and an authentic industry type robotic arm…not just a simulation and a small classroom model."

This particular robot model was selected with the classroom in mind, "The Fanuc LR MATE 200iB is a nice, compact machine that doesn't take up a lot of floor space. The arm is large enough to do some real work, but small enough to be student friendly. It is also very precise."

The Fanuc LR Mate 200iB RJ3iB is a vertically-articulated 6-axis robot with a 5kg payload capacity. Its 700mm horizontal reach, accuracy, and compact footprint allow it to handle a variety of applications from assembly and arc welding to pick and place material handling. Plus, the highly versatile Fanuc LR Mate 200iB can be mounted to the floor, ceiling, or even a wall.

Davis is very satisfied with RobotWorx' product and customer service, "The machine we purchased was "like new" as they had told us it would be, and it performs beautifully. The students love to watch it move through its cycle."

This isn't the first time Don Davis has introduced formal robotics education to the classroom. He also started a robotics program at an engineering magnet middle school in Florida. "The students absolutely loved it and did some excellent engineering and programming work."

Now Davis is infusing Los Alamos' pre-engineering students with the same enthusiasm. Thus far, his robotics design classes, which he describes as "true STEM-type courses integrating Science, Technology, Engineering and Math" have been a hit. Approximately 110 students are enrolled in five robotics sections this year and Davis has high hopes for the future.

"The word is getting out about how interesting these courses are," he said. "Because the courses are hands-on, project based, problem solving learning experiences, the students are highly motivated and learn quite a lot. They get to actually use the science and technology, engineering and math that may otherwise fade from memory, strengthening their knowledge base and competency in those areas."

The LAHS robotics courses offer dual credit that counts towards college as well as high school. The classes incorporate a variety of robotics components - Lego NXT, Tetrix kits, and now the Fanuc industrial robot. The progression is a natural one: "Lego and Tetrix sets provide a great foundation and appreciation for the students' work with the Fanuc LR Mate 200iB," Davis said.
At this point, the students will be programming the Fanuc LR MATE 200iB for a pick and place application. More complex applications will follow. In fact, Davis thinks the used RobotWorx model will change the way students approach their futures. "I hope that students will gain an appreciation for this technology and a desire to pursue robotics engineering and related fields such as manufacturing and product engineering as a career path."
Interested in purchasing an affordable classroom robot? RobotWorx sells new and used industrial robots from a variety of name brand manufacturers: Motoman, Fanuc, ABB, Panasonic, and Kuka. Contact RobotWorx' Sales Department at 740-383-8383 or visit www.robots.com for more information.