Robots Provide Flexible Automation at AZ Automotive Corp.
POSTED 01/31/2005
 | By: Mary Kay Morel, Staff Writer/Editor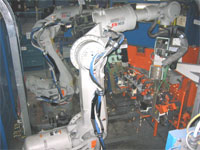 AZ Automotive Corp. in London, Ontario, Canada, is ''spot on'' when it comes to robotic processing of the approximately 150 different automotive stampings and assemblies the company manufactures for GM/CAMI and Mitsubishi. Most components are auto body reinforcements, such as body sides, cowl tops, impact beams, hinge reinforcements, and brace assemblies, but the company also makes some trim parts, such as bar upper assemblies. Manufacturing flexibility is extremely important to AZ Automotive, since they produce so many different product numbers for a variety of automotive end-customers on a Just-in-Time basis. Manufacturing challenges include tight tolerances, material gaps, and part accessibility, as well as increasing quality, production, and worker safety.
Since 1998, AZ Automotive has implemented 32 Motoman robots, including 16 UP165 and ES165 for spot welding, 11 UP20 robots for GMAW (MIG welding), one UP6 robot for sealant dispensing, two ES165 robots for material handling, and two UP20 robots for plasma cutting. Digits in the robot model numbers correspond to the manipulator's payload capacity.
These six-axis Motoman robots are deployed in flexible workcells, including 12 dedicated to GMAW welding, 13 single robot cells, 6 dual robot cells, and one cell that uses four robots -- three for spot welding and one for sealant dispensing.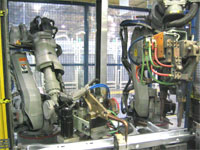 ''AZ Automotive builds many of our cells in-house. We concentrate on having interchangeable quick-change ball lock fixtures that provide us with the flexibility to run many part numbers in one cell, which also reduces required floorspace,'' says Chris Hurley, a Program Manager for AZ Automotive Corp.
''We supply parts for many different vehicle models. Parts are batch run to meet our customers' needs on a daily basis. For example, we might need to make 500 of a given part on one day and but only 300 of that same model part the next day, so these robot cells give us the flexibility we need to meet our customers' Just in Time manufacturing requirements,'' Hurley explains.
''We use all automatic clamping with full sensing of components for error elimination,'' says Hurley. At each cell, operators load one or more parts, activate the cycle, and then unload the processed parts from the previous cycle.
''We have only one cell equipped with an automatic tool changer at this time due to the added tolerance variables,'' Hurley says.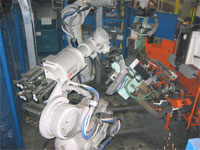 Since many of the spot welds have to be made with very limited part accessibility, the unique integrated cabling design of the new Motoman ES165 ''Expert Spot'' welding robots made them ideally suited for many of AZ Automotive's applications. Traditional spot welding robots use a spot welding harness that is external to the upper arm of the robot. Robot programming must consider ''cable flip'' and interference, and these cable harnesses tend to wear out frequently. Because the cabling is routed through the upper arm of the robot manipulator – access to tight spaces is improved as worries about cable interference are eliminated, and programming is easier.
Cell footprints are tight to minimize floorspace. The robots often work in close proximity to other robots and to fixtures and other equipment. ''We have a wide range of parts with difficult areas to obtain access. The integrated cable design gives the robots increased mobility and that improves cycle time. These robot systems reduce wear, therefore increasing uptime,'' Hurley explains.
Motoman's integrated cabling also lasts up to 24,000 hours – that's six times longer than traditional cabling – saving $10,000 to $15,000 each year per robot on consumables, in addition to reducing production downtime required for harness replacement.
''We chose Motoman robots for many reasons, including their durability and high uptime, proven sales and technical support, and ability to meet our delivery targets,'' Hurley says.
''We already were using Obara spot guns with Medar timers in the plant,'' Hurley says. ''The Motoman robots are easy to program and have a lot of nice features, including integrated software that allows us to control the spot welding equipment using the robot's teach pendant,'' Hurley continues.
''The integrated spot welding software is important to us because it simplifies the integration process and reduces programming time,'' Hurley says. ''We do most of our own integration of the robotic workcells, although we sometimes use third-party vendors,'' he continues.
''Our goal is to optimize cycle time for each flexible robotic workcell, and we use operator-friendly controls with advanced troubleshooting capabilities built into the touch-screens. Cells are designed to be compact, with control panels on mezzanines to ensure full use of the working envelope,'' Hurley explains.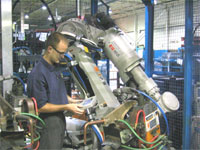 ''Even though the Motoman robot controllers can control up to four robots with a single controller and programming pendant, that is one element of automation technology that we haven't implemented yet in our multiple robot cells. We are still using one controller per robot at this time,'' Hurley says.
''Motoman robots have proven to be very capable over the life of the programs. In the last six years, we have not had to replace any motors or circuit boards. They've also provided professional support at start-up and when upgrades are required. This is why we continue to use Motoman on new projects,'' Hurley says.
''We've also taken advantage of Motoman's excellent training classes. Most of our maintenance staff and all of the integration team teach the robots,'' Hurley adds.
AZ Automotive has heartily embraced robotic automation with excellent results. ''We have been fortunate to meet all our goals to date. Of course, meeting and exceeding our customers' goals is the objective,'' Hurley says.
The company currently has 25 additional Motoman ES200 spot welding and material handling robots ordered for the North plant, one of its two London (Ontario) facilities. AZ Automotive Corp. also has several manufacturing plants in the United States.