Robots Help Alpine Achieve Peak Performance, Productivity
POSTED 09/19/2006
 | By: Mary Kay Morel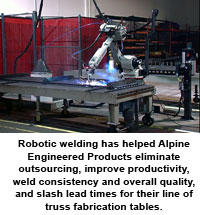 With demand for their truss fabrication equipment and other technology-driven products and services for the building components industry skyrocketing -- Alpine Engineered Products, Inc.'s Equipment Division was unable to build the industry-leading company's AutoMills and Roll-A-Master systems fast enough. Due to long lead times, Alpine began losing orders to competitors even though the customers really preferred their machines. The situation got worse when the company introduced the Alpine Linear Saw that took the industry by storm and brought orders flocking in. At the same time, orders for the new RAM Easy Rider truss fabrication system went through the roof. Their facility in Grand Prairie, Texas, was bursting at the seams but unable to keep up with demand. Management realized that automation was the solution.
Ted Martin, Alpine's Fabrication Manager, talked to a number of vendors about different robot manufacturers. For what Alpine was looking to do in terms of robotic welding -- the same name kept popping up. ''Motoman offered us the complete package, and nobody else did. We liked the fact that we didn't need to involve an integrator to do systems integration or need get any other parties involved,'' Martin said.
''Most of their competition was anxious to sell us two to three -- or in one case -- up to six robots to do the same things that we have one Motoman robot doing,'' Martin explained. ''The Motoman MotoSweep™ workcells could do 85 percent of the welding they need to do with just one robot. This saved capital equipment cost,'' he explained.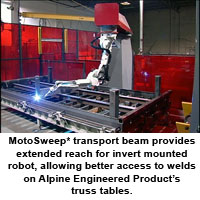 Robots to the Rescue
In July 2004, Alpine implemented their first robot – a six-axis Motoman UP20-6 in a FabWorld® system used to weld subassemblies for RAM Easy Rider tables. A month later, they added a second Motoman robot – a new application-specific EA1900N arc welding model with integrated upper arm cabling. Invert-mounted from a MotoSweep™ transport beam, this EA1900N robot is used to process RAM Easy Rider tables. In May 2005, Alpine added second FabWorld system for subassemblies – this one with another EA1900N robot. At the same time, Alpine added a second MotoSweep cell with an EA1900N robot, bringing the robot total in the facility to four.
All of the robots use Miller Auto-Axcess™ 450-Amp power sources and air-cooled Motoman Tough-Gun® 500-Amp torches. The robots weld using barrel-fed 0.035'' steel wire with an 80/20 mix of Argon/CO2 shielding gas. The robot cells also include automatic wire cutters, nozzle cleaners and sprayers, and torch realignment devices.
Stellar Results
The results have been nothing short of spectacular, according to Martin. ''Conservatively speaking, payback on the robot systems was less than half a year.''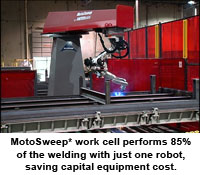 ''Previously our production capacity was 20-25 tables per month with overtime, and another 40 per month were produced by an outside vendor. Now we produce 3-3.5 tables per shift -- so 6-7 a day, and we've been able to bring all of our table manufacturing back in-house,'' Martin said.
''In terms of quality, we could see a big difference between the purchased items and the ones we made with the robots. We had to do a lot of rework on the purchased items. Quality with the robots is much better -- near perfect and incredibly consistent.'' he added.
''We're currently running two eight- to 10-hour shifts a day, five or six days a week. Once we get all of our fixtures in, we expect to be able to produce 8-10 tables a day with the robots,'' Martin continued.
The increase in production capacity and productivity afforded by the robots has also helped shorten lead times for Alpine's equipment. Prior to implementing robotic welding, lead times were as long as 20-24 weeks.
''Our lead time is now down to 16 weeks and we're striving to get it down to eight weeks. We will be able to do that with the robots -- without them, we wouldn't have a prayer,'' Martin said.

Parts and Process
Assembly and fabrication tables used in Alpine's RAM Easy Rider equipment are 14' L x 7.5' W and weigh approximately 5,400 lbs. Each table requires 660 single-pass welds, ranging from 1'' to 6'' long. Tables and subassemblies are comprised of mild steel 0.25''-0.5'' thick. Each subassembly can be 400-500 lbs. Alpine uses an overhead crane and/or forklift to move them in and out of the robot cells.
''Robotic welding the tables takes 20-30 minutes. Our guys are so comfortable with the robots now that they'll turn them on and go on to other tasks -- fully confident that the robots will continue welding and complete the cycle. The hurdle now is to get the material in and out of the robot cell as quickly as we can. The robots weld much faster than we can get parts in and out,'' Martin said.
Each of the robot cells has two different work zones with a set of fixtures in each. The robot can process the same type of parts on both sides, or different parts can be run on opposite sides of the same robot cell.
Fixturing
''Implementing robotic welding has required us to make some changes. We found that in order to weld with a robot, we had to make better fixtures -- ones that hold everything just perfectly. A robot doesn't know how to fill weld, so the fixture must be as accurate as possible,'' Martin explained. ''We're in the process of adding more fixtures. Once we max out the capacity on these robots, we'll add more,'' he added.

The two modified Motoman FabWorld cells, Cell 1 and Cell 3, each have two rolling fixture tables on each side of a six-axis Motoman welding robot that is floor-mounted on a riser base. Fixture table movement is motorized but is not yet automatic. Each holding fixture table has three zones, which allows Alpine to weld subassembly parts that are up to 15 feet long using robot programs that are divided into A, B, and C portions. The robot always starts welding with the parts in the A position. Some fixtures are centered and the table does not need to move at all. These workcells can run three different components in the three zones on each fixture table. Alpine runs approximately 20 different subassemblies of varying sizes in the smaller robot cells.
''End caps on rolls are really impressive to watch. That's the one we like to run when we have customers and visitors in for tours. The robot just smokes them,'' Martin said. ''The 'wow factor' is an unexpected side benefit. When people toured the facility before we had the robots, they never wanted to tour the fabrication side – now it's their focus.''
The two MotoSweep cells, Cells 2 and 4, each have two stationary holding fixture tables, one per side. The robot in each cell is invert-mounted from a transport beam controlled by the robot controller as an external axis. The ability to swing the robot out of the way and have it weld on the opposite side of the cell during loading and unloading increases productivity and also provides tremendous reach and flexibility.
Operators load the subassembled weldments onto the fixtures. In the MotoSweep cells, operators load the workpiece tables for the RAM Easy Rider systems with the table top surface upside down. This enables the robot to weld all the structural steel components and subassemblies that are added onto the under side of the workpiece table, such as tubes, flat bars, channels, angles and the like. Leg subassemblies that are previously welded on one of the FabWorld cells are then welded onto the workpiece tables in a secondary program.
''We subassemble in the smaller robot cells and final weld in the bigger MotoSweep cells,'' Martin clarified. ''The bigger cells only have about four different holding fixtures.''
''We can also do some subassemblies in the MotoSweep cells, if we have time. However, right now our huge priority is to get tables out, so we don't have time to do subassemblies on these cells,'' Martin explained. ''It's all fixtured very tight and very concisely to make sure everything comes out square and flat, but doing so leaves no room for error. Hot-rolled material varies enough to cause some grief. This material variation leads to fit-up problems that will sometimes cause the robot to miss a weld. Operators normally perform some secondary welding on the workpiece tables – primarily on the outside edges where the robot can't reach. At that time, operators also visually inspect the robotic welds and touch up any that the robot didn't get,'' Martin continued.
More Jobs, Happier People
''When we first brought the robots in, everyone was afraid of losing jobs, but in our case, the opposite is true,'' Martin said. ''We've added people because now we have greater capacity thanks to the robots. With the same two people, we can yield more, and it keeps going and going,'' Martin said.
''Manual welding in 100 degree plus heat in the summertime here was extremely taxing. We had fatigue and turnover because of the heat. Certainly safety is better now (with the robots),'' he said.
''Another unexpected benefit of having the robots is that turnover rate decreased and the hiring process became dramatically better. People want to work with new technology and progress. In the Dallas-Ft. Worth area, employment is difficult because of the aircraft and automotive companies in the area that pay better. Before, we had to hire someone that could weld – and skilled welders are at a premium anywhere, not just here. Now, with the robots, we can bring in welder trainees who can fit all the products without touching the welder. Then we can teach them welding. We don't have the turnover rate that we had previously because we give them a little technology, along with a saleable skill – and it's a good thing,'' Martin said.
''Our people love working with the robots. Only selected people on days and on nights – usually operators or lead people -- are allowed to do full programming. Others are only allowed to do touch-ups, but they would be happy to do it all. They are all proud when the robot does exactly what they ask it to do. They challenge themselves accordingly,'' Martin said. ''We have supervisors now who are major champions of the robots, and they've done a brilliant job with them in terms of fixturing, programming and in-house training.''
So far, four people, including Martin, have been to the Motoman Technical Education Center at the robot company's headquarters in West Carrollton, Ohio, for formal training in robot programming and maintenance. ''I'll be sending another two people for training soon,'' Martin added.
Dan Rupe, Vice President and General Manager of Alpine's Equipment Division, sums up the impact of automating the welding procedures: ''By helping us cut our manufacturing costs, the Motoman robots have increased our profitability and contributed directly to the bottom line.''