Robotic Workhorse Rides Rails at Applied Engineering
POSTED 03/18/2008
 | By: Mary Kay Morel, Staff Writer/Editor
Applied Engineering, Inc. (Yankton, SD) manufactures precision machined aluminum components and assemblies for a broad range of applications in aerospace, defense and commercial applications. ISO 9001, AS9100 and NADCAP certified, the company prides itself on innovation and use of cutting-edge automation to produce high-quality products, delivered on time, at the lowest achievable cost. They accomplish these goals through the application of flexible machining centers for maximum lights-out unattended operations.
In addition to robotic deburring and machining systems that feature Motoman robots, Applied Engineering implemented a unique robotic machine tending system in 2006. The new system uses a six-axis Motoman HP20 robot invert-mounted from a 20-m (65.6-ft) long overhead rail system to load and unload four (4) LeBlond Makino A55 horizontal machining centers and eight (8) 180-degree indexing turntables, providing continuous operation.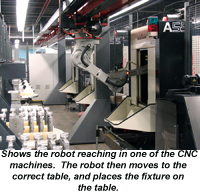 Each indexing turntable holds from two to 30 parts on each side, along with the fixtures and gripper required to handle these particular parts. End-of-arm tool change is automatic. Up to four parts can run at the same time, but 12 others can be waiting to run after those are complete. A part can be located in any one of 30 programmed positions on each table. Additionally, Table 8 can be configured as a drilling and countersinking station and be used for precision drilling, providing additional capability and flexibility.
The invert-mounted six-axis Motoman HP20 robot traverses the overhead rail as needed to load/unload individual parts from the various indexing turntables into/from two operations in each of the machining centers. The robot returns parts to the same turntable from which they were picked. It is a very busy system, and the fact that not every part can run in every CNC adds to the programming complexity.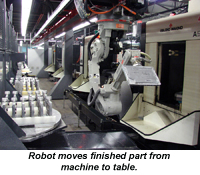 The robot checks each part to see if it can run in a particular machine. When the robot has loaded the part into Op 1 of a machine, it scans to see if any other machining centers are done. The robot unloads a finished part from that machine and places it in its target destination in a finished parts bin on one of the indexing tables. The robot then goes back to the machine it just loaded and transfers a part from Op 1 to Op 2. It then scans the indexing tables and goes and gets another part to place in Op 1. The process repeats, with the robot loading and unloading each of the four machines (and/or the drilling station at Table 8), as needed.
An Allen-Bradley SLC/505 PLC controls I/O communications between the CNC machines, tables and the robot. The system is also unique because it does not use an end-of-arm tool or sensor I/O to tell the robot what gripper or fixture it has. Instead, that information is stored in the programs as variables so the robot knows what operation it has completed. This approach saved Applied Engineering a lot of I/O, as well as the associated expense of complex grippers, multiple sensors and additional wiring.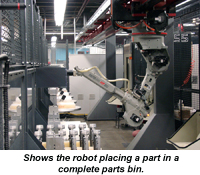 ''What makes this rail-mounted robotic machine tending system even more unique is that programs are automatically generated off-line to accommodate a nearly infinite variety of part variations,'' says Dave Brinkman, Engineering Manager at Applied Engineering. Using an Excel spreadsheet, the load/unload program is modified by changing part dimensions, entering which indexing table the robot needs to pick from, the target machine, and the finished part destination. Many of the robot moves in each program ''recipe'' have been consolidated into ''macros'' which greatly simplifies the programming code. Applied Engineering manually loads programs into the robot controller using compact flash cards. Very little manual programming using the robots teach pendant is required to touch-up new programs prior to running them.
MotoSIM EG off-line programming software and MotoSIM Points Importer with G-Code Converter software is used to program the drilling/countersink station at Table 8 off-line. CNC programs written in machine G-code are translated into robot programs that are ready to run. This allows a less expensive and more flexible six-axis robot to perform precision tasks that once could only be performed using a multi-axis CNC machine.
For more information on Motoman Inc., visit www.motoman.com or call 937.847.6200.
For more information on Applied Engineering, Inc., visit www.appliedeng.com or call 605.665.4425.