Robotic Welding at LB Steel/Coburn Steel Products Improves Quality and Productivity
POSTED 08/20/2008
 | By: Mary Kay Morel, Staff Writer/Editor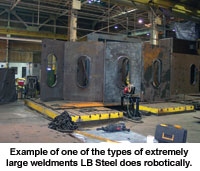 Many fab shops in the U.S. are getting pounded by foreign competition, but LB Steel, LLC/Coburn Steel Products is successfully fighting back -- thanks in part to robotic welding. LB Steel/Coburn is an industry leader in certified chemistry plate, prime A-36, A572 GR 50 fabrication, machining and counterweight solutions. The privately-held company has approximately 300 employees (including 230 shop personnel) and multiple plants, but approximately 350,000 sq. ft. of their primary 500,000 sq. ft. facility in Harvey, Illinois, is dedicated to fabrication. Most of the welding they do involves very large, heavy components for the construction, railroad and mining industries, as well as various OEMs. Products include heavy counterweights for forklifts, man-lifts, elevators for skyscrapers, separators for mining, and oil pans for locomotive engines. Materials used include carbon steel, stainless steel, mild steel, A36 or high-strength alloy steel, aluminum, etc., and range from light 10- or 12-gage metal to steel up to 4-in. thick. Quality is an important company goal, and finding skilled welders is a challenge. In order to improve productivity and quality, they looked to robotic automation.
"Except for one older robot from a European manufacturer, all the welding in the plant was being done manually," said Mike Powers, a manufacturing engineer who joined LB Steel/Coburn in 2002. "The old robot had some reliability issues and was costly to run in terms of both consumables and replacement parts. Controller boards and other spare parts were expensive -- $8,000 for this, and $6,000 for that – as well as hard to get. Programming had to be done by a representative from the manufacturer, which was also costly," he explained.
In 2004, LB Steel/Coburn began manufacturing a fairly large volume of parts, used in rail industry discharge gates, that had significant potential to be welded robotically with little setup or fixturing. The owner, Michael Goich, and engineer Michael Powers both saw the need for a new robotic welding system.
"When it was time to get new robots, we looked around, but one robot company in particular really impressed us," Powers said. "I had a Motoman ArcWorld® 1000 robotic welding cell previously, so I was familiar with the robot programming language, and also knew the company's support was good. Plus, the Motoman training facility is only a few hours away, so the decision was obvious," Powers added.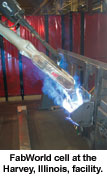 In early 2006, the company implemented the first of three state-of-the-art Motoman robotic welding cells. The first new robotic welding cell at the Harvey facility is a modified FabWorld® solution that consists of a Motoman HP50-20 robot with a 20-kg (44.1-lb) payload, 3,106-mm (122.3-in.) reach and ±0.15-mm (0.006-in.) repeatability. The extended-reach robot rides on a 1.8-m (6-ft) long, three-position pneumatic shuttle track located between two heavy-duty Motoman MHT3000 headstock/tailstock positioners. These headstock/tailstocks have a maximum a payload of 6,300 kg (13,889 lbs) and a 1,000-mm (39.4-in.) maximum sweep radius. Motoman's unique MotoMount HD fixture mounting system eliminates the need for precision headstock/tailstock alignment.
LB Steel/Coburn provided their own part fixtures for the positioners. "The fixtures are all designed to be modular and interchangeable. Changeover is easy," Powers said. "We use locating pins and bushings to mount fixtures onto large frames that span between the positioner head- and tailstocks, so they are easy to just drop in, as needed."
"Having the robot mounted on the shuttle track provides additional flexibility and allows us even better coverage to access welds on large parts," Powers explained.
Welding equipment includes Miller AutoAxcess® 450 welding power source packages with water-cooled Tough Gun® torches that use 0.045-in. or 0.052-in. ER70S6 solid wire from 1,200 lb bulk boxes. The robot uses an automatic nozzle cleaner (reamer/sprayer) and wire cutter. Shielding gas is a 90/10 Argon/CO2 mix. High-speed (200 V) seam-tracking and touch-sensing functions are also included.
The FabWorld cell has two load/unload stations. Two fence-mounted remote operator stations with thumbwheel switches for easy program selection and manual jog joysticks to facilitate part loading are included. It also features a total safety environment that meets the ANSI-RIA15.06-1999 safety standard and includes light curtains, wire safety fencing, and an interlocked 4-ft sliding gate.
Parts are run in batches that range from several hundred parts to thousands. The operator uses an overhead hoist or a forklift to load the parts onto the fixtures. The FabWorld cell is primarily used for single-pass welding.
"Using the robots versus manual welding, we're able to produce parts three to four times faster," Powers said. "We're also saving a tremendous amount of handling with the automatic positioners," he continued.
In early 2007, LB Steel/Coburn added a stand-alone HP50-20 robot at the Harvey facility that primarily does multi-pass welding on parts that are located on stationary tables. This cell is used to produce a large volume of parts used in large man-way portals for a major mining equipment company. "Welding these parts manually would take anywhere from 10 to 12 man-hours; using the robot, they can be welded in only two-and-a-half to three hours," Powers said.
Also in early 2007, LB Steel/Coburn implemented a Motoman ArcWorld® 4000 cell at their 100,000 sq. ft. facility in Chicago Heights, Illinois. The system includes a Motoman EA1900N "Expert Arc" welding robot with a 3-kg (6.6-lb) payload and long (1,904-mm/75-in.) reach with ±0.08-mm (±0.003-in.) repeatability. This robot features integrated cabling through the upper arm, which reduces interference and makes programming easier. For welding, parts are fixtured on a MSR2S-500-2.0 high-speed double-ended headstock/tailstock positioner with a 500-kg (1,102.5-lb) payload capacity per side. An operator loads/unloads parts from the headstock/tailstock on one side of the positioner while the robot welds on a second headstock/tailstock on the other side. The positioner rotates the large frame that holds both headstock/tailstocks to present the parts to the welding robot for processing. The ArcWorld and stand-alone robot cells use the same Miller AutoAxcess 450 welding equipment as the original FabWorld cell.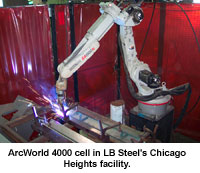 All three of the Motoman robot welding cells are running one shift, five or six days a week. "A lot of the weldments we make are being machined after they are welded. We try to build parts with specific gage stops and use key datum points for references. Using those points all the way through helps us get consistent parts and makes for better repeatability," Powers said. "With that in mind, the robots also have seam-tracking and touch-sensing. Using that combination, we can end up with some pretty productive welding," he explained.
"To get repeatability of parts using robotic welding, correct fixturing is important and so is the sequence of welding so you don't get warpage," Powers said. "Appearance of the welds is also key to many of our customers. For example, we need to be meticulous about the cosmetics when welding the locomotive oil pans," he explained.
"On the oil pan job, we had almost two and a half weeks tied up in programming and optimizing the weld sequence to minimize warpage from welding distortion. The results were well worth it, though. The robot cell now produces parts with the dimensional stability and cosmetics we need," Powers added.
Powers creates most of the master robot jobs himself, and the cell operators primarily do minor programming changes, as needed.
"I've taken classes in basic through advanced programming, seam-tracking and touch sensing, coordinated motion and multiple robot control, and ladder editor programming, as well as maintenance training at the Motoman Technical Education Center in Dayton, Ohio," Powers said. "The training programs are excellent and the robots are easy to program," he added.
"After returning from an Advanced programming class, I immediately was able to apply what I learned to do a series of stitch welds with only a few lines of entry and the use of position variables. When I took the coordinated motion and multiple robot control programming class, I had no idea I would immediately need that training to do coordinated motion on the oil pan job that Sales had brought in while I was away." he added.
"I visited LB Steel and was very impressed by a 'job shop' that had several rail cars of steel plate stacked as far as one could see down the bay. I have noticed the complexity of Mike's programming questions increasing each time he attends training classes, and he is translating knowledge into more aggressive projects and technology," commented Chris Anderson, Motoman's Technology Leader for Welding.
Powers has embraced the robotic welding technology, and has also seen a change in worker's attitudes toward robots at LB Steel. "At first, some of our (human) welders were a little paranoid that the robots would take away their jobs, but they've realized that isn't the case, and now our guys really like the robots once they've used them," Powers noted.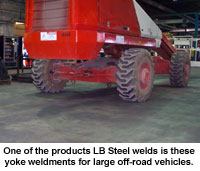 The young operator who runs the robot cell at the Chicago Heights facility is not a welder, but he had some exposure to computers growing up, so he caught on really fast when it came to picking up how to run the system and program the robot. He does really well," Powers said. "The Windows® interface touch screen is familiar to people and it makes programming so much easier to learn."
"The robots have been very reliable," Powers said. "We've only had a couple of minor issues and those were addressed quickly. Their 24-hour hotline is a lot of help." he added.
"Due to the relatively low volume of parts run, payback for the robot cells is probably about two or three years. However, in addition to making parts three to four times faster using the robots, we have less scrap and quality has improved tremendously. Quality improvement is one of the biggest keys to justifying these welding cells. It is also the primary justification for a planned new cell that will use multiple robots to weld parts weighing 88,000 pounds."
"Every manufacturer in the U.S. has been affected by overseas competition on one level or another; and LB Steel has been no exception," Powers noted. "Robotic welding has helped us slow this exodus of jobs. The robotic welding machines have leveled the playing field by decreasing cost of the products, improving the quality of work, and providing a consistent manufacturing process with fewer rejects. It also has helped fill the void caused by the lack of qualified welders," he explained.
"The next addition will probably be Motoman's simulation and off-line programming software package (MotoSim® EG) that will let us create jobs on the PC and download them to the robot controllers (instead of doing point-to-point programming with the teach pendant). This will let us keep the machines doing what they do best; saving everyone's job," Powers said.