Robotic Welder Leads Trailer Manufacturer Down Productivity Path
Arc

welding takes on a new look at Titan Trailers as a robotic-welding system takes over high-volume production of aluminum and steel couplers, swing-door assemblies and other weldments. As a result, productivity and quality have measurably improved.

Innovation is the norm at Titan Trailers, a supplier to the hauling and earth-moving industries established by Mike Kloepfer in Harley, Ontario, in 1973. For example, customers know of Titan for its patented Thinwall lightweight and strong extruded-aluminum double-walled trailer panels that help optimize load capacity and fuel efficiency. The firm's trailers find use hauling garbage, scrap steel, aggregate gravel and similar loads.

In addition to innovation in design, Kloepfer also stresses innovation in manufacturing techniques, as evidenced by the firm's recent investment in robotic arc welding. "Mike (Kloepfer) continually pushes us to be innovative and inquisitive, and to seek opportunities to apply new technology," says Tom Pursley, Titan Trailer's robot specialist and supervisor of the robotics department. "He's always willing to invest in new equipment to help us do our jobs better."

Among those jobs is fabricating and welding many of the subassemblies that go into the firm's line of trailers and earthmoving equipment—subassemblies such as steel and aluminum (6061-T6) fifth-wheel couplers, as well as door, frame and floor sections. Couplers, in particular, prove particularly challenging to welders, charged with assembling 30 to 40 components by depositing as many as four-hundred 3-in.-long stitch welds.

"We have to stagger weld locations to balance heat input to the assemblies and avoid distortion," says Pursley. "This requires our welders to crawl around the weldments quite a bit, a time-consuming and tiring process due to the relatively large size of these weldments. Early in 2011 we began to look for a better way to put these assemblies together, and the solution was a robotic arc-welding cell (a FabWorld cell from Yaskawa Motoman Robotics). It's reduced the average cycle time to weld a steel coupler to 90 min., compared to 2.5 hr. manually."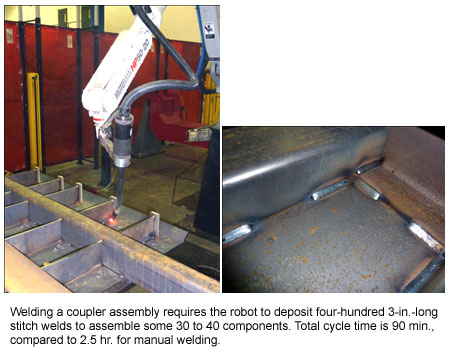 Titan's new FabWorld cell resides in a new 35,000-sq.-ft. building located a short truck drive from the company's main assembly building. The new facility also houses some of the fabrication equipment used to prepare subassembly components, including a new Flow waterjet-cutting machine slated to take over much of the precision plate-cutting work previously performed by a high-definition plasma-cutting machine.

"With waterjet," says Pursley, "fitup improves and we can achieve tighter weld joints that helps to avoid burnthrough and reduces weldmetal consumption. Our jigs and fixtures are easier to build, and weld cycle times have dropped, since we don't have to spend as much time touch sensing during each weld cycle."

Touch sensing utilizes energized welding wire set at a predetermined cut length to physically touch the flat sidewalls of a weld joint. The controller uses triangulation to locate the joint and, should joint location differ from what is programmed, initiate a shift in the robot's program to compensate.

Seam tracking occurs via Motoman's ComArc III, a controller option that directs the weaving of the weld wire back and forth in the weld joint. As the wire weaves from side to side, the controller gauges welding current and corrects the robot's path left-right and up-down to maintain the specified amperage.

Drop-Center Positioner "Really Makes this Cell Go"
Titan Trailers' robotic arc-welding cell was designed to reduce weld-cycle times on some of its more labor-intensive and high-volume assembles. As a result, the firm has been able to redeploy welders to other operations within the plant and enjoy overall labor savings, while also improving weld quality.
What really makes the cell ideal for Titan's specific task load, says Pursley, is Motoman's servo-driven MDC-2300M drop-center tilt/rotate positioner, which provides for as much in-position welding as possible. This proved quite a challenge when manually welding some of the larger assemblies at Titan.

"The positioner really makes this cell go," Pursley says, "because it allows easy access by the robot-manipulated welding gun to some weld joints that were extremely difficult to reach when manually welding. And, being able to rotate and position joints to avoid out-of-position welding, is critical to ensuring good-quality welds particularly, on aluminum couplers. To deposit a 90-deg. fillet weld, for example, we can position the joint at 45 deg. and develop an optimum penetration profile using gravity to equally penetrate both components."

The workhorse positioner accepts weld fixtures as large as 173-in. dia., and offers a load capacity of 2640 lb. Its two axes can move independently or with coordinated motion—with each other and with the robot. Sharing the cell with the drop-center positioner is a Motoman MHT-3100 head-tailstock positioner, rated to 13,680-lb. load capacity. It proves useful for fixturing and positioning heavy steel weldments for Titan's new line of earthmoving equipment.

Pursley and his robotic-cell lead person and programmer Jamie Bowman design and build welding fixtures for the cell, and Bowman notes that new specialized jigs they have developed have typically reduced assembly fixturing and tack-welding time by half.

"We hold critical dimensional tolerances now in a way that is foolproof," Bowman says, describing the procedure for welding up a coupler assembly, "holding all dimensions off of the center kingpin. We're using pneumatic actuators to pull all of the components nice and tight and flat for the robot. And, instead of using several manually operated clamps to fixture everything, we now design the fixtures to include automation—again, another example of the innovation encouraged by management. To set the clamps, the operator only has to flip two switches. Overall, fixturing and tacking a coupler assembly takes about an hour, compared to more than 2 hr. previously."

Long-Reach High-Speed Robot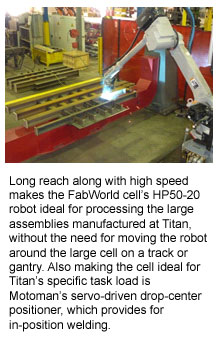 The overall robotic-welding cell measures 24.5 by 33 ft., and is safeguarded by an 8-ft.-tall woven-wire safety fence, arc-flash protection curtains, light curtains at positioner load/unload stations and an access gate with a positive break safety switch. At the heart of the cell is a six-axis Motoman HP50-20 extended-reach (122.3-in.) gas-metal-arc-welding robot with 44-lb. payload and positioning accuracy to plus or minus 0.006 in. Long reach along with high speed makes the robot ideal for processing the large assemblies manufactured at Titan, without the need for moving the robot around the large cell on a track or gantry.

An NX100 PC-based robot controller directs the cell action, featuring four levels of password protection for as many as 100 users. Among its features: arc-welding-specific keypad buttons, and a 26-ft.-long cable connecting the Windows CE programming pendant that Pursley and Bowman use to roam the cell during programming.

To streamline new-project programming, Titan opted to invest in Motoman's MotoSim EG (enhanced graphics) Lite offline programming and simulation software. This streamlined version of MotoSim EG provides cycle-time calculations, collision detection, and reach analysis.

"The MotoSim package was easy to cost-justify," says Pursley, who notes that programming the robot to deposit 300 stitch welds on a coupler can require more than 2000 lines of code. "Using MotoSim, I can prepare the framework for a new program offline, without having to interrupt production. I can include all of the touch sensing and the welding parameters. Then, all that's needed at the cell during teach-programming is final tweaking of weld locations.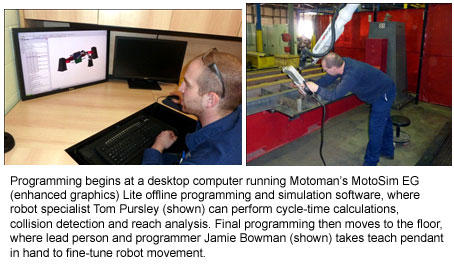 "And, when we design our jigs (in Pro/Engineer)," adds Pursley, "I can simply import the designs into MotoSim and perform reach studies to ensure the jigs will function properly."

A Baker's Dozen of Programs
Titan launched its FabWorld production-welding operations with 13 jobs programmed, including 12 different coupler designs. Programming the similar coupler models was made quick and simple by taking advantage of the functionality of the NX100. Pursley explains:

"We developed several subroutines used to weld one coupler, and then were able to reuse many of the routines as we developed programs for the other couplers. This greatly reduced programming time, and also eases program maintenance. For example, if we need to alter the parameters for one particular coupler weld, we can quickly enter that revision into all of the other coupler programs. This saves days, maybe weeks, in programming time."

By the end of 2012, Pursley expects to keep the robotic welding cell busy working on some 30 programmed assemblies. Couplers are fabricated every day, consuming some 80 percent of the robot's arc-on time over two daily shifts. And should the cell need to be quickly changed over for welding steel assemblies—for Titan's earthmoving equipment, for example--Pursley and Bowman note that they can switch the cell over from aluminum welding to steel in less than 15 min..

Synergic Pulsed Power
Weld power is for the FabWorld cell comes via a Fronius TransPulse Synergic 5000 power supply, designed for aluminum welding while also suitable for welding Titan's steel assemblies. The microprocessor-controlled 400-A inverter (500 A pulsed) is rated to 360 A at 100-percent-duty cycle. Synergic operation allows Pursley and Bowman to simply dial in workpiece material type and sheet thickness, and the welding machine's stored programs automatically control the welding process.
Pursley notes that the change from manual to robotic welding has allowed the firm to turn down the weld power and minimize heat input.

"With the robot, welding speed is faster and we don't have to weld as hot as we did before to obtain the same penetration," he says, "thanks in part to the use of the synergic MIG process." For example, manually welding on ½-in. aluminum, welders typically set their machines at 26.5 V; voltage drops to 25 V on the Fronius power supply in the robotic-welding cell.

On aluminum, the robot typically welds at 50 cm/min. running 1/16-in.-dia. H5056 weld wire shielded by straight argon gas. Shielding steel weldments, Titan dials in a 92 Ar-8 CO2 shielding gas and runs 0.045-in.dia. S6 weld wire--copper coated to optimize the performance of its touch-sensing system.