Robotic Trimming Cell Increases Throughput & Reduces Scrap on Sharp-Edged Injection Molded Parts
Problem:
Accurately removing the sharp edge of a parting line on an SUV exterior trim component can be a challenging operation, especially when high-volume production is involved. Moldplas (Windsor, Ontario), a division of AP Plasman, is an injection mold designer and part producer that had the challenge of finding a better way to do the finishing operations on molded trim that fits around A, B or C pillars.
Solution: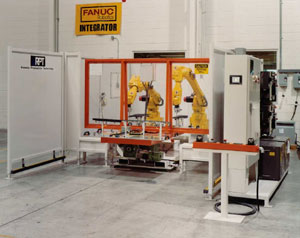 The previous method of manually cutting the edge to give it a smooth radius was slow, labor intensive, and had resulted in high levels of scrap. In order to meet quality and production efficiency goals, the customer sought an automated solution. The resulting robotic cell, designed and built by Robotic Production Technology (RPT), Auburn Hills, Mich. accomplishes the trimming job in as little as 32 seconds, with high accuracy and repeatability. The longest part, the A pillar trim, has edge surfaces totaling over 10 feet, and is trimmed in under 45 seconds, comparing to manual trim times of up to approximately 2.5 minutes. Current efforts to reduce the number of edges trimmed may shorten the cycle time even further.
George Mitri, AP Plasman program manager, summarizes the differences: 'Maximizing our throughput, and reducing the labor content on these parts was critical. Now two operators are all that is needed to process up to 50 parts per hour. The reliability of the operation is also important, since we have strict, on-going delivery commitments to our customer. Penalty clauses built into the contract make it so we can't afford downtime, and it gives us a whole new criteria for ROI (return on investment). The RPT cell has proven that it's up to the job.'
Vacuum-cup-equipped fixtures that secure each of the 6 different right-hand or left-hand parts can be quickly changed over in the cell. An ID system integrated with the fixture's electrical junction box automatically identifies the fixture, queues up the correct part program and confirms it to the operator, avoiding mistakes that could cause costly tooling damage. A 2-station dial index table (with a rotating wall) allows parts to be placed in a load station while parts are being processed in the work station optimizing the robot work time and minimizing system idle time.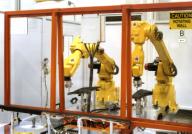 In the cell, two FANUC M-16i 6-axis robots are tooled with compliant knives with a special coating developed by RPT for its deflashing systems. The coating combats the heavy wear factors inherent in an application where parts have a high fiberglass content, thus extending tool life and reducing knife costs and tool change downtime. The knives remove a mere .01' to .8' (depending on the part) from the parting line to radius the sharp edge. In addition to precise fit, accuracy is important since an inconsistently trimmed edge will improperly deflect paint in a subsequent operation.
By automating the process, scrap has been reduced since there was a tendency for parts to be gouged when manually trimmed. Ergonomics (carpal tunnel issues) have been improved, since the manual trimming operation was both difficult and strenuous.
RPT supplied the cell as a turnkey installation, and typically is involved with start-up after installation. According to James Wogan, Sr., Executive Vice President, Sales, 'Moldplas personnel were so enthusiastic about getting this cell up and running that they didn't wait for us. They had already taken our classroom training prior to installation, and after the cell components were delivered, they had the cell set up, programmed and running in record time. The advantage with the way it worked out is that their operators became intimately familiar with the cell, the controls, and the programming, right from the start.'
As an investment in future part programming possibilities, Moldpas had the cell equipped with RPT's remote diagnostic package. This software allows access to the controls from anywhere, via modem, so service engineers can download program revisions, or remotely troubleshoot controls or software issues.
RPT sees a trend toward automating finishing operations for plastic parts. The firm has designed and built over 30 robotic routing cells, for instance. Having a multi-axis robot precisely deflash a part with a knife is beneficial to manufacturers, from the standpoint of speed, accuracy, repeatability and ergonomics. RPT has seen inquiries for this process continue to rise not only for the injection molding process described here, but also for blow molding and the other major plastic manufacturing processes.
Robotic Production Technology (RPT) is an Auburn Hills, Michigan-based turnkey robotic systems supplier for the plastics, appliance, automotive, aerospace, construction, consumer goods and marine industries. Process expertise includes waterjet cutting, router trimming, laser trimming and scoring, deflashing, material handling, flexible measuring systems, assembly, adhesive dispensing, joining and welding. Capabilities include project management, engineering, simulation services, fabricating and machining, system integration and certification, software, training, service and support. Since 1985, RPT has been a leading manufacturer of flexible manufacturing systems utilizing five- and six-axis robots, with an installed base of more than 1,800 robots.
For more information, contact RPT at 248-829-2800, email [email protected] or online at www.rpt.net.