Robotic Production Technology Helps Medallion Plastics, Inc. Increase Production by 35% While Reducing Scrap and Improving Trimming Quality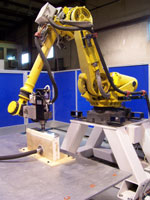 Challenge
Medallion Plastics, Inc., one of the largest custom thermoformers in Indiana, has undergone tremendous growth in size and diversification since the company was founded in 1976. The company started as a manufacturer of thermoformed products for the recreational vehicle industry and now supplies quality products around the world to industries such as communications, defense, automotive, transportation, recreational vehicle and manufactured housing.
Medallion Plastics, Inc. needed a trimming solution for its custom thermoformed parts that would be more productive, reliable and cost effective than the 5-axis CNC trimming system they were using. They wanted improved repeatability and quality and reduced scrap and labor costs. Medallion found that the CNC machine was less flexible and reliable and more costly to run than what they desired. At times the CNC machine could be down for days.
Solution
Robotic Production Technology (RPT) worked with Medallion Plastics, Inc. to develop a large capacity RoboTrim™ router trimming system that could accommodate the custom parts that the company needed to trim. After reviewing Medallion's requirements, RPT recommended an enclosed RoboTrim™ router trimming system with an R-2000 robot and a servo-controlled two position table. This robot can trim in a part as large as 100'' x 49'' x 21'' tall. The servo table allows the operator to load and unload parts while the robotic trimming takes place inside the enclosed cell. This greatly improved the productivity of these parts over the CNC trimming system.
The RoboTrim™ system can run hundreds of different parts, a necessity since Medallion is a custom thermoformer. Medallion's RoboTrim system included RPT's TrimPro™ off-line programming software and the Accuracy Enhancement software to help accommodate the variance in parts.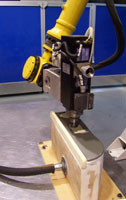 TrimPro
TrimPro™ router software provides off-line simulation and programming for FANUC robots used in RPT router trimming systems. Users can import unique CAD models of parts, create a work cell including machines, part transfer devices and obstacles and teach robot paths to simulate the operation and performance of a robotic application. Reach verification, collision detection, accurate cycle time estimates and other visual system operations are simulated in TrimPro's unique graphical virtual environment.
Accuracy enhancement tools
RPT and FANUC Robotics jointly developed a set of complementary accuracy enhancement tools to allow users to quickly and accurately set-up and maintain the key components that are required to achieve process repeatability. In addition, users gain the ability to transfer programs from one robot system to another with minimal touch-up of programmed points, further saving time and simplifying program maintenance. Key features of the Accuracy Enhancement tools are the ability to automatically realign the router spindle in less than one minute. The software also gives the robot the ability to automatically locate the part holding fixture and orient the robot program to that fixture's exact position. This software ensures the robot spindle is aligned and that the exact fixture location is known before the first part is ever run.
The RoboTrim™ system also included a fixture ID system. With the fixture ID system the robot knows what fixture is on the machine and can automatically call up the correct program for that particular part. By utilizing the fixture ID system, the Accuracy Enhancement tools can also automatically be called into action during the set up process.
Results
In a demonstration of the RoboTrim™ system prior to installation, Robotic Production Technology achieved a cycle time of less than four minutes to trim an instrument panel versus the nine minutes needed from the 5-axis CNC machine to trim the same part.
RPT installed the RoboTrim router trimming system in early 2004. Since that time, Medallion Plastics has achieved the results it wanted from the RoboTrim router trimming system:
Production increased by 35 percent
Quality has improved
Reduced scrap and returned goods authorizations due to human error
''The test cuts blew away the CNC and we are very happy with the quality and response time from the RoboTrim system,'' said Mike Kish, director of sales and marketing, Medallion Plastics, Inc. ''Better yet, we have been able to trim more complex parts that we were not able to do by hand.''
Due to the success of the system, Medallion Plastics, Inc. plans to consider expanding the system or adding a new system in the near future.
Medallion Plastics has been recognized as one of the premier thermoformers in the Midwest for nearly 25 years.
Robotic Production Technology has been a turnkey robotic systems solutions provider for 20 years. Industries served include aerospace, appliance, automotive, composites, construction, consumer goods, marine and plastics industries. The company specializes in high path accurate trimming applications such as router trimming, deflashing, laser cutting and scoring and waterjet cutting. RPT also has process expertise in material dispensing, assembly, joining, material handling and welding. Capabilities include project management, engineering, simulation services, fabricating and machining, system integration and certification, software, training, service and support. Since 1985, RPT has been a leading manufacturer of flexible manufacturing systems utilizing multi-axis robots, with an installed base of more than 2,400 robots. RPT partners with FANUC Robotics America who has an installed base of over 120,000 robots. Robotic Production Technology can be found on the Internet at www.rpt.net or by calling 248.829.2800.