Rack and Pinion System Cuts Servo Requirements for Gantry in Half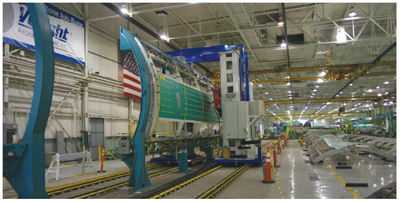 When a manufacturer of large aircraft fuselage panels needed to build larger versions, SYN-APS Corp., Ontario, Calif., recommended a five-axis gantry-style machine that would move around a vertically mounted and stationary part. This configuration was opposite of the manufacturer's arrangement. SYN-APS, a provider of machine tool services for a range of conventional and CNC equipment, used a motion control system from Nexen Group Inc., Vadnais Heights, Minn., to facilitate the long length of required travel along the machine's common X-axis.
The final concept featured two separate gantry-style machines on the 280 ft long X-axis servicing five stationary fixtures. Standard rack and pinion systems did not offer sufficient positional accuracy for this axis due to the clearance required between the pinion and the rack. This clearance must be included to prevent contact of the two components, which could interfere with the system's accuracy. While it can be kept to a minimum (0.001 in. to 0.002 in.) over short travel lengths, the clearance required to maintain high accuracy over great lengths makes the system difficult and expensive to manufacture and install.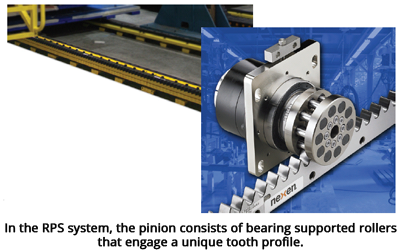 Other solutions, such as the use of two pinions preloaded to eliminate backlash, or the use of an additional servo drive to control backlash, added complexity and cost to the machine. Instead, SYN-APS chose the Roller Pinion System (RPS) from Nexen. The RPS system has a unique roller pinion/rack combination. The pinion consists of bearing-supported rollers that engage a unique tooth profile. Two or more rollers connect with the rack teeth in opposition at all times, eliminating backlash. The RPS rollers approach the tooth face in a tangent path and then smoothly roll down the tooth face, reducing noise levels associated with other linear motion systems, such as tooth slap or ball return noise. The low-friction design delivers more than 99% efficiency in converting rotary to linear motion, greatly reducing wear and providing longer service life at high speeds up to 11 m/sec (36.1 ft/sec). Since the machine's design required the use of master and slave drives on each axis, this arrangement resulted in some unexpected cost savings. Each of the master and slave drives required only one servomotor and drive. Reducing the required number of servo systems by half yielded considerable cost savings in design time, part manufacturing and installation. The system also eliminated the need for additional encoders.