RACE Robotics Case Study: 3D Simulation Software Improves the Student Learning Process and Potential
Robotics Automation Center of Excellence (RACE) is an independent training academy. Based in Singapore, RACE provides bite-sized training modules for professionals looking to become certified in fields related to robotics. RACE graduates have found themselves employed across the globe, in positions such as robotics system engineer and automation expert in industries ranging from health care to automotive.
One of the core courses offered at RACE is Attach-and-Train (AnT) for Robotics & Automation (R&A). The six-month program empowers agile engineering talents with hands-on access to core R&A technologies. The program is split into two sections: during Phase 1, students receive three months of hands-on classroom training at the academy campus. During Phase 2, trainees are placed with host companies for three months of on-the-job training, gaining valuable real-world experience from industry practitioners.
Due to the COVID-19 pandemic and to maintain the safety of students and staff, in-person lessons during Phase 1 have transitioned to a remote learning environment. Using tools such as Zoom, lectures and presentations have continued online. Although not without its challenges, reported benefits of online learning included easier to follow lectures and step-by-step instructions, and the ability to record sessions for future review.
Simulating with Visual Components
When RACE was introduced to Visual Components, first impressions were high. Both instructors and trainees were impressed by the ease of use, the breadth of the applications, and the extensive e-catalog of robots.
With unprecedented speed, trainees were able to grasp Visual Components technology to begin working both independently and creatively. This was a noticeable improvement to workflow, as prior to simulating with Visual Components, no simulation software was being used. Instead, trainees had relied on SolidWorks to design and manually drew on paper to simulate factory automation. The switch to Visual Components proved to be significantly faster and more intuitive. According to trainees, work that might have taken up to eight hours to complete before could be finished in just three hours with Visual Components.
First impressions from students were also high, one student noting how "creative ideas and improvements come to life. Simulations ensure a perfectly balanced manufacturing environment."
Creative ideas and improvements come to life. Simulations ensure a perfectly balanced manufacturing environment.
RACE Trainee
Better Learning Tools
Visual Components simulation software was implemented in the Industrial Robotics course of Phase 1, when trainees learn robotic arm theory, sensor and machine vision, and end effector training. This learning path takes students about four hours before they can visualize their ideas. Studies begin with layouts, conveyors, and feeders, then move to idle positions, robot PNP and task sequencing with work processing movements.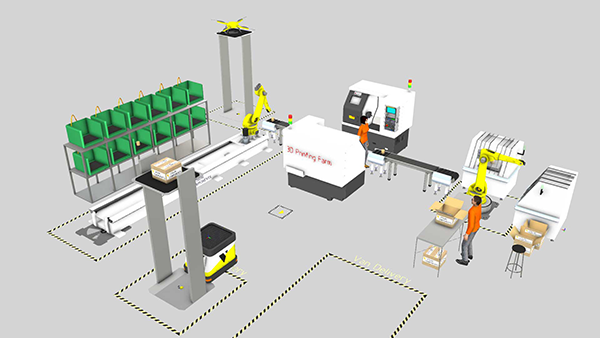 Group exercises are an opportunity to explore creativity while satisfying specific task requirements. Small teams of five trainees are given a week to complete an activity involving pick and place, a conveyor, and task sequencing. These projects are then presented over Zoom to the cohort and posted on social media in a friendly competition for engagement.
COVID-19 has influenced the learning environment at RACE, as well as the project work. One of these group projects deployed AGVs with UVC-light disinfection to combat the spread of COVID-19 in a worker's dormitory. Another project visualized how an additive manufacturing facility could make the customization of products easier and safer.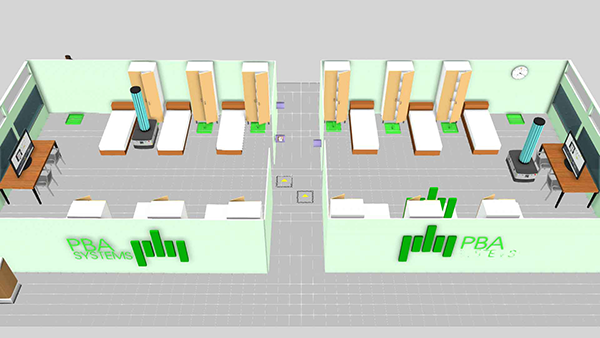 The Future of RACE Robotics and Visual Components
RACE is committed to the education and promotion of robotics, automation, and digital manufacturing technologies. They achieve this with a curriculum built on mentorship and applied training, and one that draws on real-world project experiences.
Adding Visual Components to the RACE training portfolio enables students to simulate the technologies they learn about theoretically. This helps with their knowledge retention and expands their horizon of technology. Since implementing the software, feedback and course satisfaction from trainees has been significantly higher.
In the future, RACE hopes to pair students with local manufactures to collaborate on research projects. They'd also like to see their education programs expanding to work with other institutions, manufacturers, and system integrators.